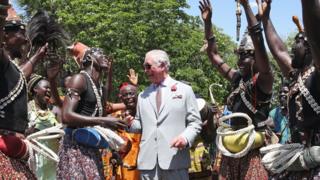 In our series of letters from African writers, Ghanaian journalist Elizabeth Ohene reflects on the Prince of Wales' two visits to the West African state.
When the heir to the British throne first came to Ghana, I was a reporter on the Daily Graphic newspaper and the conversation in the newsroom was whether Prince Charles could be described as handsome.
This was in 1977 and the prince was a 29-year old unmarried man. All young unmarried rich men used to be described as dashing.
I think those who said he was handsome were in the majority in the newsroom and for a long time a big poster of him came to adorn a wall behind the desk of one of the young women in the office.
Forty-one years later, Prince Charles has visited Ghana again, with his second wife, Camilla Parker Bowles, and, according to a blurb from the British High Commission in Accra, some of the events on his itinerary form part of the celebrations of his 70th birthday.
The couple have been busy doing what royals do, visiting sites, looking earnest and joining in with dancing groups.
On Sunday, they were guests of the Asantehene, the monarch of the Ashanti, one of Ghana's main ethnic groups, who laid on a special ceremony with so much gold on display that it led to some questioning why we would be asking for any kind of aid from anyone.
There was a state banquet on Monday, where the couple danced to highlife music, the country's well-known musical style.
Ghana's President Nana Akufo-Addo had made an elaborate toast and decorated Prince Charles with the highest state honour. I wondered if there was a room somewhere in Buckingham Palace where these sashes and gongs are kept.
It was on Monday, the fourth day of the visit, that we finally had a chance to hear the prince speak publicly, by which time some of us were beginning to think he had come to our country to be seen but not heard.
He, however, made up for his three days of silence. He gave a public lecture to a packed conference centre. It was on a subject that is close to his heart – the environment, and saving our planet.
He spoke about climate change, the disappearing Lake Chad, plastic waste and the pollution of the world's oceans.
Steering clear of local politics
He urged us in Ghana to play a leading role in the fight to save the environment. I kept waiting for him to mention "galamsey", the Ghanaian word for illegal mining, which epitomizes our destruction of the environment.
But he never did, and those who know about these things told me he would not want to say anything that would sound vaguely like getting involved in Ghanaian politics.
Prince Charles then had a meeting at a very fancy night club, Sandbox, at the beach in Accra, discussing the world's plastic crisis with environmental campaigners. The beach there is breathtakingly beautiful.
Elizabeth Ohene:
"Ghana is so full of royalty – every village has a full complement, every other person claims to be a prince or princess"
I was one of the many hundreds invited to a special reception on Friday at the High Commissioner's residence to celebrate the visit and mark the prince's birthday.
The crowd, according to the High Commission, consisted mostly of members of the British-Ghanaian Diaspora, members of the UK community in Ghana, and Ghanaians from all walks of life "who share a close connection with the UK".
I doubt I had ever seen so many uniformed, braided and medalled men under one roof. I wondered just how many uniformed men travelled with the prince.
It set me thinking that when I lived in the UK, I always had great difficulty understanding the attitude the British people had towards their royal family. It was not always clear to me if the bowing, scraping and newspaper adoration were a true reflection of public sentiments.
Read more:
I decided the difference was that Ghana is so full of royalty – every village has a full complement, every other person claims to be a prince or princess and new chiefs emerge all the time – that Ghanaians could hardly feel intimidated by the concept of royalty or a British prince, no matter how many rows of medals he had on his chest.
The reception deserved to be described as special; the décor was beautiful, the music excellent, the finger foods were devoured enthusiastically, there was enough booze to keep the gathering in good humour, and there were fascinators to keep your eyes darting around.
Prince Charles came, stayed in a cordoned area and a few people were allowed in to shake his hands. He did not utter a single public word throughout the entire evening.
The state banquet on Monday night felt a little more relaxed, even though there were enough haute couture gowns to make any fashion editor feel at home.
There was a fashion show that ended up with a display of some items by the renowned Ghanaian-British designer, Oswald Boateng, who, we discovered, had been one of the beneficiaries of the Prince's Trust charity. He was given help setting up his first tailoring shop.
Prince Charles: Key facts
When he replied to the toast by our president, Prince Charles demonstrated he was an old hand at such matters, or maybe he was simply displaying that he has a thoroughly well-equipped and knowledgeable staff.
Reference had been made to the fact that members of the prince's family had been visiting these parts for a long time, starting with his grand-uncle Prince Edward, the Prince of Wales, back in 1925.
Prince Charles got a big laugh from the audience when he recounted a story about his grand-uncle visiting the then Okyehene, the paramount chief of Akyem Abuakwa, in the east of Ghana.
The story goes that the heavens opened and the Okyehene gave an umbrella to his visitor to be able to get back and, apparently, this umbrella was never returned.
So, this Prince of Wales brought an umbrella for the current Okyehene to replace the one his grand-uncle took away 93 years ago. I suspect it was not just a funny story but there was some honour meant to be served.
'The party ends when it ends'
But who is to ever understand the arcane ways of how British royalty behaves and expects to be treated? The High Commission certainly kept up the protocols.
The invitation to Friday's reception stated it would start at 6pm and Carriages would be at 10.30pm. The invitation from our president's office only said guests were to be seated by 8pm.
Nothing about Carriages, which was probably just as well, because our First Lady Rebecca Akufo-Addo, Second Lady (as the wife of the vice-president is known) Samira Bawumia, former President Jerry Rawlings, his wife Nana Konadu and Prince Charles and the Duchess of Cornwall danced late into the night.
Proof, if any were needed that we don't do carriages here. The party ends when it ends.
The British royals had a taste of Ghana and have promised to be back sooner than the 41 years it has taken between the last visit and this one.
More Letters from Africa
Follow us on Twitter @BBCAfrica, on Facebook at BBC Africa or on Instagram at bbcafrica
Source: Read Full Article