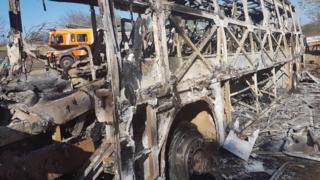 At least 42 people are confirmed to have died in a fire aboard a bus in Zimbabwe late on Thursday.
The bus was near travelling near Beitbridge, close to the border with South Africa, when the blaze began.
The company that owned the vehicle, Brooklyn Buses, said it believed that a gas canister brought on board by a passenger may have caused the incident.
Many of the bodies were burnt beyond recognition and more than 20 survivors have been taken to hospital.
The driver, who survived the fire, said that he pulled over to the side of the road after detecting a "strange smell", a police spokeswoman told AFP news agency. When he turned on the lights to investigate, the bus burst into flames, she added.
Zim Red Cross first aid teams responded to a horrific accident around midnight at the 56km peg from Gwanda towards Beitbridge involving a South African bound bus. A total of 24 people have been ferried to Hospital while the number of deaths is still to be confirmed. pic.twitter.com/GSu3xRHFB7
End of Twitter post by @ZrcsRed
Zimbabwe's President Emmerson Mnangagwa said he was "devastated" to hear of the incident, which comes a week after 47 people were killed in a bus collision in the east of the country.
He urged drivers to take extra care while on the roads.
I was devastated to learn of last night's tragedy, the second major accident in recent weeks. The thoughts and prayers of a grieving nation go out to the wounded and the families of those killed. We will ensure they get the care and support they require. (1/2)
End of Twitter post by @edmnangagwa
Source: Read Full Article