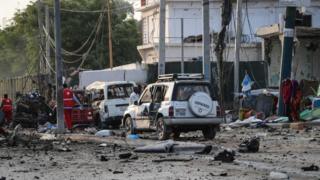 The owner of Sahafi Hotel in Somalia's capital Mogadishu has been killed in bomb attacks – three years after his father died in a similar assault.
Somali officials say 20 people died and dozens more were hurt in blasts claimed by Islamist militant group al-Shabab.
Sahafi Hotel owner Abdifatah Abdirashid was a renowned businessman who took over running the hotel from his father, Abdirashid Mohamed.
Al-Shabab said it targeted government officials staying at the hotel.
Reports say armed militants stormed the building guarded by armed officers after the first of at least three bomb blasts.
Eyewitnesses spoke of heavy gunfire in the area.
A Voice of America journalist later shared pictures on social media showing damage to a hotel close to where the three bombs were set off, describing the aftermath as "horrific".
There are fears that the death toll will rise further.
Sahafi Hotel has been popular with visiting foreigners because of its relative security as well as its view overlooking Mogadishu.
During the civil war in the 1990s, it used to be the only place foreign journalists could be safe amidst the raging war.
Source: Read Full Article