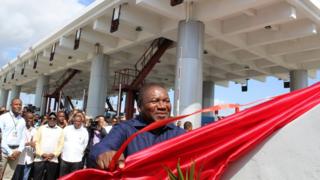 Mozambique President Filipe Nyusi has opened a new Chinese-built suspension bridge worth more than $750m (£576m) in the capital Maputo.
The 150m tall bridge, begun in June 2014, links the north and south of Maputo Bay which until now could only be crossed by boat.
Many Mozambiquans are complaining about a charge of nearly $3 to cross.
China has invested heavily in Mozambique's infrastructure but there are concerns about its debt.
Mr Nyusi said the bridge, which was a dream of former president Samora Machel, would help promote tourism to the country.
"With the completion of this bridge… the connection of southern Africa to the north over land and across our country is guaranteed," he said.
Some 700m in length and with two ramps more than 2km long each, it is also part of a project linking Maputo directly with South Africa by road for the first time.
Mozambique's debt problem
By Will Ross, BBC Africa editor
China has invested heavily in Mozambique's construction industry and built the country's parliament, several government ministries and the national sports stadium, as well as major new roads. China has also loaned money for the construction of a railway to transport coal to the coast for export.
There has been concern over China's involvement in the timber business. As well as legal exports, Chinese loggers have been involved in timber smuggling and the government earlier this year said several Chinese nationals had been arrested. Hardwood exports from Africa to China have soared as supply in Asia has dwindled. Mozambique has lost nearly three million hectares – or 10% of its forests – since 2000.
Gas exploration ought to produce vast income for the government within a decade but as is the case with several other African countries there are concerns over the sustainability of Mozambique's debt – by the end of 2017 it owed more than $2bn to China.
In February it was revealed that it was more than $700m in arrears on debt repayments – much of which it had hidden from the International Monetary Fund.
Source: Read Full Article