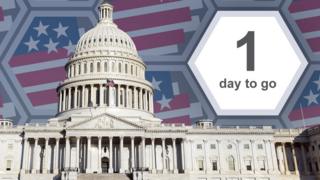 The US mid-term elections on Tuesday will help define the rest of Donald Trump's presidency.
Americans will vote for members of both chambers of Congress, as well as for governors in 36 out of 50 states.
This is our last daily round-up ahead of the mid-terms, so we've pulled together all our material that matters.
One question
Wait…what are the mid-terms? (Don't worry, it's OK to ask.)
It may feel like the US is always having elections, so what's at stake on Tuesday? What are people voting for?
We're here to help. Here's our very simple guide that hopefully answers everything you want to know.
One video
If you were to look at campaign videos alone, it would appear that the key issues on people's minds as they go to the polls were healthcare and immigration.
But what do voters themselves say? We asked people in 12 different states what issues are on their minds as they select their candidates.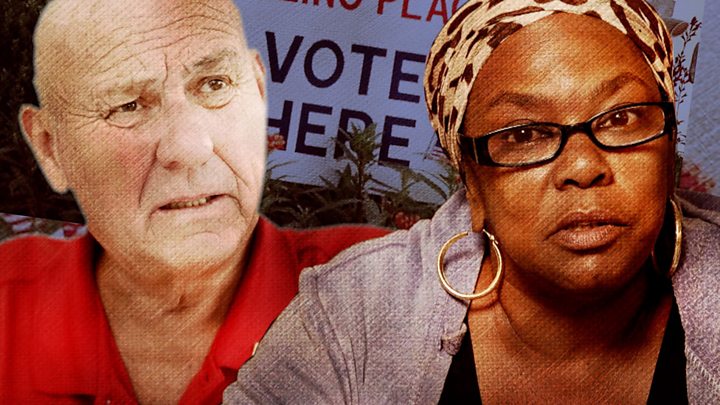 One big number
Donald Trump's name isn't on the ballot this year, but it might as well be.
One important thing to watch on Tuesday will be whether candidates who have embraced the president's rhetoric and tactics end up doing well. This could shape the direction of the Republican party over the next two years.
Either way, we can expect these mid-terms, like all others, to be a referendum on the president.
The parties of presidents who have low approval ratings tend to do poorly in the mid-terms – and President Trump's are very low indeed.
This is one reason Democrats, with the House of Representatives in their sights, are optimistic this year.
One race to watch
There are plenty we could have picked here – any of the close Senate races in Tennessee, Missouri or Arizona for example – but if there's one race that sums up the 2018 mid-terms, it is the close race for governor in Georgia.
Like in a number of other states this year, Georgia could see a significant first: Democratic candidate Stacey Abrams would become the first female African-American governor in the US if she won.
Her Republican opponent Brian Kemp is Georgia's secretary of state. His office has been behind the cancellation of 1.5m voter registration applications in four years, and has been accused of voter suppression, one of the hot-button issues this year.
As with the divisive race for governor in neighbouring Florida, the Georgia contest has also been laced with racist undertones (or even overtones). Just last week, the Washington Post reported, voters in Georgia received a fake robocall purporting to be from Oprah Winfrey "asking you to make my fellow Negress Stacey Abrams the governor of Georgia".
Our correspondent Courtney Subramanian spent time in Georgia looking at how the bitter race has played out.
One guide
The first polls will close at 23:00 GMT on Tuesday (that's 18:00 on the east coast of the US).
We'll be bringing you coverage live online, on TV and on radio as the results come in.
How can you find out where to read, watch and listen?
One game
There are plenty of possible outcomes on Tuesday, and therefore plenty of possible consequences.
If you want to see what those consequences are, choose a scenario right here…
Share this chatbot
Source: Read Full Article