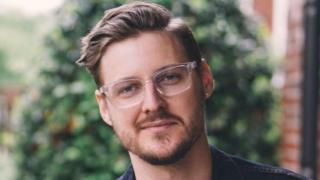 A US megachurch pastor known for his mental health advocacy has killed himself, church officials say.
Jarrid Wilson, 30, worked at the 15,000 member Harvest Christian Fellowship Church for 18 months before his death.
Mr Wilson and his wife founded "Anthem of Hope", a programme created to help people dealing with depression.
He is survived by his two sons and wife Juli, who wrote the death had "completely ripped my heart out of my chest".
https://www.instagram.com/p/B2Pry3eA88W/
My loving, giving, kind-hearted, encouraging, handsome, hilarious, give the shirt of his back husband went to be with Jesus late last night . No more pain, my jerry, no more struggle. You are made complete and you are finally free. Suicide and depression fed you the worst lies, but you knew the truth of Jesus and I know you're by his side right this very second . I love you forever, Thomas jarrid Wilson, but I have to say that you being gone has completely ripped my heart out of my chest. You loved me and our boys relentlessly and I am forever grateful that i had YOU as a husband and a father to our boys . You are my forever and I will continue to let other people know of the hope in Jesus you found and spoke so boldly about . Suicide doesn't get the last word. I won't let it. You always said "Hope Gets the last word. Jesus gets the last word". Your life's work has lead thousands to the feet of Jesus and your boldness to tell other about your struggle with anxiety and depression has helped so many other people feel like they weren't alone. YOU WERE an ANTHEM OF HOPE to everyone, baby, and I'll do my best to continue your legacy of love until my last breath . I need you, jare, but you needed Jesus to hold you and I have to be okay with that. You are everything to me. Since the day we met. J & J. Love you more . These are photos of him in his happy place – fishing the day away . I'll teach our boys all your tricks, babe. Promise. You are my #anthemofhope
A post shared by Julianne Wilson ? (@itsjuliwilson) on
End of Instagram post by itsjuliwilson
His death was confirmed by Senior Pastor Greg Laurie, who leads the church in southern California.
"Jarrid loved the Lord and had a servant's heart. He was vibrant, positive, and was always serving and helping others," he wrote on the church's website.
"Jarrid also repeatedly dealt with depression and was very open about his ongoing struggles," Mr Laurie added. "He wanted to especially help those who were dealing with suicidal thoughts."
Another pastor at the church, Jason Powell, also paid tribute.
It's with the deepest sadness of heart that I found out that my good friend @jarridwilson went home to be with the Lord last night.Jarrid was not just a brother in the Lord but a dear and trusted friend.
In Christ… "We have a sure and steadfast anchor of the soul…"Heb 6:19 pic.twitter.com/8YPOY10RXn
End of Twitter post by @jasontpowell
Shortly before his death, Wilson tweeted about officiating the funeral of a "Jesus-loving woman who took her own life".
"Loving Jesus doesn't always cure suicidal thoughts. Loving Jesus doesn't always cure depression," he wrote.
"But that doesn't mean Jesus doesn't offer us companionship and comfort," he continued. "He ALWAYS does that."
A fundraiser to support Wilson's family has raised more than $42,000 (£34,000) as of Wednesday.
Information and advice
If you or someone you know is struggling with issues raised by this story, find support through BBC Action Line.
Source: Read Full Article