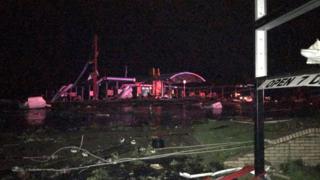 At least three people have been killed as tornadoes sweep across Missouri in the US Midwest, local officials say.
The fatalities were confirmed in Golden City, 170 miles (270km) southwest of state capital Jefferson City.
A tornado struck the state capital itself, bringing heavy rain, hail, wind and lightning.
Extensive damage has been reported around the state, and officials say several people were injured in Carl Junction near the border with Kansas.
Storms have also hit neighbouring Oklahoma and Texas.
Emergency sirens were activated in Jefferson City – home to around 43,000 people – and the storm was spotted 20 minutes later.
Images on social media show buildings ripped apart, power lines downed and trees uprooted. Thousands are believed to be without electricity.
BREAKING: We're getting our first look at damage in #JeffersonCity. This Best Western off Highway 54 has downed power lines, tree branches and on overturned truck in its parking lot. @KOMUnews pic.twitter.com/EWXPi6rXwz
End of Twitter post by @SHumphreyTV
@MSHPTrooperF is also in Eldon assisting Eldon Police Department and Miller County Sheriff Department after tonight's tornado. If you are NOT affected, please stay clear of the area and let first responders do their jobs. #MoWx pic.twitter.com/GxlNmZ3xtl
End of Twitter post by @MSHPTrooperF
More storms are expected to hit the Midwest on Thursday and Friday.
Emergency officials have warned of flash flooding, and are reportedly carrying out door-to-door searches amid reports of trapped residents.
On Thursday morning, tornado warnings remained in place outside St Louis, in eastern Missouri.
Earlier, the US National Weather Service issued a rare "high warning" for severe storms in the region.
"It's a chaotic situation right now," Jefferson City Police Lt David Williams told reporters. "We need people who are not affected to stay out of those areas".
The storms on Wednesday hit on the eighth anniversary of a tornado which killed 161 people in Joplin, a city in southeast Missouri.
Are you in the area? If it is safe to do so please share your experiences by emailing [email protected].
Please include a contact number if you are willing to speak to a BBC journalist. You can also contact us in the following ways:
Or use the form below
If you are happy to be contacted by a BBC journalist please leave a telephone number that we can
contact you on. In some cases a selection of your comments will be published, displaying your name as
you provide it and location, unless you state otherwise. Your contact details will never be published.
When sending us pictures, video or eyewitness accounts at no time should you endanger yourself or others,
take any unnecessary risks or infringe any laws. Please ensure you have read the terms and conditions.
Terms and conditions
The BBC's Privacy Policy
Source: Read Full Article