A sheriff's deputy was among those shot and taken to hospital, police confirmed.
The extent of the victims' injuries are currently unknown.
Initial reports indicated that a man had opened fire with a semi-automatic gun at about 11.20pm.
Ventura County Fire Department said there was an "ongoing active shooter incident" reported at Borderline bar and grill.
Officers said at least 30 shots had been fired and that victims would be at multiple locations as they fled.
The suspect has been described as a Middle Eastern man in his early 20s wearing all black clothing and with a beard.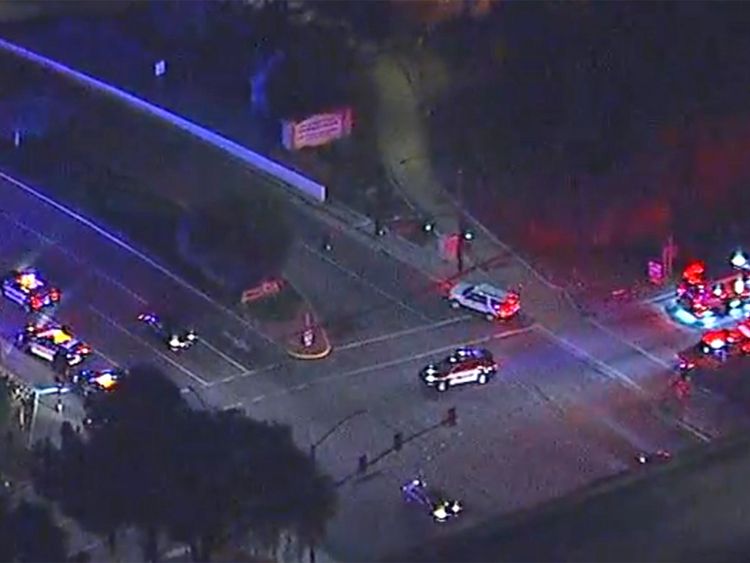 Captain Garo Kuredjian of the Ventura County Sheriff's Office said: "We're still looking for the shooter. We can't confirm that the shooter is in custody."
Mr Kuredijian said hundreds of people were inside the bar and shots were still being fired when deputies arrived.
It was college night at the bar, with country two-step lessons being offered to Wednesday customers – most of which were university students.
Witnesses say a man fired several shots from a handgun before throwing smoke bombs into the crowded bar in southern California.
A trail of blood was visible on the street at the entrance of the venue.
Pictures and video footage show firefighters and first responders flooding the scene after multiple injuries were reported.
A police helicopter swirled overhead and officers surrounded the area with cars.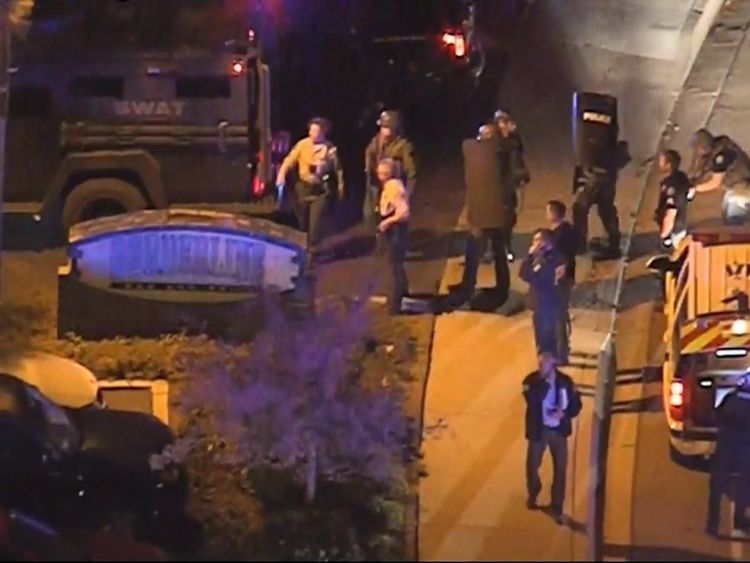 Bomb squad teams have been called to the area and Swat teams are in place – though authorities said the bar was now safe for emergency services.
Police reported that a California Highway Patrol officer had engaged a suspect.
The suspect was initially reported to be inside the bar.
Officers later reported a man matching the suspect's description on the ground at the scene outside a window.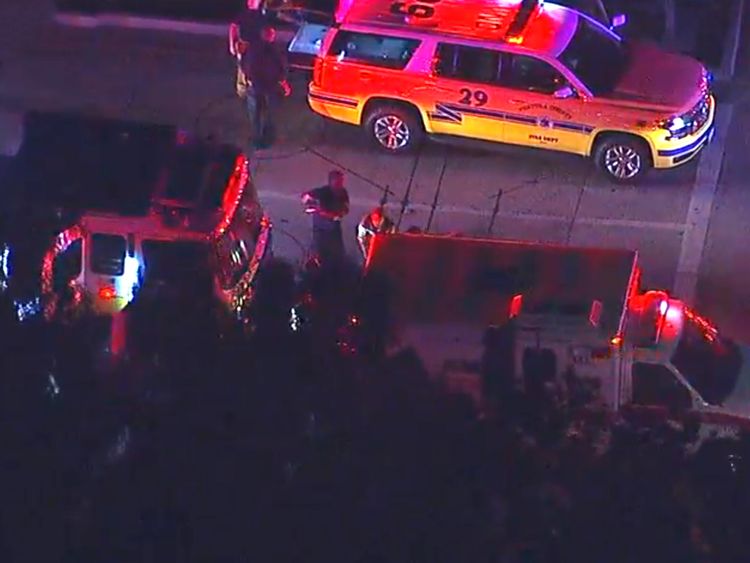 They said that soon after the gunman opened fire, victims were running to a nearby petrol station to get help.
Video showed causalities being carried out of the bar by members of the public and emergency workers.
Officers escorted large groups of people to safety as they left the area.
Social media reports claim the suspect shot a security guard before entering the building and throwing smoke grenades before firing more shots.
Nick Steinwender, student body president at nearby California Lutheran University, rushed to the scene when he heard about a shooting at the bar where he knew friends and fellow students were inside.
"It was chaos, people jumping out of windows, people hopping over gates to get out" Mr Steinwender told KABC-TV.
He said he heard from people inside that they were hiding in bathrooms and the attic of the bar.
The bar is located about 40 miles west of Los Angeles and describes itself as a western-style bar with a spacious dance floor used for theme nights such as country, salsa and swing.
Authorities have urged the public to avoid the area and that roads are being blocked.
More follows…
Source: Read Full Article