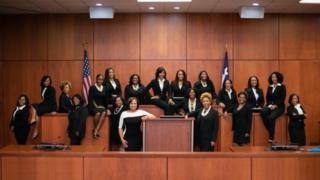 History was made on Tuesday when 19 black female judges were elected to be county judges in Houston, Texas.
It is the largest number of black women seen on any ballot ever in Harris County, and the group's victory is delighting many in the state and on social media.
A photograph of the group, dubbed the Houston 19, taken in August when the women assembled as part of their "Harris Black Girl Magic" campaign for office, trended on Reddit and Twitter.
LaShawn A Williams posted the picture on Facebook, writing: "Never did I imagine that the day I decided to run to be judge, I'd become a part of a club of phenomenal black women, sisters-in-law, gifted, brilliant, strong – everything I hope to be!"
Their victory adds to the long lists of firsts across the nation, with the most diverse range of candidates ever elected to Congress, including 111 women.
Using #Houston19, many celebrated the election of officials they believe more closely reflect the communities in Texas they represent.
YE MA'AM!! Congratulations to the #Houston19! And just know…when you go to court, someone soundin' like yo mama is gonna read good before laying down judgement! ALL the things I love about this!! pic.twitter.com/PG83cyeBCD
End of Twitter post by @dowellvest
Unbossed. Unmatched. Phenomenal
w??‍men. This is how you dismantle an unjust system.✊?
A group of 19 Black ??‍ women made history when they all won elections to become judges in one Texas county.??‍⚖♥ #Houston19 https://t.co/uPsSmQ4igb
End of Twitter post by @Shknh_
Others said it was a credit to Texan diversity and character, something not always portrayed in popular culture.
I often laugh when people talk about Texas, as if we are all gun-toting, right-wing extremists, because **THIS** is the Texas I know and love…a state of diversity, of big dreams, and moonshots made reality. #Houston19 https://t.co/v9BS6v2G2q
End of Twitter post by @carolynrodz
The women ran together on a Democratic ticket, and they appeared on posters around the county with the slogan "Let's Make History"
With 4.5 million people, Harris county is the largest in Texas, and the third largest in the US. It has a diverse population with 42 % Hispanic, 30% white and 17% black.
Elected country judges in Texas have judicial and administrative duties, including presiding over minor criminal cases and small civil cases.
Most of the new judges were born and educated in Houston and have spent at least a decade working in local law firms.
In her bid for election, Germaine Tanner, elected to the 311th Family Court, described visiting inmates in jails for the Fatherhood Project in Harris County which aims to empower fathers.
Another of the new judges, Michelle Moore, explained on her website a three-pronged approach of "rehabilitation, mentorship and education" for working with "troubled youth".
Take a bow Houston, Tx. EACH AND EVERY ONE of these ladies earned a seat as a judge in Harris County. Dallas Jones did…
End of Facebook post by Christin
Latosha Lewis Payne told local media: "I think that having an African American judge or having a female judge – those are the kinds of things we bring to the bench. And we bring an understanding of a person who may come from that similar background."
The 19 black women who won on Tuesday are Sandra Peake, Judge Ramona Franklin, Judge Maria Jackson, Germaine Tanner, Angela Graves-Harrington, Cassandra Holleman, Tonya Jones, Dedra Davis, LaShawn Williams, Latosha Lewis Payne, Linda Dunson, Toria Finch, Erica Hughes, Lucia Bates, Ronnisha Bowman, Michelle Moore, Sharon Burney, Shannon Baldwin, and Lori Chambers Gray.
By Georgina Rannard, BBC UGC & Social news
Source: Read Full Article