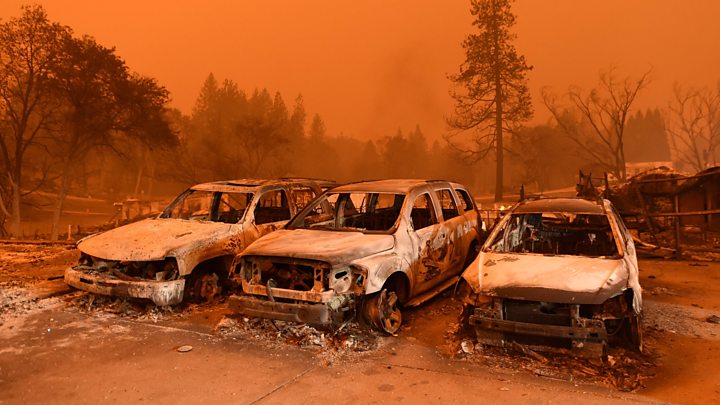 The death toll in the wildfires raging through California has risen to 25, according to officials.
This comes after 14 more bodies were discovered in or near the decimated town of Paradise in the state's north, bringing the number of confirmed dead there to 23.
Two more people were killed in the south, near Malibu.
An estimated 250,000 people have been forced to flee their homes to avoid three major blazes in the state.
The Camp Fire began spreading through Butte County on Thursday, and firefighters were powerless to stop it destroying the town of Paradise.
Another fire swept into the affluent southern beach resort of Malibu on Friday and has now doubled in size.
That fire, known as the Woolsey, now covers an area of 70,000 acres (28,000 hectares).
Among the towns under evacuation orders is Thousand Oaks, where a gunman killed 12 people in a rampage on Wednesday.
Meteorologists have warned that dangerous conditions may continue well into next week, but firefighters say they are hoping to take advantage of a temporary lull in the wind fanning the flames.
What is the latest on the Camp Fire?
At a news conference on Saturday, Butte County Sheriff Kory Honea said 10 of the additional victims were found in Paradise with four in the nearby Concow area.
Images from Paradise showed the sky filled with acrid smoke, almost blotting out the sun.
By Saturday, the Camp Fire had burned 100,000 acres (40,500 hectares) and was only 20% contained. Fire chiefs estimate it will take about three weeks to fully control the blaze.
The fire started in the Plumas National Forest, north of Sacramento, on Thursday and quickly engulfed the town of Paradise.
Residents fled for their lives as more than 6,700 homes and businesses were destroyed, making the fire the most destructive in the state's history. The flames moved so fast that some had to abandon their cars and escape the town on foot.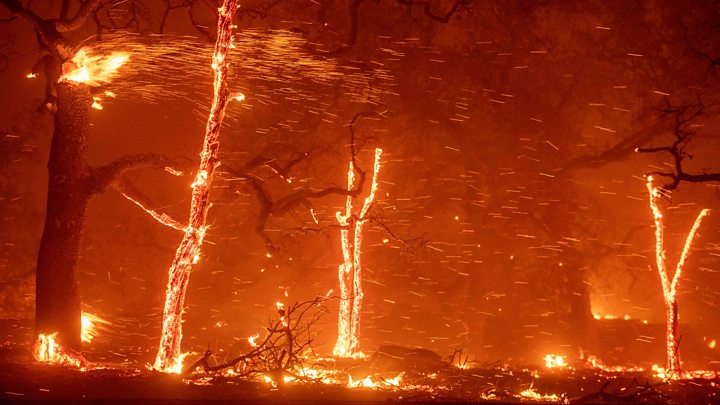 Driving through walls of flame
By the BBC's James Cook, Paradise in California
Paradise is hell. A smouldering, sepia world in ruins. The air is acrid. Burning chemicals leave a bitter taste in your mouth.
Walking among the ashes of people's lives is eerie and awful. There is a profound sadness here. We pass a child's charred swing, a swimming pool filled with filth, and worst of all, a pet dog which did not survive.
Such was the intensity of the blaze that much of the debris is hard to recognise. Wafers of ash are drifting down like enormous snowflakes, smothering sound.
But it is not quite silent here. A sooty squirrel scrambles up a blackened tree in a panic. There are booms and creaks from burning trees and telegraph poles.
And soon, going from ruin to ruin, there will be the sound of those with the hardest job of all, checking to see if anyone was left behind.
Fire officials have also issued evacuation notices for parts of Chico, a town of 93,000 people north of Sacramento.
Where is the Woolsey Fire?
The blaze started on Thursday near Thousand Oaks, about 40 miles (64km) north-west of central Los Angeles. Another blaze, the Hill Fire, started at about the same time, also near Thousand Oaks.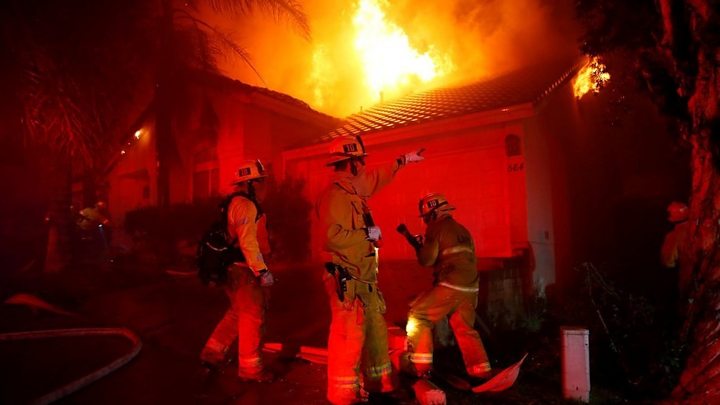 On Friday, the flames jumped Highway 101 and headed into coastal areas.
All residents have been ordered to evacuate.
Los Angeles County sheriff's Chief John Benedict said on Saturday that two people had been found dead but provided no details on the deaths.
Malibu and nearby Calabasas are home to many celebrities.
The actor Martin Sheen was briefly reported missing but he later reported that he was on the beach, unharmed.
On Twitter, reality TV star Kim Kardashian said the home she shared with rapper Kanye West had been hit by the flames.
"Trying to get my mind off this fire… We are all safe and that's all that matters."
The singer Cher, who is performing in Las Vegas, tweeted that she was worried about her Malibu home.
The singer Lady Gaga said she had evacuated her home in Malibu, posting a video on Instagram that showed dark smoke billowing overhead.
Oscar-winning director Guillermo del Toro tweeted that he had evacuated, leaving behind his "Bleak House" museum collection of fantasy and horror memorabilia.
The fire has also reportedly destroyed one of the sets for the TV series Westworld and is threatening Malibu's Pepperdine University, a private residential college with more than 7,000 students.
Firefighters have not managed to build containment barriers around the fire.
There is a total of 16 fires currently active in California. Officials have put most of Northern California under a Red Flag Warning, which means "extreme fire behaviour" can occur within 24 hours.
The region has grappled with serious wildfires in recent years, including the worst in the state's history – the Mendocino fire in 2018.
Are you in the area or have you been evacuated? If it's safe to share your experiences, then please email [email protected]
Please include a contact number if you are willing to speak to a BBC journalist. You can also contact us in the following ways:
Or use the form below:
If you are happy to be contacted by a BBC journalist please leave a telephone number that we can
contact you on. In some cases a selection of your comments will be published, displaying your name as
you provide it and location, unless you state otherwise. Your contact details will never be published.
When sending us pictures, video or eyewitness accounts at no time should you endanger yourself or others,
take any unnecessary risks or infringe any laws. Please ensure you have read the terms and conditions.
Terms and conditions
The BBC's Privacy Policy
Source: Read Full Article