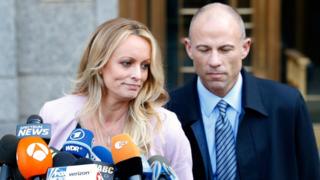 Michael Avenatti, lawyer for porn star Stormy Daniels in her suit against President Donald Trump, has been arrested on suspicion of domestic violence, police in Los Angeles say.
TMZ website was first to report that the alleged victim was Mr Avenatti's estranged wife Lisa Storie-Avenatti.
But her lawyers said she was not involved in the alleged incident, BuzzFeed News website reports.
TMZ later also said the incident involved a different woman.
Mr Avenatti is yet to make public comments on the issue.
We can confirm that today LAPD Detectives arrested Michael Avenatti on suspicion of domestic violence. This is an ongoing investigation and we will provide more details as they become available.
End of Twitter post by @LAPDHQ
The pair married in 2011, but Mr Avenatti reportedly filed for divorce in 2017.
The lawyer rose to prominence representing Ms Daniels.
Ms Daniels, an actor and director, alleges she and President Trump had a brief relationship – a claim he denies – and has sought to free herself from a non-disclosure agreement she signed before the 2016 election.
A frequent guest on TV talk shows and news programmes, Mr Avenatti has emerged as a fierce critic of President Trump, the BBC's David Willis in Los Angeles says.
At one point Mr Avenatti was publicly contemplating running for president himself in 2020, our correspondent adds.
Source: Read Full Article