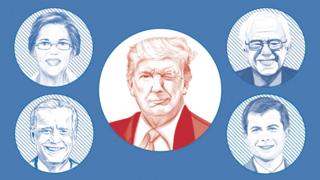 Election season is getting under way and the race to become the Democratic challenger to Donald Trump is hotting up.
Last summer, there were nearly 30 serious candidates vying for the attention of the party's supporters, but fewer than a dozen are still standing.
Joe Biden and Bernie Sanders are the relatively well-known frontrunners, but some of the chasing pack were mostly unknown outside the Washington DC bubble before running.
The group features the usual mix of seasoned politicians, but it also includes a couple of billionaires, two military veterans and a tech entrepreneur.
Here's our rundown of the candidates left in the race, with a take from the BBC's Anthony Zurcher on each.
Who are they? What are their key issues? What's their secret weapon against President Trump? We've got it all covered.
Who will take on Trump in 2020?
Joe Biden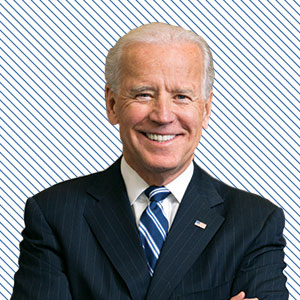 Veteran politician who was a Delaware senator for more than three decades before becoming Barack Obama's vice-president in 2009.
Key issues:
Rebuilding the middle class; investing in federal infrastructure; tuition-free public universities.
Anthony's take:
For the better part of 2019, campaign-watchers in the media and the political world were waiting for the former vice-president's stumbles and bumbles to catch up with him. Entire candidacies (Cory Booker, Kamala Harris and others) were built around the premise that the early frontrunner was poised for a fall.
That hasn't ended up happening. While other candidates have surged and faded, Biden keeps on keeping on. His support has been doggedly stable, drawing largely from elderly, moderate and black voters.
He doesn't have as much money or draw crowds as big as some of his rivals – and that could catch up with him in the end. He hasn't faded, but he hasn't surged either – and the only way that may happen is if he becomes the safe harbour candidate for voters concerned about more radical alternatives.
But even if the road gets rocky, Biden has proven he has staying power.
Secret weapon:
Comfortability. Like an old pair of jeans, Biden is a known, unthreatening quantity. After four years of Donald Trump, that could be the ticket to victory.
Elizabeth Warren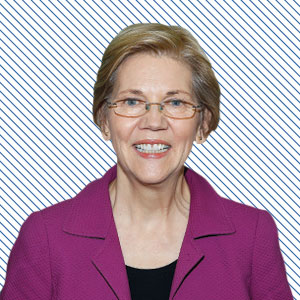 Progressive senator from Massachusetts who was a law school professor before entering politics.
Key issues:
Wealth tax; healthcare and abortion rights; criminalising corporate negligence.
Anthony's take:
There was a moment during late summer when it appeared Elizabeth Warren would be the Democratic candidate to beat when the calendar turned to 2020. Then she got bogged down explaining and recalibrating her healthcare proposals, voter concern about her "electability" resurfaced and an end-of-the-year spat between her and Bernie Sanders set both sides' supporters at each other's throats.
She still has many of the strengths that made her rise possible – a well-funded and extensive campaign organisation, an "I have a plan for that" campaign message that appeals to solutions-oriented voters, and star-power appeal for many on the left.
Her challenge seems to be that she has been caught between moderate voters who are opting for candidates like Biden and Buttigieg and liberal ones who are sticking with – or returning back to – Sanders. It's a trap now-departed candidates like Kamala Harris and Beto O'Rourke are very familiar with.
Secret weapon:
Selfie-taking. Warren has proven to be a very underrated campaigner, improving her stump speech as she goes along and showing a boundless energy at rallies and town halls, where she frequently poses for photos with supporters for hours on end.
Bernie Sanders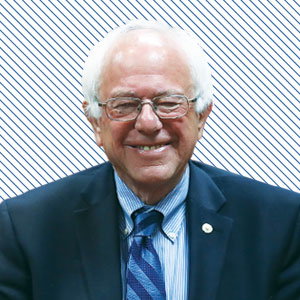 Vermont senator and self-proclaimed "Democratic socialist" who came close to the nomination in 2016.
Key issues:
Medicare-for-All universal healthcare coverage; raising taxes on the wealthiest Americans; upping the minimum wage.
Anthony's take:
The big question hanging over Sanders' 2020 presidential campaign was whether it would be able to recapture the magic of his 2016 effort.
For a while, it was no sure thing. The 78-year-old candidate had a heart attack in October, raising concerns about his age. He was competing in a much more crowded field, which featured another liberal heavyweight, Elizabeth Warren. His polling support ebbed and flowed for much of 2019.
By early 2020, however, he had re-established himself again as the progressive standard-bearer, whose sometimes gruff and always consistent message about income inequality and corporate rapaciousness lent him an air of that much-sought-after modern political quality – authenticity.
To win the nomination he'll have to either count on a field where the moderate Democratic vote stays divided or ensure that his base reflects the diversity of the Democratic party – all while deflecting what will be a fierce effort by some in the party to derail his campaign.
Secret weapon:
Loyalty. More than any other Democratic candidate, Sanders has a core group of supporters who have stuck with him through thick and thin. They despaired when he lost in 2016, and have been planning his political revival ever since. Now their time has come.
Pete Buttigieg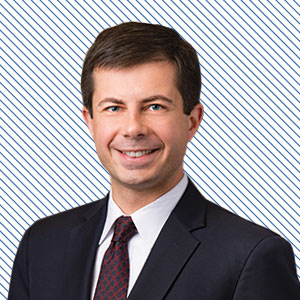 Former mayor of South Bend, Indiana, a military veteran and the only openly gay presidential hopeful.
Key issues:
Political reform; LGBTQ rights; college loan relief.
Anthony's take:
Pete Buttigieg came from nowhere (technically, Indiana) to burst onto the national political scene in 2019.
He experienced two polling surges in early-voting Iowa and New Hampshire over the course of the year, as his earnestness, rhetorical skill, fresh-faced appeal and groundbreaking nature of his candidacy attracted popular support and top-of-field campaign fundraising amounts.
The biggest question facing his campaign is whether the attention and interest he's generated in those early states will translate into success as the Democratic race moves to states with a more diverse electorate that reflects the composition of the Democratic Party nationwide.
Numerous polls show him garnering little or no support from black voters, for example. If he can't change that, the heady days of campaigning to enthusiastic crowds in Iowa and New Hampshire will quickly come to an end.
Secret weapon:
Time. As one of the first millennials to run for president, the bulk of Buttigieg's political career still lies ahead of him – and his early success is a sign of things to come.
Andrew Yang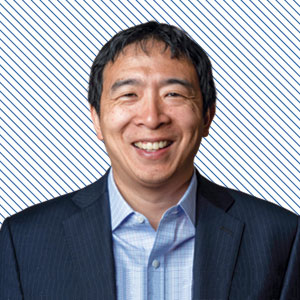 Columbia Law School graduate who became a successful technology entrepreneur.
Key issues:
Universal basic income; social media; trickle-up economic reform.
Anthony's take:
For a businessman who has never been involved in elective politics, Andrew Yang has proven pretty good at campaigning.
He started with one big idea – a universal basic income – but has managed to branch out into a number of different policy areas from there, all geared toward acknowledging that big changes are coming to US society and the economy and the US government should be ready to face them.
That's helped Yang build a small but devoted base of supporters, including many younger voters.
While other, more seasoned politicians fell by the wayside, Yang managed to generate the fundraising and poll numbers needed to get on the stage for all of the presidential debates in 2019.
Even if he's still a longshot, considering where he started from that is a remarkable accomplishment.
Secret weapon:
Maths. Yang likes to joke that he's the "Asian candidate who's good at math" – a wink at his position as one of the first Asian-American presidential candidates in US history and a reflection of the kind of self-deprecating wit that has made him surprisingly effective on the stump.
Amy Klobuchar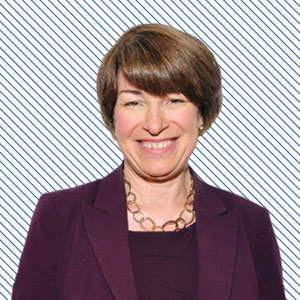 Three-term Minnesota senator who has shown she can win votes in a Midwestern battleground state.
Key issues:
Infrastructure investments; mental health programmes; lowering prescription drug prices.
Anthony's take:
Amy Klobuchar entered the race as a dark horse, and she has remained largely in the shadows.
As the field, and the debate stages, thinned, she picked up some support, but she has never made the move to the top tier of candidates that some expected. Even in Iowa, which borders her home state of Minnesota, she remains well behind the front of the pack.
If Biden stumbles, she would be well-positioned to pick up moderate support – pitching herself as a practical politician who has proven she can win in swing states. With every passing day, that seems like less of a possibility, however.
Although she saw an uptick in fundraising at the end of 2019, that money is being spent heavily in early states, leaving little for an extended run into the primary season if her fortunes don't change quickly.
Secret weapon:
Practicality. During the debates Klobuchar often presented herself as the voice of reason, arguing that some of her more liberal rivals were advancing plans that could never be enacted.
Michael Bloomberg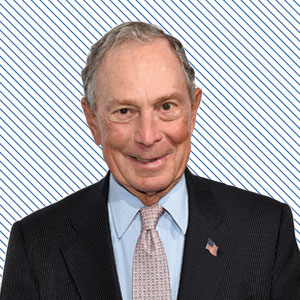 Former banker and New York mayor who is one of the richest men in America.
Key issues:
Economy; immigration; gun control; climate change.
Anthony's take:
Michael Bloomberg is a very data-driven businessman. But it doesn't take an advanced degree in quantitative analysis to realise that the Democratic field, even at this late date, is still in flux.
His strategy appears to be to let the current frontrunners fight it out in the early voting states, then take on a diminished field later in the process using his near unlimited resources. He's spending heavily on national advertising and focusing on "Super Tuesday" states like Texas and California, which have a big impact on who gets the Democratic nomination.
It's a risky play that only someone of Mr Bloomberg's vast wealth can afford to make.
Although Bloomberg's poll numbers are ticking up, it's hard to imagine the more liberal members of the party will support a business-friendly New York City plutocrat ex-Republican – particularly one who could present a late threat to a progressive candidate like Sanders or Warren.
Bloomberg might even end up splitting the moderate vote in the March primaries, making the path to the nomination easier for a liberal favourite.
Secret weapon:
Lots and lots of money. No one has run a campaign quite like Bloomberg. Then again, no one has had the vast sums of money to run a campaign like his. He's carpet-bombing the airwaves and online in a way that is unprecedented in modern US political history.
Tom Steyer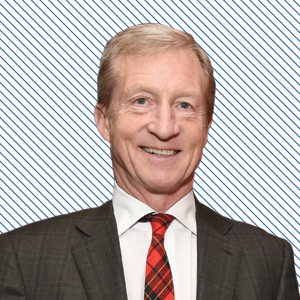 Hedge-fund billionaire from California who has a history of advocating for liberal causes.
Key issues:
Climate change; healthcare.
Anthony's take:
Tom Steyer appeared to close the door on a presidential bid back in January, instead pledging to do whatever it takes to remove Donald Trump from office via the constitutionally outlined impeachment process. He changed his mind, which is the kind of luxury afforded a billionaire.
Since then, Steyer has found an effective strategy for repeatedly landing on the debate stage, if not in the top tier of presidential contenders. He's focused his advertising money on Nevada and South Carolina – two early-voting states whose polls count for debate qualification but have not been the focus of the rest of the presidential field. He's surging to near the front of the pack there, while languishing in the cellar in every other survey, national or state-level.
So far, at least, Steyer hasn't been able to make a lasting impression in front of a national audience, except for a brief post-debate moment where he had a front-row seat to the icy standoff between Warren and Sanders. He might be taken more seriously if his polling in South Carolina and Nevada holds up after the heavy-hitters start ramping up their campaigns there – but that's a big if.
Secret weapon:
Money. Maybe that's not that secret for a billionaire, but in US politics there are few weapons more effective than a bountiful source of cash.
Tulsi Gabbard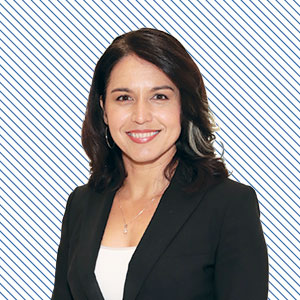 Progressive congresswoman from Hawaii – and the first Hindu member of Congress – who is also an Iraq War veteran.
Key issues:
Ending interventionist foreign policy; climate change; gun control.
Anthony's take:
Tulsi Gabbard's biggest calling card during the 2020 presidential race may end up being her willingness to mix it up with other candidates – on the debate stage and the campaign trail.
She hasn't hesitated to draw stark contrasts between her non-interventionist foreign policy views and those of her opponents, who she says support endless "regime change wars". She's even filed a $50m defamation lawsuit against Hillary Clinton for suggesting that she was Russia's favourite candidate.
It would take a lot to get her into contention at this point, but before it's all over she will have left a few bruises on her opponents.
Secret weapon:
Nerve. As one of the youngest candidates in the field, it took a lot of courage for Gabbard to go up against the established figures in the race. Say what you will about her appeal as a candidate, but she never blinked.
Deval Patrick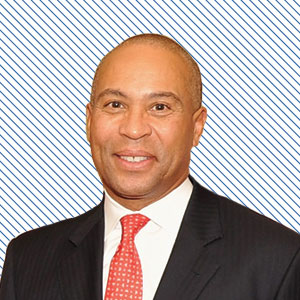 Former Massachusetts governor, trained lawyer and close friend of Barack Obama.
Key issues:
Healthcare; climate change.
Anthony's take:
Deval Patrick entered the race late and has bet everything he has on making a good showing in either New Hampshire or South Carolina. So far, there's no indication this strategy is working.
He has obvious political skill, but unless your name is Oprah or Michelle Obama, it takes more than skill to have an impact on the race at this point.
Secret weapon:
Connections. Patrick is friends with Barack Obama, who reportedly offered him advice before he launched his presidential bid. He needs a little of that campaign magic to rub off.
Michael Bennet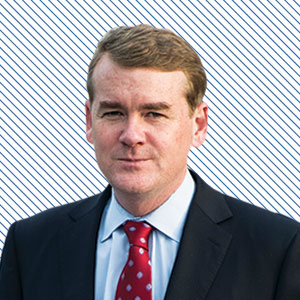 Two-term senator from Colorado and former head of Denver's public school system.
Key issues:
Economic reform; agriculture; criminal justice reform.
Anthony's take:
For much of 2019, Michael Bennet was a quiet, moderate voice in a crowded field. Now he's a quiet, moderate voice in a much smaller field. He's so quiet, in fact, it's like he's not even there.
He hasn't made the debate stage in half a year, but he's still hitting the campaign trail in early-voting states. He must really like the diners in Iowa and New Hampshire.
Secret weapon:
Persistence. Where other politicians with day jobs have given up the fight and headed back to Washington, their statehouses or lower-level campaigns, Bennet soldiers on. You've got to give him credit for that, I guess.
Tap here if you can't see the candidate search tool
The race so far
Although the field has now been whittled down to less than a dozen contenders, at one point it had swelled to nearly 30 Democrats.
Former congressman John Delaney began his campaign back in the summer of 2017 and was joined a couple of months later by Andrew Yang. After two and a half years of campaigning, Delaney admitted defeat and withdrew in January. Yang, who got 1% of the vote in Iowa, solders on.
Others, like Michael Bloomberg and Deval Patrick, left it late to get involved. Bloomberg's strategy is to focus his attention on states that will vote on Super Tuesday (3 March), spending huge amounts of his personal wealth on TV ad campaigns to pick up support. Patrick's strategy is unclear.
Polls point to clear top tier
Joe Biden has been the accepted frontrunner of this race since the first national polls began to emerge and his numbers have remained steady throughout.
Both Bernie Sanders and Elizabeth Warren have pushed him hard at times – with Warren leading in the RealClearPolitics national average briefly in October last year.
Pete Buttigieg was the big poll surprise in 2019, gaining traction while other more high-profile candidates like Beto O'Rourke and Cory Booker struggled.
You can only gauge so much from national polling though, especially in a race based on state-by-state contests.
There's a lot of drama to come
There is one contest every week in February, but the race begins to get really busy next month. On 3 March, there are votes in more than a dozen states – including California and Texas, two states with a huge number of delegates on offer.
Although there is usually a clear winner much sooner, the race officially ends in July at the Democratic National Convention where the candidates with the highest number of delegates becomes the party's presidential nominee.
Words: Anthony Zurcher, Mike Hills. Charts: Mike Hills. Development: Felix Stephenson, Alexander Ivanov, Steven Connor. Design: Debie Loizou.
Source: Read Full Article