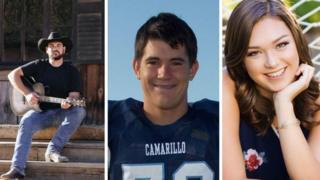 A "community filled with sorrow", "our hearts are broken", "heart-wrenching".
These are some of the ways the friends and families of the 12 people killed in a shooting at a bar in Thousand Oaks, California described the loss of their loved ones.
Information about those who were killed is slowly emerging. This is what we know so far.
Cody Coffman
Cody Coffman, 22, went to the Borderline Bar and Grill most Wednesday nights to line dance.
Cody's father, Jeff Coffman, confirmed that his son had been killed in the shooting – "his name is Cody Coffman and he is my first born son," he told reporters.
"Cody was the big brother that my kids need," Mr Coffman said, fighting tears.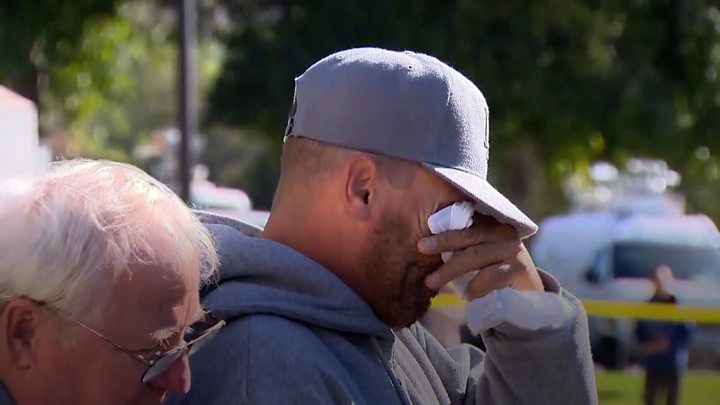 Mr Coffman said that Cody was preparing to join the US Army.
Justin Meek
Justin Meek, 23, was one of those killed at the country music night on Wednesday.
California Lutheran University confirmed that Mr Meek, a recent graduate of the university, was "one of the precious lives cut short in this tragedy".
University President Chris Kimball said Mr Meek "heroically saved lives in the incident".
The University said the "community is filled with sorrow", and that it "wraps its arms around the Meek family and other families, and around every member of this community of caring".
Mr Meek was also a keen singer and musician.
Tony Duran, owner of Goode Time Productions who employed My Meek as a singer told USA Today Mr Meek was "one of the sweetest guys in the world".
"It was his dream to sing at Club 33 at Disneyland and that's never going to happen," Mr Duran said. "That's never going to happen – all because of the stupid choice that killer made that robbed so many people of hearing Justin Meek's beautiful voice. It's senseless."
Alaina Housley
"Alaina was an incredible young woman with so much life ahead of her and we are devastated that her life was cut short in this manner."
These are the words of actress Tamera Mowry-Housley and her husband Adam Housely who confirmed that their niece Alaina Housley, 18, was one of those killed in the shooting.
"Our hearts are broken," the couple told ABC News.
Sergeant Ron Helus
Sergeant Helus was set to retire next year, after 29 years of service with the Ventura Country Sheriff's Department.
He was one of the first on the scene, and was shot several times.
He later died in hospital.
Ventura County Sheriff Geoff Dean paid tribute to Sergent Helus who he said "went in to save lives, to save other people".
"He was totally committed, he gave his all," Sheriff Dean continued, "and tonight, as I told his wife, he died a hero."
Our thoughts are with the family and friends of Sergeant Ron Helus and all the victims of last night's tragedy in Thousand Oaks. We are deeply saddened by this event in our county. pic.twitter.com/i9YwtMImLp
End of Twitter post by @Ventura_PD
Source: Read Full Article