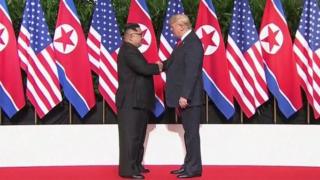 US Secretary of State Mike Pompeo will not be travelling to North Korea in the immediate future after Donald Trump asked him to call off a planned trip.
The president tweeted that insufficient progress was being made in dismantling Pyongyang's nuclear programme.
He also suggested China was not doing enough to put pressure on North Korea – due to trade tensions with the US.
After his summit with the North Korean leader in June, Mr Trump said the country was no longer a nuclear threat.
But since then there have been several reports that it is failing to dismantle nuclear facilities.
One of the most recent warnings came from unnamed US officials, who told the Washington Post that North Korea appeared to be building new intercontinental ballistic missiles.
The UN's nuclear agency (IAEA) has also said North Korea is continuing with its nuclear programme.
What is Mr Trump's latest line?
Mr Pompeo was due to head to Pyongyang next week with his newly appointed special envoy for North Korea – Stephen Biegun, a retiring Ford executive.
It would have been the secretary of state's fourth trip, though he was not expected to meet North Korean leader Kim Jong-un.
Mr Trump took a swipe at China in the second of three tweets on the issue.
…Additionally, because of our much tougher Trading stance with China, I do not believe they are helping with the process of denuclearization as they once were (despite the UN Sanctions which are in place)…
End of Twitter post by @realDonaldTrump
China and the US are embroiled in a tit-for-tat tariff war after Mr Trump complained about the size of the US trade deficit with China and what Washington sees as other unfair trade practices.
However, only two days ago Mr Trump said China had been a "big help on North Korea".
Mr Pompeo might still make another trip though.
…Secretary Pompeo looks forward to going to North Korea in the near future, most likely after our Trading relationship with China is resolved. In the meantime I would like to send my warmest regards and respect to Chairman Kim. I look forward to seeing him soon!
End of Twitter post 2 by @realDonaldTrump
How much of a shift is this?
"There is no longer a nuclear threat from North Korea," Mr Trump tweeted on arriving back in the US from the June summit with Mr Kim in Singapore.
"Everybody can feel much safer," he said.
After the optimism of Singapore, the latest development might seem like quite a change.
But there have been ups and downs in the Trump-North Korea relationship since then.
After a visit by Mr Pompeo in July, North Korea condemned his "gangster-like demands", only for another trip to be announced, albeit now cancelled.
And the summit itself was called off in May – Mr Trump citing Pyongyang's "open hostility" – only for it to take place after all.
The US has made clear that it wants to see an end to the North's nuclear activities before it will consider lifting economic sanctions.
The summit was seen as possible turning point after a ratcheting up of tensions.
North Korea had carried out a sixth nuclear bomb test in September and boasted of its ability to launch a missile at the United States.
Source: Read Full Article