In an apparent tit-for-tat move over the shutdown, the president told Ms Pelosi in a letter that her weekend visit to Belgium, Egypt and Afghanistan would not go ahead – a day after she called on him to postpone his annual State of the Union address.
And just as Ms Pelosi, the Democrat Speaker of the House of Representatives, put her request down to the impact of the partial government shutdown, so Mr Trump said the cancellation was "due to the shutdown".
The speaker would normally use a military plane for such a trip and the president appeared to be acting in his capacity as commander in chief.
This was confirmed by his spokeswoman, Sarah Huckabee Sanders, who explained "he postponed her ability to use military air", something that must be approved by the Department of Defence.
"Due to the shutdown, I am sorry to inform you that your trip to Brussels, Egypt and Afghanistan has been postponed," Mr Trump's letter said, calling it a "public relations event".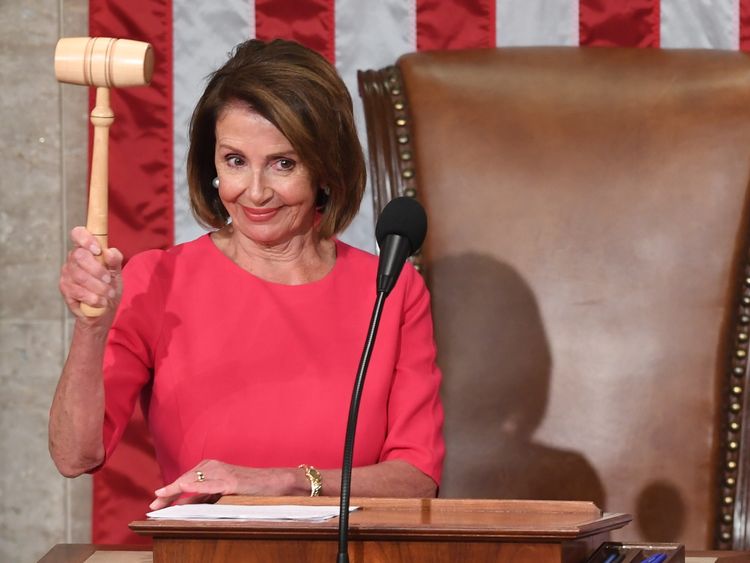 He said she could make the trip by taking a commercial flight, but the security implications of a senior politician heading to a war zone without suitable protection make that unthinkable.
Ms Pelosi has become a thorn in the president's side since Congress resumed earlier this month.
With the Democrats now holding power in the House, she has blocked Mr Trump's demand for $5.7bn (£4.3bn) to build a southern border wall.
He, in turn, has refused to sign off on government funding, leading to some 800,000 federal employees being off work since 22 December in the longest shutdown in US history.
The president may also have inadvertently revealed she was visiting Egypt, since it was not on the itinerary.
The weekend trip, which Mr Trump called a "public relations event," had not been announced before he released his letter.
Presidents traditionally deliver the nationally televised annual State Of The Nation address, which lays out the administration's goals for the year, in the House of Representatives.
In a move that appeared aimed at heading off Democratic criticism about non-essential administration travel during the shutdown, the White House announced the cancellation of a trip to the World Economic Forum in Davos, Switzerland, by Treasury Secretary Steven Mnuchin and others.
Ms Sanders said in a statement that the decision was made "out of consideration for the 800,000 great American workers not receiving pay".
Mr Trump had earlier pulled out of attending the forum because of the shutdown.
Source: Read Full Article