In a statement, press secretary Sarah Sanders took aim at Jim Acosta for "placing his hands on a young woman just trying to do her job as a White House intern".
Responding on Twitter, the White House correspondent said: "This is a lie."
In video from the event, the journalist is seen attempting to ask a follow-up question but is repeatedly shut down by the US leader, who says "that's enough" five times.
During the exchange, the staff member is seen approaching Acosta before attempting to take the microphone off him.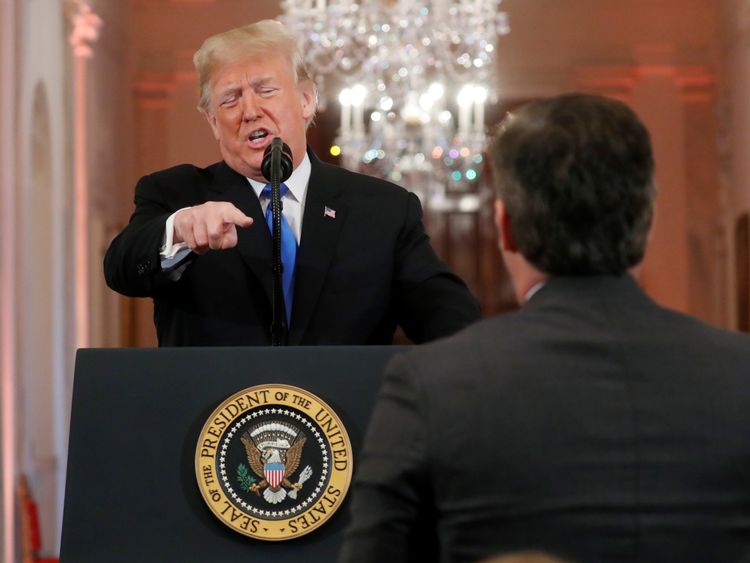 Their arms momentarily come together as the woman tries to take the microphone off him.
However, she is unsuccessful as the reporter manages to keep hold of the microphone, telling her: "Pardon me, ma'am."
After asking his follow-up question, the staff member takes the microphone off Acosta and hands it to the next journalist.
Following the news conference, Ms Sanders said: "President Trump believes in a free press and expects and welcomes tough questions of him and his administration.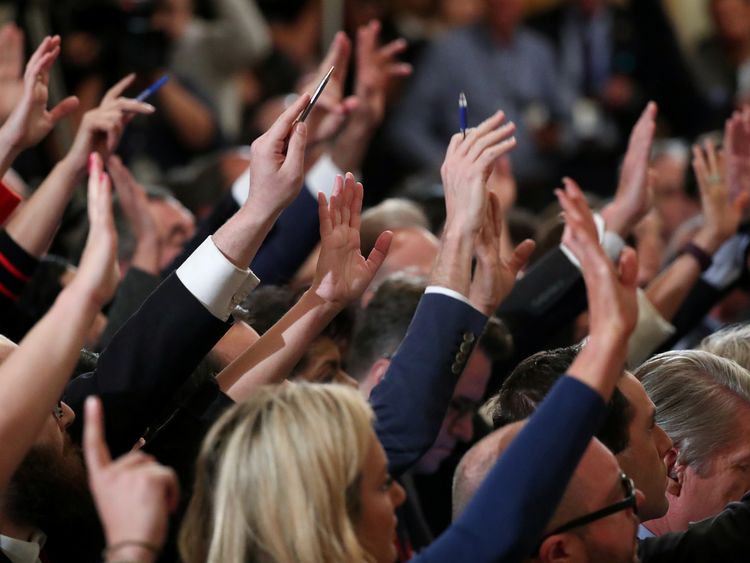 "We will, however, never tolerate a reporter placing his hands on a young woman just trying to do her job as a White House intern.
"This conduct is absolutely unacceptable. It is also completely disrespectful to the reporter's colleagues not to allow them an opportunity to ask a question."
She went on to say Mr Trump had given the media "more access than any president in history" and that "contrary to CNN's assertions, there is no greater demonstration of the president's support for a free press than the event he held today".
"Only they would attack the president for not being supportive of a free press in the midst of him taking 68 questions from 35 different reporters over the course of an hour and a half – including several from the reporter in question," she added.
"The fact that CNN is proud of the way their employee behaved is not only disgusting, it is an example of their outrageous disregard for everyone, including young women, who work in this administration. As a result of today's incident, the White House is suspending the hard pass of the reporter involved until further notice."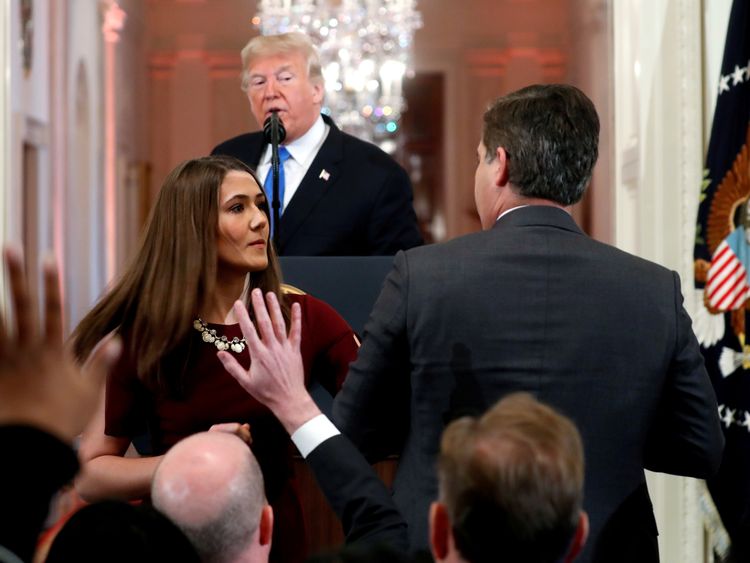 Earlier, Acosta had tweeted that he was denied entrance to the White House. He wrote: "Secret Service just informed me I cannot enter the WH grounds for my 8pm hit."
During the news conference, President Trump said Republicans "defied history" to make Senate gains in the US midterms.
In his first appearance since Americans went to the polls to deliver their verdict on his presidency, Mr Trump was in a combative mood – batting away suggestions that it had been a disappointing night for his administration.
Despite the Democrats gaining control of the House of Representatives for the first time since 2010, Mr Trump said voters had "clearly rebuked" the party.
Responding angrily to questions over the Mueller investigation and an allegedly racist midterms campaign video he shared on Twitter, the president told Acosta: "That's enough – put down the mic."
"CNN should be ashamed of itself having you working for them," he added.
"You are a rude, terrible person – and you shouldn't be working for CNN. The way you treat [White House press secretary] Sarah Huckabee [Sanders] and other people is horrible.
"When you report fake news, like CNN does a lot, you are the enemy of people."
"It's such a hostile media," he added. "It's so sad."
In an earlier statement, CNN said the president had "gone too far" during his clash with Mr Acosta – describing his "ongoing attacks on the press" as "dangerous and disturbingly un-American".
Source: Read Full Article