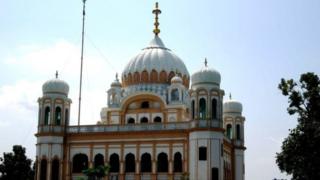 India and Pakistan have agreed to construct a new border entry point and road to allow Sikh pilgrims from India to visit a shrine in Pakistan.
Sikhism was born in Punjab, a region that was divided between the two countries during partition in 1947.
The Gurdwara Darbar Sahib Kartarpur is one of Sikhism's holiest shrines. The religion's founder, Guru Nanak, spent the last 18 years of his life there.
The decision coincides with the 550th anniversary of Guru Nanak's birth.
Since the division of India and Pakistan into two separate nations, Indians have had limited access to the shrine, often struggling to get visas to visit, says BBC Punjabi's Dalip Kumar.
Correspondents believe the announcement signals a thaw in relations between the two countries, which have fought three wars and a limited conflict since 1947.
Tensions flared in September over a set of stamps released by Pakistan which carried images of what the country called "atrocities in Indian-occupied Kashmir".
Delhi said it would fully fund construction of the new road on the Indian side, and Pakistan said it would do the same on its side.
Pakistan's Information Minister Fawad Chaudhry called the decision a "victory for the peace lobby" in both countries.
Indian Finance Minister Arun Jaitley said that pilgrims to the temple would be given "facilities similar to those of an international airport".
Pakistan is likely to begin construction on its side of the road later this month. A start date for work on the Indian side is yet to be announced.
Source: Read Full Article