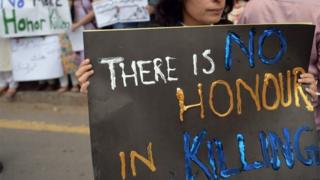 The bodies of a teenage Pakistani couple feared murdered in an "honour killing" bear marks suggesting they were electrocuted, police say.
Officials exhumed the bodies of Bakht Jan, 15, and her boyfriend Rehman, 17, a month after they were buried.
Doctors, police and a magistrate were present at the graveside in Karachi. Post-mortem results are awaited.
Police say the couple were planning to elope but their families found out and tribal elders ordered them killed.
Death by electrocution is almost unheard of in so-called honour killings in Pakistan, says the BBC's M Ilyas Khan in Islamabad. The BBC reported a suspected case in the Indian capital Delhi in 2010.
Four people, including the fathers of the dead Karachi couple, have been arrested. Police are trying to trace the whereabouts of the head of the tribal council (or jirga).
District police head Rao Anwaar told the media that police had been alerted to the killings and burials by an "informer".
He said the bodies exhumed at Mauladad graveyard in Sherpao Colony on Wednesday had marks on the arms, chest and legs that indicated electrocution.
"There were visible signs of electric shock and torture on both bodies," Civil Hospital Karachi Additional Police Surgeon Dr Qarar Ahmed Abbasi confirmed, Dawn newspaper reports.
Human rights groups say so-called honour killings are on the rise in Pakistan. Most victims are women who are not allowed to liaise or contract marriage with a man without approval of their families.
Those involved in this case belong to the Pashtun Safi tribe from the north-western tribal region of Mohmand.
Zia Ur Rehman, a reporter for The News newspaper, which broke the story on Saturday, told the BBC that the families had reached a settlement in accordance with their tribal traditions.
"Under the settlement, the couple were to wed and the boy's family would give the hand of two of its women in marriage to two men of the girl's family as the price of honour.
"But a jirga called to endorse this settlement on 15 August rejected it and ordered the couple to be killed as a lesson to others."
Police officer Aman Marwat told the BBC that the relatives arrested "said that both the victims were drugged and then given electric shocks after being tied to a cot".
He said that Bakht Jan left her home secretly on 14 August, but the family found her hours later at a nearby house waiting for Rehman, who had not yet arrived.
"The girl was killed on 15 August, and the boy was killed the next day," police officer Marwat said.
Members of the tribal council were not contactable. Most are thought to be in hiding. No family members were available to comment.
Nearly 1,100 women were killed in Pakistan in 2015 by relatives who believed they had dishonoured their families, according to an April 2016 report by the Human Rights Commission of Pakistan.
Source: Read Full Article