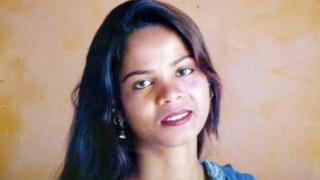 This could have been an open and shut case.
The complainants had quarrelled with Asia Bibi, and could be reasonably suspected of having dragged her to the court out of malice.
The fact that a formal police complaint was lodged at least five days after the incident created further suspicions that evidence could have been fabricated.
And if that were not enough, some glaring disparities emerged in the depositions of different witnesses about the specifics of what happened when, where, and in whose presence.
As in many countries, Pakistan's criminal justice system puts the burden of proof on the prosecution. It applies strict rules of evidence to ensure the case is proved beyond all reasonable doubt.
The slightest deficiency anywhere along the process translates into a benefit for the defendant. But, for eight years, this was not what happened in Bibi's case.
As is clear from Wednesday's Supreme Court judgement, the case ought not to have travelled beyond the trial court stage in Sheikhupura district back in 2010.
But it did, because it was no ordinary case. And because it was no ordinary case, the ruling is likely to go down in the annals of Pakistani law as an historic judgement.
Observers of Pakistan's legal scene point out that the blasphemy charges against Asia Bibi were not unique.
There have been cases in which men have been charged, convicted, or acquitted under controversial blasphemy law that dates from 1986.
But Bibi's case was different. For a start, she was the first female non-Muslim charged.
And it sparked two successive assassinations of top government officials as well as a hanging.
Significantly, it all happened at a time when Pakistan was entering a new democratic phase at the end of an eight-year-long military rule. The powerful security establishment was struggling to maintain control over political decision-making.
Extremist Islamism had already encroached on Pakistan's official state narrative in 1980s – apparently to back the then-military regime's internationally supported anti-Soviet war in Afghanistan.
The military used it as a powerful tool against the democratic governments that followed in the 1990s.
After the 9/11 attacks in the US, an era of Talibanisation of wider society ensued, bringing the war home to Pakistani citizens.
So, after the increasingly unpopular military regime of General Pervez Musharraf gave way to the elected government of the left-wing, secular Pakistan Peoples Party (PPP) in 2008, the religious lobby was distrustful.
It was in this climate that a PPP leader and governor of its most powerful province – Punjab – Salman Taseer, was gunned down by one of his religiously inclined bodyguards in January 2011.
Why? Because he had visited Bibi in jail, sympathised with her and expressed a desire to reform the blasphemy law.
A couple of months later, Pakistan's minister for minority affairs, Shahbaz Bhatti, was shot dead for making similar remarks.
These incidents put Bibi's case on the anvil of the religious lobby, with the anti-blasphemy vigilante groups vowing to draw her blood or that of the judges who would dare let her go.
But while lower court judges are less protected and more exposed to threats from vigilante groups – which is why most blasphemy cases end in convictions at the trial stage – a majority of the cases reaching the high court level are quashed, due to the absence of strong evidence.
So while Bibi's conviction by the trial court may be understandable, it could only be due to its high profile that the Lahore High Court in 2014 desisted from overturning her conviction despite obvious gaps in evidence.
And this is why today's Supreme Court judgment is being termed "historic".
The three-judge bench which acquitted Bibi comprised the sitting chief justice, Justice Saqib Nisar, and his designated successor, Justice Asif Khosa.
Justice Nisar is due to retire in January, and there was speculation he could have delayed the announcement of the verdict till after his retirement.
Instead, he has gone ahead and taken the deliberate risk of becoming a target of the vigilante groups.
The first 11 pages of the main 34-page judgment, penned by Chief Justice Nisar, read like a tutorial: what constitutes blasphemy; why it ought to be punished with death; why Pakistan incorporated laws to punish blasphemy; and how Pakistan inspired the 2009 United Nations resolution that declared defamation of religion as a violation of human rights.
It quotes copiously from the Quran and the Prophet's tradition to establish sanctity. But it then goes on to discuss "another aspect of the matter", which is that "sometimes, to fulfil nefarious designs, the law is misused by individuals levelling false allegations of blasphemy".
It says 62 people have been killed for blasphemy since 1990 "even before their trial could be conducted in accordance with the law", and mentions the lynching of Mashal Khan at Mardan University as the latest example.
The order also underlines the Prophet's attitude towards other religions.
In a separate 21-page note penned by Justice Khosa, he quotes from what is known as St Katherine's Covenant to establish how the Prophet guaranteed protection to Christians in the Islamic state.
Justice Khosa runs a greater risk than Chief Justice Nisar.
He headed the bench which in 2015 upheld the death sentence of Mumtaz Qadri, the self-confessed killer of Punjab Governor Salman Taseer. Qadri was hanged in February 2016.
After killing Taseer, Qadri became a hero of the anti-blasphemy lobby. After his death, he was given the burial of a saint in his village near Islamabad. A mausoleum has since been built over his grave where devotees flock to pray and make offerings.
For anti-blasphemy leaders, Bibi's case offered the court a chance to make up for his hanging by letting Bibi hang too.
Apart from meeting the quid pro-quo, this would have turned Bibi into a legally sanctioned example of what would happen when someone is accused of blasphemy the next time.
But Justice Khosa has chosen not to set a questionable precedent.
Source: Read Full Article