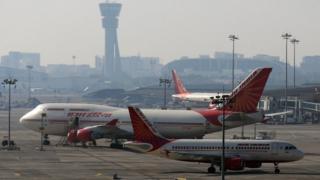 India's aviation regulator has barred a senior pilot from flying for three years after he failed an alcohol test.
Captain Arvind Kathpalia, who is also the Director of Operations at state-owned Air India, was to command the Delhi-London flight on Sunday.
A substitute pilot was brought in after he failed the test. Capt Kathpalia has denied the charges against him.
Aviation authorities say he was suspended for three months for a similar offence last year too.
"The privileges of his licence have been suspended for a period of three years from 11 November as per the provisions of applicable regulations," aviation watchdog Directorate General of Civil Aviation (DGCA) said in a statement.
The airline said he had been grounded.
On Sunday, Capt Kathpalia said he was a victim of internal fighting within Air Indian and that he would challenge the results of the tests.
Aviation rules prohibit pilots from drinking 12 hours before flying and pre-flight alcohol tests are mandatory for them.
In January, the DGCA barred for five years two pilots – a man and a woman – who fought inside the cockpit.
The pilots were then fired by the private Jet Airways after the incident on a London-Mumbai flight.
Source: Read Full Article