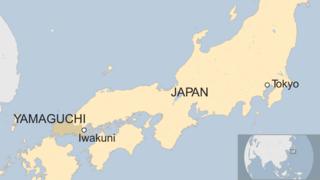 A search and rescue operation is under way in Japan after an incident involving two US Marine Corps aircraft.
The planes involved are a KC-130 and an F/A 18, carrying a total of seven personnel, US media quoted officials as saying.
The Marine Corps tweeted that the incident occurred at about 02:00 on Thursday (17:00 GMT Wednesday).
US media say the two planes crashed during midair refuelling but this has not been officially confirmed.
There is no official word on where the incident took place.
Some media reports said the planes had launched from Marine Corps Air Station Iwakuni, which is near Hiroshima in the south-west of the country and that the incident happened off the coast.
Japanese search and rescue aircraft have responded to the incident.
The KC-130 is an extended-range tanker version of the C-130 and is used for mid-air refuelling.
The McDonnell Douglas F/A-18 Hornet is a fighter and attack aircraft and can carry a wide range of missiles and bombs.
The US has more than 50,000 troops stationed in Japan, more than 18,000 of them in the US Marine Corps.
Source: Read Full Article