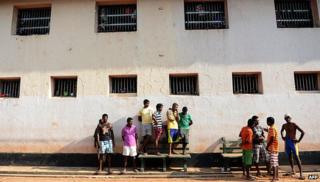 A newly recruited hangman in Sri Lanka has resigned in shock after being shown the gallows for the first time.
The country has not carried out a judicial execution since 1976 but has over 400 prisoners on death row.
The authorities want to have an executioner ready in case hangings resume.
But three recruits have now abandoned the job within a year after the previous hangman was promoted to become a prison guard.
Commissioner-General of Prisons Chandrarathna Pallegama told the BBC that the new recruit – reported to be 40 and from the town of Anuradhapura – "got shocked and afraid" after seeing the gallows, which came after several days of training.
He had written a letter saying he wanted to resign and had failed to report for training since Monday.
Mr Pallegama said the man would be given one month to consider his decision. If there was no change, fresh applications would be called for through a government gazette.
The last permanent hangman had also said the gallows made him nervous, and he felt he was lucky only to have done clerical work despite his job title.
Two men were then recruited from among 176 applicants but quit the job last year after going on unauthorised leave, reports said.
The man who has just resigned is reported to have been the third-placed applicant from that process.
Any new execution in Sri Lanka would have to be authorised by President Mahinda Rajapaksa.
Those on death row do not include former members of the Tamil Tigers (LTTE) or LTTE suspects.
Source: Read Full Article