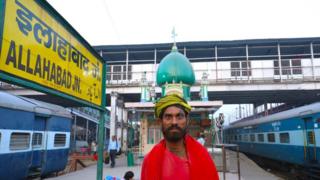 What is your name? Where are you from?
This is how most introductions start in India. And my answer to the second question has always been Allahabad, the city of India's first prime minister Jawaharlal Nehru and Bollywood legend Amitabh Bachchan.
But I won't be able to say that any longer because Allahabad has been renamed Prayagraj.
Allahabad is in the northern state of Uttar Pradesh, which is ruled by the Hindu nationalist Bharatiya Janata Party (BJP). The state government has said the decision was taken to restore the city's ancient identity as a major Hindu pilgrimage centre.
BJP leaders have taken issue with the fact that the city's 435-year-old name was given by a Muslim ruler.
Allahabad was indeed named by Mughal emperor Akbar. It was an administrative, military and cultural centre for the Mughal Empire, which ruled most of India and Pakistan in the 16th and 17th centuries.
This legacy continued during British colonial rule, and after independence in 1947, the city remained a major political and cultural hub in northern India.
It still plays a big role in the Hindu faith. It hosts the Kumbh Mela every 12 years near the confluence of two holy rivers, the Ganges and the Yamuna. The event, which attracts tens of millions of devotees, is often described as the world's largest religious gathering.
People from all faiths come together to welcome devotees, and hundreds of kiosks offering free food to people are set up during the mela.
Allahabad's history is shared by Hindus, Muslims and Christians alike.
And every corner of the city has its own share of history: from Anand Bhawan, the home of Nehru; to Sangam, the confluence of the two rivers; to the giant fort built by Akbar, which prevented flooding and helped attract people to settle in the city.
"That is why it's hard to imagine these places with any other name," says Azimur Siddiqui, a management teacher. "These places represent Allahabad."
So why change the name of the city?
"It's politics," says Professor Heramb Chaturvedi, who teaches history at Allahabad University. "We have general elections coming up in 2019 and this decision seems to have been taken to appease the city's Hindu majority," he adds.
This is not the first decision of its kind.
The Uttar Pradesh government recently changed the name of the iconic British-era train station Mughalsarai, naming it after a BJP ideologue, Deendayal Upadhyaya.
Just this week, the state's chief minister announced Faizabad district would now be called Ayodhya. Then the BJP government in Gujarat said it wanted to change the name of the state's largest city from Ahmedabad to Karnavati.
Many see renaming Allahabad as a continuation of the party's policy to change Muslim names of cities and towns.
But the BJP, which also leads the national government in Delhi, insists that the decision to rename Allahabad has nothing to do with politics since Prayagraj is the "real name" of the city.
The party claims that it is only trying to "correct history" as it was Akbar who changed Prayagraj's name to Illahabad (which means a place where Allah lives) in 1583.
But historians say this is not entirely accurate.
Professor NR Farooqui, former vice-chancellor of Allahabad University, says several historical documents and books prove that Prayagraj was never a sprawling city.
"Prayag, also mentioned as Jhunsi Prayag in some books, was a well-known pilgrimage destination. The place has been mentioned in several Hindu scriptures as well. But it was never a city," he says.
He adds that Akbar laid the foundation of a new city in 1574 and named it Ilahabas. He built a massive fort and used it as an administrative and military centre to rule northern India.
The next generation of Mughal rulers started calling it Illahabad, and finally, the British started calling it "Allahabad" for ease of pronunciation.
But it continued to be Illahabad in the local Hindi and Urdu languages.
The city has witnessed many historical moments between 1574 and 2018.
Mughal rulers continued to use the city as a regional power centre. It played an important role in India's freedom movement as Nehru's house, Anand Bhavan, became the "headquarters" for independence leaders, and later for the Congress party.
In the first few decades after India's independence, the city flourished as a major cultural and political centre.
Many prominent Hindi writers, politicians, actors, scientists and civil servants from the city went on to become legends in their fields.
And the common thread in all their success stories was Allahabad. But it's now broken.
"It's amazing that such a small city gave so many legends to the country. It didn't matter whether an achiever from the city was Hindu or Muslim – it celebrated everybody," Professor Chaturvedi says.
He acknowledges the name Prayagraj, but says people will always identify themselves with Allahabad.
"There is no doubt that the city will always be a major Hindu pilgrimage centre – whether you call it Prayagraj or not. But erasing the name Allahabad is like killing the city's soul."
Professor Farooqui agrees.
"You can't just erase the history of 500 years. Allahabad is not just a name – it's a feeling that every person who grew up in the city carries," he says.
It's a sentiment that many others share.
Suresh Yadav, former student leader of Allahabad University, believes the city will continue to have multiple identities.
"It's a city for all faiths, yet it's a major Hindu culture centre. Nothing will change that. Allahabad will continue to retain this identity," he says.
But some, like Professor Rajesh Kumar Singh, also agree with the BJP's decision to rename the city.
"I think it's a good decision to restore the city's cultural identity," Prof Singh says. "The name Prayagraj reflects that the city was an important Hindu centre, and many believe that the government has done the right thing."
Many residents of the city find it difficult to accept the decision.
They have always taken pride in calling themselves Allahabadis. One of the most famous Urdu poets called himself Akbar Illahabadi.
It's hard to believe that we may now have to call the great poet "Akbar Prayagraji".
Source: Read Full Article