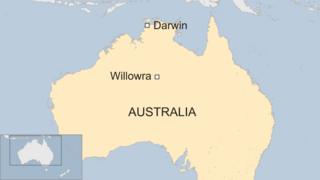 Three people have died and a boy is missing after their vehicle broke down in outback Australia, police say.
The bodies of two adults, both 19, and their three-year-old son were found near a remote road about 1,000km (620 miles) south of Darwin on Wednesday.
The deaths are not being treated as suspicious. Authorities are investigating whether heat may have contributed to the tragedy.
A search is under way for a 12-year-old boy, said Northern Territory Police.
The group was last seen leaving Willowra, a small community, on Friday. The three bodies were found about 4.5km from the vehicle.
"One of the avenues we are looking at is that they have walked off from a vehicle in extreme weather and may have got caught out," Supt Shaun Gill told the ABC.
"Initially we thought it was the result of a car crash, however we are confident it's not."
Police said the alarm had been raised by a man who entered a health clinic in Willowra on Wednesday.
"He will be a critical part of the investigation. He is quite distraught about what he has found," said Supt Jody Nobbs.
Supt Nobbs said he could not give additional details, or confirm whether the missing boy was related to the family.
Temperatures in the region exceeded 40C in recent days, according to Australia's Bureau of Meteorology.
The tragedy follows the suspected heat-related deaths of two people in separate incidents in northern Australia within the last two weeks, the ABC reported.
Source: Read Full Article