Sky News was given exclusive access to HMP Garth, described as the most violent prison ever inspected two years ago, to see one of these teams in action.
Home to more than 800 serious male offenders – many of whom are serving life sentences – it is making progress since that review by HM Inspectorate of Prisons.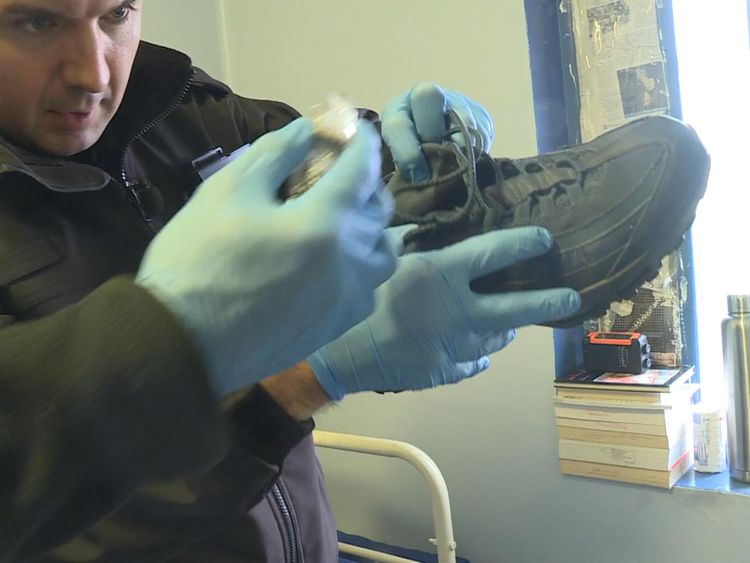 We watch as a search dog takes just seconds to find cannabis resin hidden in a trainer inside one of the cells.
Custodial manager Phil Coin said his team has made a dramatic difference, adding: "We're finding quite a lot of mobile phones, drugs and related paraphernalia. We also recover drones."
Drones are just one way contraband and drugs are now smuggled into the UK's prisons.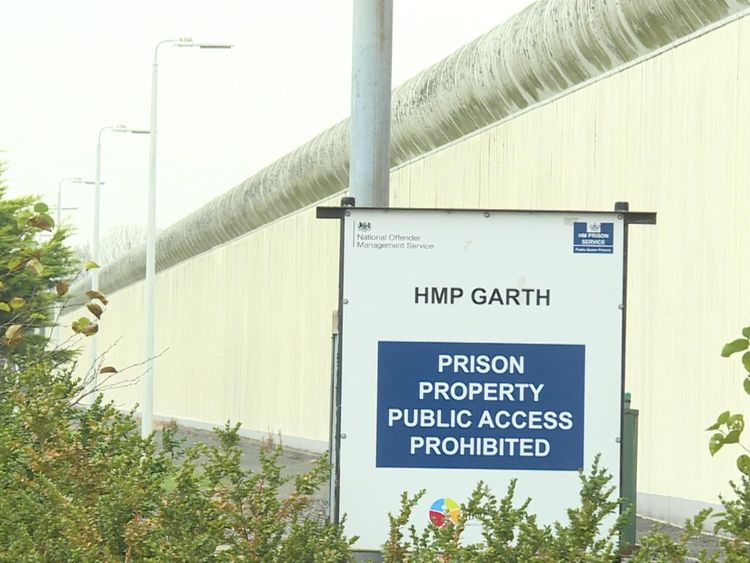 We're told about the many creative methods used by prisoners: drugs are even found absorbed in letters and children's drawings for prisoners to smoke inside.
It's a constant game of cat and mouse for the prison service.
Launching the new search teams, Justice Secretary David Gauke said the aim is to send a clear message that it will no longer be possible for prisoners to hide items they should not have.
Mr Gauke added: "There's no one single answer to drugs and violence within our prisons.
"But what we are announcing today is another step to make sure we have prisoners who are law abiding, that don't have the level of drug use, and help us to bring down the level of violence that we accept is too high."
The changes are also about tackling the causes. A focus on rehabilitation, education and employment by specialist staff at HMP Wymott, next door to HMP Garth, is shown to be working.
We spoke with prisoners serving decades for offences that were not revealed to us due to the sensitivities of their crimes.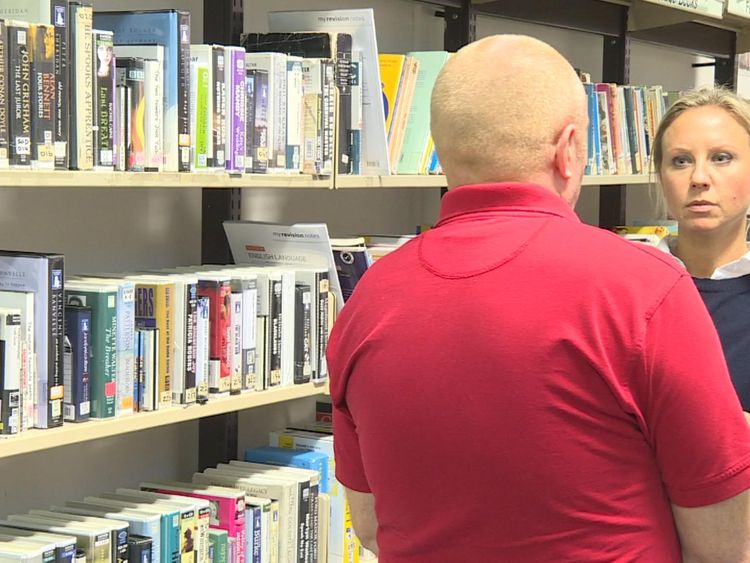 They are prisoners who have been behind bars for so long they have never known life with a mobile phone.
One inmate tells me he's been on drugs for most of his life sentence: "If you know the people you can get what you want really.
"Regards to my mental health it affected me a great deal. I had to somehow find a way out of it… I never always made it easy with staff to discipline me. Or with governors. But they stuck with me and that was the first time in maybe 30 years that I felt quite supported.
"They genuinely wanted to help me. I have a lot to thank them for."
Another prisoner tells me he used to pick up books in the library and pretend to read. One day an officer noticed the prisoner's difficulty and put the wheels in motion to see him learn, initially using children's books to start with.
It is clear this has changed his life. And it is clear education and therapy is successfully rehabilitating prisoners.
There are dedicated staff doing brilliant work, but there are just not enough of them.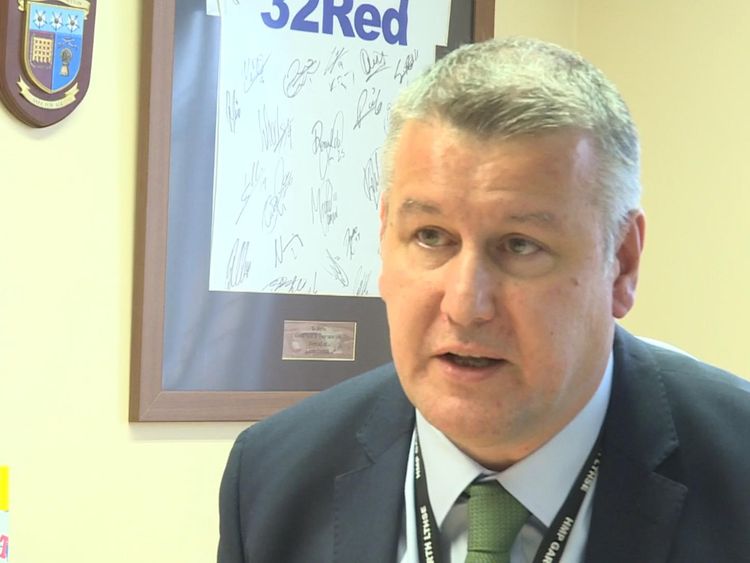 The governor of HMP Garth, Steve Pearson, tells me he has 30 officers in training which will bring his staff up to 208 by December – but that is still well short of the 20% cut that has hit the prison under austerity.
"We've had lots of assaults, lots of prisoners on staff, high drug levels, high levels of self-harm, quite a difficult environment," said Mr Pearson.
"The impact of the search team has been huge. We've found lots and lots of mobile phones, lots of drugs, lots of weapons and in terms of criminality within the prison, it's had a huge impact.
"Violence is on the decline. Self-harm is on the decline and drug positive tests are on the decline as well."
While the investment of these search teams is welcome, figures from the Ministry of Justice reveal just how much work there is to do.
In the 12 months to March 2018, the number of incidents where drugs were found in prisons increased to 13,119 from 10,666 in the previous 12-month period – an increase of 23%.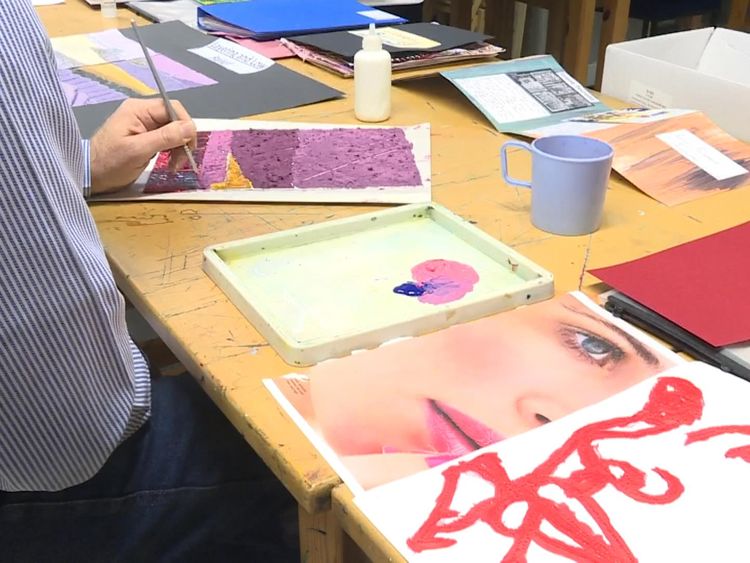 There were 10,643 incidents where mobile phones were found in prisons and 4,729 incidents where SIM cards were found, an increase of 15% and 13% respectively compared with the previous 12-month period.
While this new investment has been welcome, the Prison Reform Trust says it was a catastrophic error to take so many staff out of the prison system so quickly.
"The government must persist," said its director Peter Dawson. "What it certainly needs is fewer people in prison. The prison system is 25% overcrowded and has been for two decades.
"We are keeping people in prison for longer than they need to. Fewer prisoners would be a quicker way of solving the problem, rather than more staff."
Source: Read Full Article