The Welsh health minister has said he was "saddened" after a woman was incorrectly told she could not buy sanitary products at a Tesco store due to the firebreak lockdown.
In a coronavirus update on Monday, Vaughan Gething said that was "simply wrong". Tesco has since apologised, moving quickly to rectify its initial position.
The Welsh government is due to meet with retailers on Monday afternoon to review the controversial ban on selling non-essential items during a two-week "firebreak".
In a Twitter exchange, a customer asked the supermarket chain for help after she was told she couldn't buy sanitary towels. In a now-deleted tweet, a reply from Tesco's official account said: "We have been told by the Welsh government not to sell these items for the duration of the firebreak lockdown."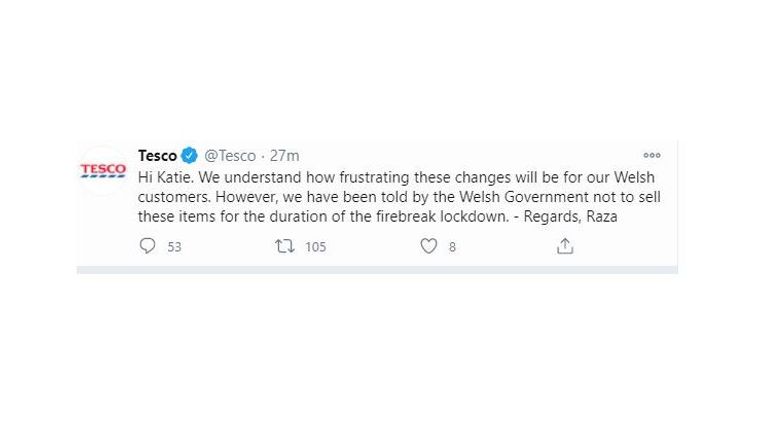 Another customer said she had the same problem and was left "raging" and "in tears" when she couldn't buy the products.
In the briefing, Mr Gething said: "I was very saddened to see this particular exchange on social media this morning from a supermarket telling a woman she could not buy period products. This is simply wrong.
"It's an incorrect reading of the regulations and the guidance. I am very sorry that this woman was given this information."
He said that supermarkets in the country can sell non-essential items during the firebreak lockdown in "exceptional circumstances".
The incident also forced the Welsh government to intervene.
A tweet from the government's official account said: "This is wrong – period products are essential."
Source: Read Full Article