England's R number has risen slightly to between 0.8 and 1.1, latest figures show.
This means that on average, every 10 people infected will infect between eight and 11 other people.
Last week, the figure was estimated to be between 0.8 and 1 by the government's Scientific Advisory Group for Emergencies (SAGE).
The daily growth rate of COVID-19 infections is also estimated at between -4% and -1%, compared to -5% and -1% a week earlier – meaning the number of cases is now shrinking by up to 4% every day.
R represents the average number of people a person with the virus goes on to infect. When the figure is above 1, an outbreak can grow exponentially – but it is shrinking if it is below 1.
SAGE scientists say R estimates now span 1 for England and some NHS England regions, as seen below.
That does not necessarily mean the R is definitively above 1 and that the epidemic is increasing – just that the uncertainty means it cannot be ruled out.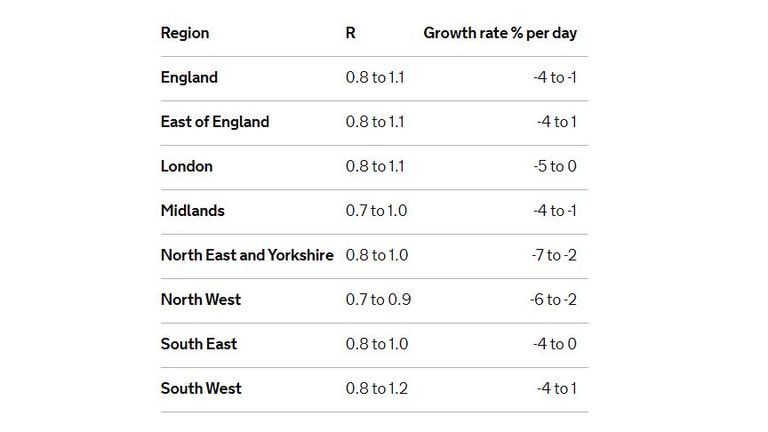 The latest R number estimate comes as new data suggests that coronavirus cases in England have dropped by 40% in just a week.
Some 54,200 people were likely to have tested positive for coronavirus in the week up to 24 April, down from 90,000 the previous week, data from the Office for National Statistics (ONS) data showed.
So around 1 in 1,010 people not in care homes, hospitals or other institutional settings would have tested positive for the virus – the lowest figure since the week to 5 September, when the estimate stood at one in 1,400.
Source: Read Full Article