Care home residents and their carers are top of the list to be vaccinated against COVID-19 in the UK.
More than 600,000 people have been inoculated since the UK became the first country in the world to approve the Pfizer/BioNTech COVID-19 vaccine.
The UK has also now given the green light to the Oxford/AstraZeneca vaccine – an approval that will see the government's vaccination programme be ramped up.
The most vulnerable will receive the jabs first, as outlined by the government's Joint Committee on Vaccination and Immunisation (JCVI). The priority list for the first phase is as follows:
1 – Residents in a care home for older adults and their carers
2 – All those aged 80 and over. Frontline health and social care workers
3 – All those aged 75 and over
4 – All those aged 70 and over. Clinically extremely vulnerable individuals
5 – All those aged 65 and over
6 – All individuals aged 16-64 with underlying health conditions which put them at higher risk of serious disease and mortality
7 – All those aged 60 and over
8 – All those aged 55 and over
9 – All those aged 50 and over
Most children under 16 will not receive the vaccine.
The next steps
Care home residents will be included in the first rollout of the Oxford vaccine. Before it was approved, they were told they would have to wait due to transportation problems with the Pfizer vaccine.
Those eligible will be invited to book an appointment when it's their turn, most likely by letter.
The bulk of the vaccination for the at-risk population is expected to take place between January and April.
There are already hundreds of sites across the UK where inoculations can take place, with more to come.
What about pregnant women, children and women who are breastfeeding?
Pregnant women were initially advised not to take the vaccine, but the advice has since been changed.
"Although the available data does not indicate any safety concern or harm to pregnancy, there is insufficient evidence to recommend routine use of COVID-19 vaccines during pregnancy," the JCVI stated.
The JCVI recommends that pregnant women consult with a clinician about the benefits and risks associated with receiving the jab.
There is an "absence of safety data" for the vaccine's impact on breastfeeding women, but the JCVI states there is "no known risk".
The jab will not be generally available for children. The JCVI stated that "following infection, almost all children will have asymptomatic infection or mild disease" and as such don't need it.
However, it will be available for "those children at very high risk of exposure and serious outcomes, such as older children with severe neuro-disabilities that require residential care".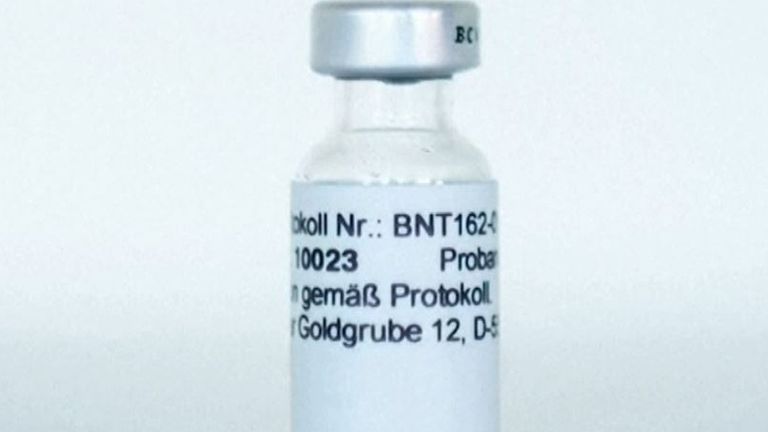 Where will the vaccines be administered?
Hundreds of vaccination services have been set up across the UK in hospitals, GPs surgeries and other sites, where people are receiving the vaccine.
The hospital hubs in England are:
Barking, Havering & Redbridge University Hospitals NHS Trust
Barts Health NHS Trust (The Royal London Hospital)
Barts Health NHS Trust (Whipps Cross Hospital)
Berkshire Healthcare NHS Foundation Trust
Blackpool Teaching Hospitals NHS Foundation Trust
Bolton NHS Foundation Trust
Bradford Teaching Hospitals NHS Foundation Trust
Brighton And Sussex University Hospitals NHS Trust
Calderdale and Huddersfield NHS Foundation Trust (Calderdale Royal Hospital)
Calderdale and Huddersfield NHS Foundation Trust (Huddersfield Royal Infirmary)
Cambridge University Hospitals NHS Foundation Trust
Chelsea and Westminster Hospital NHS Foundation Trust
Chesterfield Royal Hospital NHS Foundation Trust
Countess Of Chester Hospital NHS Foundation Trust
County Durham and Darlington NHS Foundation Trust
Croydon Health Services NHS Trust
Dartford and Gravesham NHS Trust (Darent Valley Hospital)
Dorset County Hospital NHS Foundation Trust
East And North Hertfordshire NHS Trust
East Kent Hospitals University NHS Foundation Trust (William Harvey Hospital)
East Lancashire Hospitals NHS Trust (Burnley General Hospital)
East Lancashire Hospitals NHS Trust (Royal Blackburn Hospital)
East Suffolk And North Essex NHS Foundation Trust
East Sussex Healthcare NHS Trust (Conquest Hospital)
Epsom and St Helier University Hospitals NHS Trust (St Helier's Hospital)
Frimley Health NHS Foundation Trust
Gateshead Health NHS Foundation Trust
Gloucestershire Hospitals NHS Foundation Trust
Great Ormond Street Hospital for Children NHS Foundation Trust
Great Western Hospitals NHS Foundation Trust
Guy's And St Thomas' NHS Foundation Trust
Hull University Teaching Hospitals NHS Trust
Imperial College Healthcare NHS Trust (St.Marys Hospital)
James Paget University Hospitals NHS Foundation Trust
Kent Community Health NHS Foundation Trust
Kettering General Hospital NHS Foundation Trust
King's College Hospital NHS Foundation Trust (Denmark Hill)
King's College Hospital NHS Foundation Trust (Princess Royal University Hospital)
Kingston Hospital NHS Foundation Trust
Lancashire Teaching Hospitals NHS Foundation Trust
Leeds Teaching Hospitals NHS Trust
Lewisham and Greenwich NHS Trust (University Hospital Lewisham)
Liverpool University Hospitals NHS Foundation Trust (Aintree University Hospital)
Liverpool University Hospitals NHS Foundation Trust (Royal Hospital)
London North West University Healthcare NHS Trust
Maidstone and Tunbridge Wells NHS Trust
Manchester University NHS Foundation Trust
Medway NHS Foundation Trust
Mid and South Essex NHS Foundation Trust
Mid Cheshire Hospitals NHS Foundation Trust, Leighton Hospital
Milton Keynes University Hospital NHS Foundation Trust
Moorfields Eye Hospital NHS Foundation Trust
Norfolk And Norwich University Hospitals NHS Foundation Trust
North Bristol NHS Trust
North Cumbria Integrated Care NHS Foundation Trust
North Middlesex University Hospital HNS Trust
North Tees and Hartlepool Hospitals NHS Foundation Trust
North West Anglia NHS Foundation Trust (Hinchingbrooke Hospital)
North West Anglia NHS Foundation Trust (Peterborough City Hospital)
Northampton General Hospital NHS Trust
Northern Devon Healthcare NHS Trust
Northumbria Healthcare NHS Foundation Trust
Nottingham University Hospitals NHS Trust
Oxford University Hospitals NHS Foundation Trust
Oxleas NHS Foundation Trust, Queen Mary's Hospital
Portsmouth Hospitals University NHS Trust
Royal Cornwall Hospitals NHS Trust
Royal Devon and Exeter NHS Trust
Royal Free London NHS Foundation Trust (Barnet Hospital)
Royal Free London NHS Foundation Trust (Royal Free Hospital)
Royal National Orthopaedic Hospital NHS Trust
Royal Surrey NHS Foundation Trust
Salford Royal NHS Foundation Trust
Salisbury NHS Foundation Trust
Sandwell and West Birmingham NHS Trust
Sheffield Teaching Hospitals NHS Foundation Trust
Sherwood Forest Hospitals NHS Foundation Trust
Shrewsbury and Telford Hospital NHS Trust
South Tees Hospitals NHS Foundation Trust
St George's University Hospitals NHS Foundation Trust
St Helens and Knowsley Teaching Hospitals NHS Trust
Stockport NHS Foundation Trust
Tameside and Glossop Integrated Care NHS Foundation Trust (Tameside General Hospital)
The Dudley Group NHS Foundation Trust, Russells Hall Hospital
The Newcastle Upon Tyne Hospitals NHS Foundation Trust
The Queen Elizabeth Hospital King's Lynn NHS Foundation Trust
The Royal Marsden NHS Foundation Trust, Sutton
United Lincolnshire Hospitals NHS Trust
University College London Hospitals NHS Foundation Trust
University Hospital Southampton NHS Foundation Trust
University Hospitals Birmingham NHS Foundation Trust
University Hospitals Bristol NHS Foundation Trust
University Hospitals Coventry And Warwickshire NHS Trust
University Hospitals Dorset NHS Foundation Trust
University Hospitals Of Derby And Burton NHS Foundation Trust
University Hospitals of Leicester NHS Trust
University Hospitals of Morecambe Bay NHS Foundation Trust (Furness General Hospital)
University Hospitals of North Midlands NHS Trust
University Hospitals Plymouth NHS Trust
Walsall Healthcare NHS Trust
Warrington and Halton Teaching Hospitals NHS Foundation Trust
Western Sussex Hospitals NHS Foundation Trust
Whittington Health NHS Trust, The Whittington Hospital
Wirral University Teaching Hospital NHS Foundation Trust
Worcestershire Acute Hospitals NHS Trust
Wrightington, Wigan and Leigh NHS Foundation Trust
Yeovil District Hospital NHS Foundation Trust
Source: Read Full Article