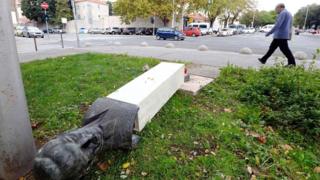 A Croatian man who tried to topple an anti-fascist monument in the city of Split by repeatedly shoving it suffered a broken leg when the statue fell on him, reports say.
The 65-year-old targeted a bust of Rade Koncar, a well-known figure of the resistance to the Nazis during World War Two.
The incident took place on Wednesday, police said.
Some Twitter users suggested it could have been the statue's revenge.
"Rade Koncar breaks the legs of fascists 76 years after they shot him," centrist politician Kreso Beljak wrote on Twitter.
Milost ne tražim niti bih vam je dao!Rade Končar lomi noge fašistima i 76 godina nakon što su ga strijeljali! ???https://t.co/cdhBScboVW
End of Twitter post by @KBeljak
"A clever monument breaks a fascist in Split," another web user wrote.
A hospital in the coastal city said the man would have to undergo surgery on his leg.
Rade Koncar was a hero of the Yugoslav resistance, well known for his fight against Croatia's fascist Ustashe government, which was allied to Adolf Hitler's Nazi regime.
The Ustashe murdered tens of thousands of Serbs, Jews and Roma, as well as Croats opposed to the regime.
In 1942, he was captured by Italian forces and executed at the age of 31 with several of his communist comrades.
Several thousand anti-fascist monuments have been vandalised or destroyed since Croatia's independence in 1991.
Critics say the authorities have been turning a blind eye to a resurgence of nostalgia for the Ustashe.
They say some Croatians see the Ustashe as the country's founding fathers and play down their crimes.
Source: Read Full Article