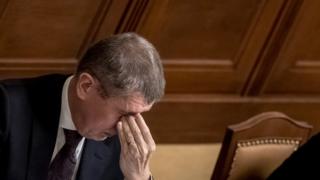 The Czech parliament has stripped Prime Minister Andrej Babis of his immunity, allowing the police to investigate his alleged role in a subsidy fraud.
He is accused of removing a farm from his Agrofert conglomerate in 2007 to make it eligible for €2m (£1.8m; $2.4m) in EU subsidies, before eventually putting it back in the holding.
Mr Babis, the country's second-richest person, has denied any wrongdoing.
The allegation has blocked his attempts to form a government.
"The problem of this false political case is that I have entered politics… However, I won't give up," Mr Babis, 63, told lawmakers before the vote.
Lawmakers voted 111 to 69 to strip Mr Babis of parliamentary immunity. The prime minister himself voted to lift it.
Mr Babis, who says the case against him is politically motivated, was elected last October on an anti-corruption and Eurosceptic platform, and continues to enjoy popularity among voters, observers say.
But his centrist movement ANO (Yes) lacks a majority and smaller parties have refused to join a coalition led by Mr Babis. His minority government resigned after losing a parliamentary confidence vote on Tuesday.
His immunity had already been lifted by lawmakers once, but Mr Babis regained it in when he won last year's election.
The case could also influence a tight presidential run-off between incumbent Milos Zeman, who backs Mr Babis, and academic Jiri Drahos, who says it would be unacceptable to have a prime minister facing police charges.
The vote will be held on 26-27 January.
Source: Read Full Article