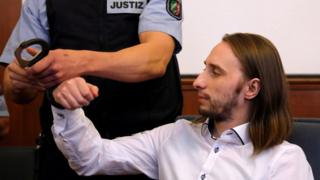 A man who bombed the Borussia Dortmund football team bus in 2017 has been given 14 years for attempted murder.
Sergei Wenergold, a German of Russian origin, had hidden bombs packed with metal pins which went off as the bus passed a hedge on its way to a Champions League quarter-final match.
The blast, which wounded two people, was initially treated as a suspected jihadist attack.
But Wenergold admitted the plot, saying he had not meant to hurt anyone.
In a bizarre twist, it emerged that the 29 year old had planned to make money out of the bombing by betting on a fall in Borussia Dortmund's stock market price.
Dortmund's Spanish defender Marc Bartra and a police officer were wounded in the attack.
Wenergold was convicted of 28 counts of attempted murder.
Source: Read Full Article