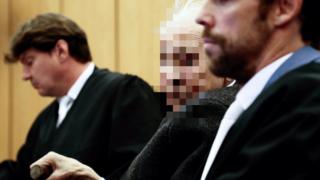 A former SS guard has gone on trial in Germany accused of complicity in mass murder at a Nazi death camp during World War Two.
Named only as Johann R by authorities, the 94-year-old served in the Stutthof camp in what is now northern Poland from June 1942 to September 1944.
He denies knowing anything about atrocities committed there.
Because he was not yet aged 21, he is being tried in a juvenile court in Münster, western Germany.
He faces a sentence of 15 years if convicted but the wheelchair user is unlikely to serve any actual time in prison because of his advanced age.
His court appearances will be limited to two hours at a time for the same reason, Dortmund prosecutor Andreas Brendel told AFP news agency.
What are the accusations?
More than 100 Polish prisoners were gassed at the camp on 21 and 22 June 1944, as well as "probably several hundred" Jewish prisoners who were killed between August and December 1944.
The defendant is "accused in his capacity as a guard of participating in the killing operations", said Mr Brendel.
"Many people were gassed, shot or left to die of hunger," he added.
What was Stutthof?
Located near the city of Danzig (now Gdansk), it was originally an internment camp before being officially designated a concentration camp in 1942.
From June 1944, prisoners were murdered in a gas chamber.
More than 65,000 people died in Stutthof before it was liberated by the Soviet Army on 9 May 1945.
Who is the defendant?
Johann R was captured by the US Army after the war but returned to civilian life, working as a landscape architect for the North Rhine-Westphalia state authorities.
Questioned by police last year, he denied knowing about atrocities in the camp.
"If one looks at how many evil doings and crimes were perpetuated, one can understand why elderly people too have to face prosecution," said Mr Brendel.
"Germany owes it to the families and victims to prosecute these Nazi crimes even today. That is a legal and moral question."
Source: Read Full Article