Five addresses were raided in Greater Manchester along with a further two addresses searched later. One property was a takeaway.
Specialists from Greater Manchester Police (GMP) and the British Red Cross are with those rescued.
Two men have been arrested on suspicion of offences under the Modern Slavery Act 2015.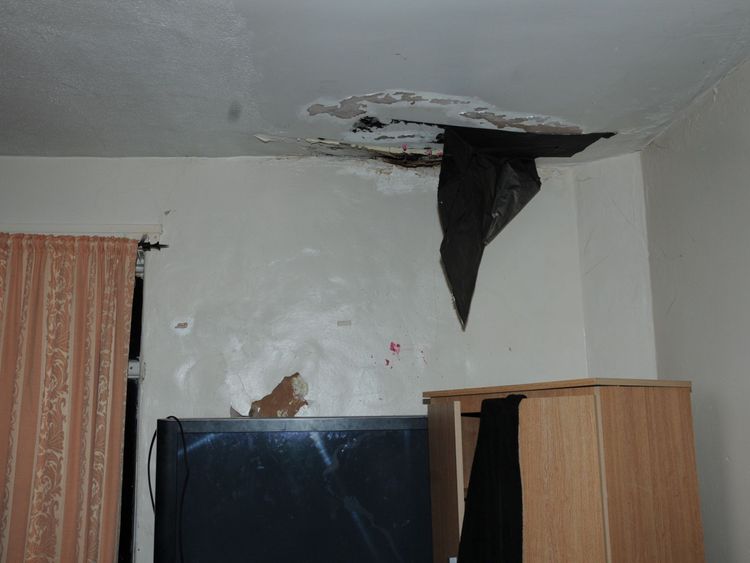 Detective Inspector Chris Potter, of GMP's City of Manchester Division, said: "Warrants like these are absolutely necessary in disrupting those who take advantage of people for cheap labour, exploit their willingness to work and completely disregard their right to live in a clean and safe environment.
"Our utmost priority is safeguarding those people we believe to be exploited and make sure they have full access to the appropriate support.
"Now, we will focus on examining the items we've recovered in our searches and intelligence we've gathered in line with our wider investigation, but we need people who have any information whatsoever or those who have spotted the signs of modern slavery to get in touch with us.
"It's happening today, and in your area. Help us make it a thing of the past."
The raids came after officers received a report in June that a man had been assaulted and trafficked to work in the UK in unacceptable conditions.
Police set up a modern slavery co-ordination unit in Greater Manchester in 2015 to tackle the growing problem of crimes of slavery, human trafficking and exploitation.
Anyone with information should contact police on 0161 856 6198 or the independent charity Crimestoppers, anonymously, on 0800 555 111.
Source: Read Full Article