The Prince of Wales said the names, suggested to Harry and Meghan during their recent tour of Australia, could be possibilities when their first child arrives in the spring.
The Duke and Duchess of Sussex had announced their baby news after landing in Sydney ahead of a 16-day tour of Australia, New Zealand and the Pacific.
Charles, who is already grandfather to the Duke and Duchess of Cambridge's children, made the quip during a reception celebrating the centenary of Australia House, the country's oldest diplomatic post.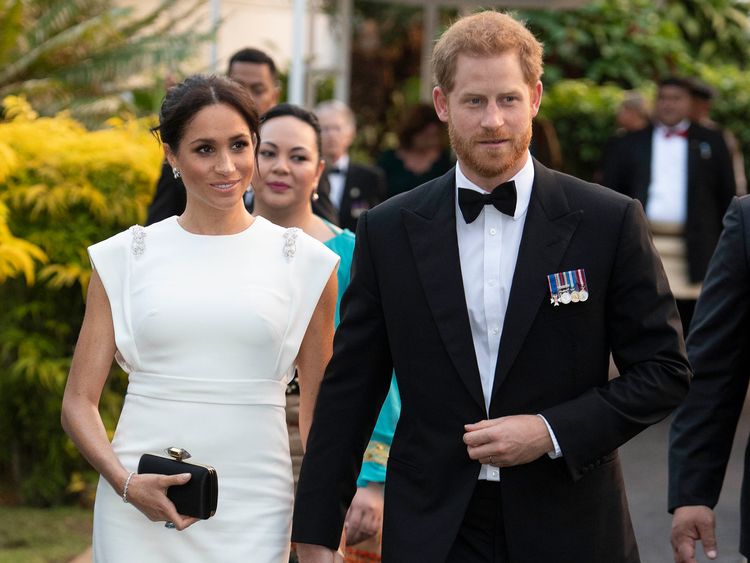 The Prince of Wales said: "Incidentally ladies and gentlemen my son Harry tells me that during their recent tour of Australia, he and his wife were offered countless thoughtful suggestions for the naming of their forthcoming baby.
"Just between us, I suspect that Kylie and Shane may possibly make the shortlist.
"But ladies and gentlemen I would not hold your breath for Edna or Les."
Comedian Barry Humphries, who is known for his character alter egos of Dame Edna Everage and Sir Les Patterson, was in the audience.
Charles, who attended Australia's Geelong Grammar School as a teenager, spoke of his "deep and abiding" affection for the country.
He said he felt "pride in seeing it go from strength to strength" both at home and on the world stage.
The royal, who recently celebrated his 70th birthday, described Australians as "frank, generous, courageous, resilient and above all great fun".
He praised Australia for its self-deprecating sense of humour and as a nation which he said stands by friends and strangers in times of trouble.
George Brandis QC, Australian High Commissioner to the UK, spoke of the "solid" bond that Australia shares with the UK.
He said: "The destinies of our two nations may have diverged over these past hundred years, but our shared interests, our common values, the crimson threads of kinship which bind us, remain as strong as they have ever been."
Source: Read Full Article