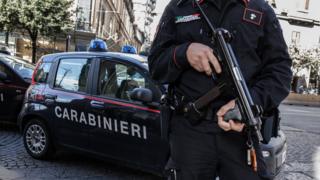 Italian police have arrested the man said to be the new head of the Sicilian Mafia, along with 45 associates.
The dawn raid in Palermo netted 80-year-old jeweller Settimo Mineo. He was reportedly elected Cosa Nostra godfather at a Mafia meeting in May.
Italian media describe him as the successor to Toto Riina, who died in jail a year ago.
The Mafia suspects are accused of extortion, firearms offences, arson and other crimes.
The Sicilian Mafia – the Cosa Nostra – managed to rebuild its leadership, known as the Cupola, after it had not met for years, reports say.
Source: Read Full Article