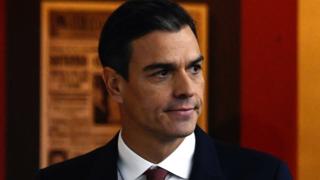 A man has been arrested in north-eastern Spain on suspicion of plotting to assassinate Prime Minister Pedro Sánchez.
The suspect, known as a crack shot, had an arsenal of weapons at his home in Terrassa, Catalonia's Mossos d'Esquadra police force announced.
Local media said the man, 63, wanted to take revenge for Mr Sánchez's plans to exhume the remains of Francisco Franco.
The fascist leader's mausoleum is revered by the Spanish far right.
Sixteen unlicensed firearms, including a pistol, were found in the suspect's home.
Named only as Manuel M, the suspect is said to have told friends on Whatsapp he was going to kill Mr Sánchez, who became prime minister in June.
He is said to be a far-right extremist with a history of mental problems.
Source: Read Full Article