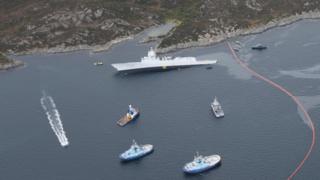 A Norwegian warship was repeatedly warned of its collision course with a Maltese oil tanker before then hitting it in a fjord, the BBC has been told.
The KNM Helge Ingstad has been listing dangerously since Thursday's collision in the Hjeltefjord near Bergen.
All 137 of its crew were evacuated and eight people were injured.
The frigate was returning from Nato military exercises. The tanker, the Sola TS, was slightly damaged but it appears that it did not spill oil.
The early morning incident led to the temporary shutdown of a major oil terminal and a gas plant.
Who knew what, when?
Communication between the vessels and the maritime traffic centre was recorded prior to the "very uncommon" collision, a spokesperson told the BBC.
"This was a very serious accident and [the authorities] need the time to investigate," said John Erik Hagen, who is in charge of the Norwegian Coastal Administration's western region.
He would not confirm further details as reported by a Norwegian defence and security website, which broke the news that the two vessels could see each other and followed communication protocols on an open channel.
"The tanker, which was heading northbound, contacted the frigate, heading southbound, to ask if they had a plan to safely pass them as they seemed to be on a collision course," Kjetil Stormark, the editor of AldriMer.no told the BBC.
Citing what he called key sources, he said: "The response was: 'We have everything under control.'"
Lucky vessels
The incident is undergoing investigation, both by the police and by the Accident Investigation Board Norway, officials told the BBC.
Mr Stomark says that because the tanker was "slow, heavy and much larger", it was the warship's responsibility to move around it.
"[The collision is] fairly unusual given that one is a highly modern military vessel – the pride of the Norwegian navy – which should detect and avoid a huge tanker."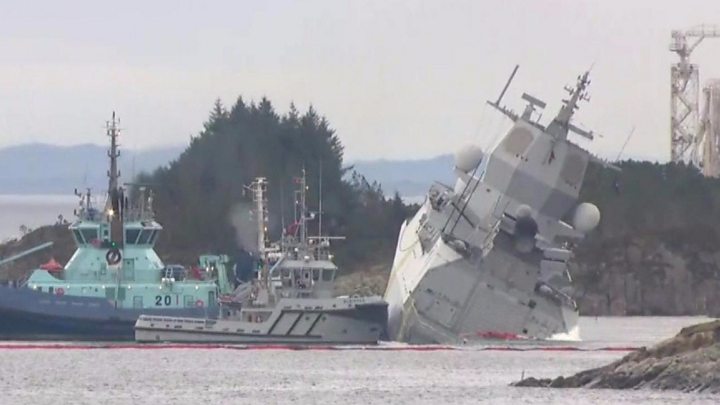 The defence expert believes the weapons-carrying vessel and heavily loaded oil tanker had "huge luck".
"The magnitude of that collision – it could have been a huge catastrophe, environmentally and with casualties," Mr Stomark.
What happened on Thursday?
The two vessels collided at about 04:00 local time (03:00 GMT) as the frigate, part of Nato's fleet, was sailing inner fjords for training, officials say.
"Due to the damage to the frigate it was moved to a safe place," Nato's Allied Maritime Command said in a statement.
The tanker had already left Equinor's Sture oil terminal with a cargo of North Sea crude, Reuters news agency reports.
The tanker, which had an uninjured crew of 23, returned to port for inspection.
An unnamed official told AFP news agency that a "small oil slick" had been detected from the frigate.
"It took on a lot of water and there is a real danger that it sinks where it is," the official said.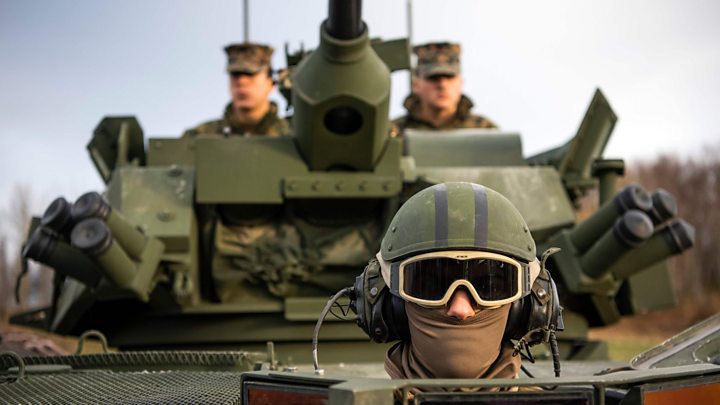 Source: Read Full Article