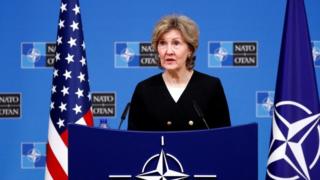 The threat from a senior US diplomat to "take out" Russian missiles that Washington believes are in breach of an important Cold War arms control treaty looks set to cause additional tensions with Moscow, just ahead of a meeting of Nato defence ministers that opens in Brussels on Wednesday.
The US ambassador to Nato, Kay Bailey Hutchison, was speaking ahead of that meeting and brought up once again Washington's contention that Russia is in breach of the Intermediate-Range Nuclear Forces (INF) agreement of 1987.
This treaty banned a whole category of weapons: ground-launched medium-range missiles, capable of striking targets at distances between 500 and 5,500km (310-3,100 miles).
Now, the Americans insist, despite Russian denials, that Moscow has a new medium-range missile in its inventory – the Novator 9M729 – known to Nato as the SSC-8.
This would enable Russia to launch a nuclear strike at Nato countries at very short notice.
Ambassador Hutchison said the US wants to find a diplomatic solution to this problem.
But she appeared to indicate that the US might consider military action if Russia's development of the system continued.
"At that point we would be looking at the capability to take out a (Russian) missile that could hit any of our countries," she said, adding counter-measures (by the US) would be to take out the missiles that are in development by Russia in violation of the treaty.
"They are on notice."
At first sight, this seems to be a fairly blunt warning from President Donald Trump's Nato ambassador.
But it is not exactly clear what she is saying. Is she threatening a pre-emptive strike out of the blue? Surely not.
Is she warning that if the Russian development of these weapons goes ahead then the US will find systems to target them in the event of a crisis?
Indeed, other US experts have sometimes suggested that a more likely US response might be to throw over the INF treaty itself and deploy a similar category of weapon.
That would be very bad news for arms control.
Back in the Cold War, the US was alarmed at the then Soviet Union's deployment of the SS-20 system.
Some of Washington's allies agreed to receive US Pershing and Cruise missiles in response. The move prompted widespread protests and huge political tensions.
The resulting INF treaty swept this whole category of weapon away and significantly reduced tensions.
But now, once again, the INF Treaty is back in the news.
Russia has said little about its new missile other than to deny that it is in breach of the agreement.
It has not answered any of the Nato countries' concerns.
Indeed, in his pre-ministerial press conference, Nato Secretary General Jens Stoltenberg noted that "the most plausible assessment would be that Russia is in violation of the treaty".
"It is therefore urgent," he went on, "that Russia addresses these concerns in a substantial and transparent manner."
He also added that, according to US intelligence, Russia had started to deploy the new missile.
Exactly what the Americans know is still not clear.
For a long time experts were not even certain which specific missile was being talked about. Is this just an extended range version of the Iskander-M – an existing Russian weapon?
Or could it be a new variant of the sea-launched Kalibr land attack missile that has been used by the Russian navy against targets in Syria?
Whatever the details, the US insists the Russians are in breach of the INF agreement. That matters.
Ambassador Hutchison may have spoken a little loosely. Russia's foreign affairs ministry spokeswoman, Maria Zakharova, said: "It seems that people who make such statements do not realise the level of their responsibility and the danger of aggressive rhetoric."
But if the deployment of the weapon continues, then the US could well make some equivalent move in response.
The issue is bound to be high on the agenda when Nato defence ministers meet in Brussels.
Source: Read Full Article