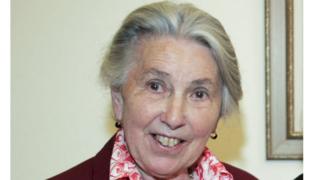 To those who knew her Elizabeth O'Kelly was a kind and generous friend who was known for her acts of kindness.
But the sheer scale of her charitable giving only became apparent after she passed away.
The County Laois multimillionaire left €30m (£26m) to charities in her will when she died at the age of 92 in December 2016.
The cash has helped organisations including the RNLI and the Irish Cancer Society.
One of her friends, Elizabeth Connelly, said she had no idea of the wealth Mrs O'Kelly was eventually able to give away.
Ms Connelly said her friend would often offer to help Kildare Archaeological Society, which they were both members of.
"I felt that was extremely generous of her," she told Irish broadcaster RTÉ.
"I thought she must be reasonably comfortable but I had no idea of the extent that she was."
Mrs O'Kelly, who lived in Stradbally but was born in France, was a shareholder in Clylim Properties, which has extensive property interests in Dublin.
She is believed to have made about €30m from the sale of the Leinster Leader Ltd newspaper group in 2005.
'Extremely generous'
Ms Connelly said that when the newspaper group was sold Mrs O'Kelly gave workers up to £3,000 each.
"She was incredibly generous and I did know fairly early on about the Leinster Leader windfall which was so kind to the employees," she said.
"She thought that the staff worked hard, she wanted to say thank you to all of them and this is why she made the generous gift to them.
"It was quite clever to keep it generous and low enough so it wouldn't interfere too much with their tax affairs."
"One of our best treats at the society was every year for a long number of years after an annual general meeting in Nice, she would treat us to tea and scones in the local hotel, which is something we miss now."
Orphaned
Mrs O'Kelly was born in France in January 1924 and was orphaned as an infant.
She was raised by her paternal aunt in Dublin and married a British Army veterinary surgeon at the age of 21, going on to live in Ballygoran in Maynooth, County Kildare, where she was well-known for her active social life and her love of travel.
"She had travelled very widely through Ireland and indeed throughout the world, particularly on her trips with the Georgian Society," Ms Connelly said.
"In the early days I knew her she spent a lot of time abroad and had a property in France.
"She spoke the most beautiful French and cooked the most beautiful French food."
Charity windfall
The Royal National Lifeboat Association (RNLI), Irish Cancer Society, Irish Heart Foundation, Irish Kidney Association and the Irish Society for Autistic Children all received an equal share of the bequest in Mrs O'Kelly's will.
The RNLI told BBC News NI the donation will help save lives "for many years to come".
It said Mrs O'Kelly "was a long-standing supporter" of the charity and volunteered for many years at an RNLI stall in Dublin.
Lifeboat funding boost
"Throughout her life, she displayed great kindness towards her many friends and was most charitable in supporting those in need," an RNLI spokesperson said.
"As this is such a large legacy, the RNLI will be carefully considering all options to ensure the funds are used where they are needed most and with a view to how they can be spent to fittingly reflect Mrs O'Kelly's support for the charity."
The RNLI said donations in wills are vital to the charity's work and fund six out of every 10 lifeboat launches.
Patient support
The Irish Kidney Association said it used some of the €6m it received to buy a house in Co Cork.
The charity's chief executive, Mark Murphy, told RTE the house, which backs onto the campus of Cork University Hospital, will be converted into a support centre for patients who do not need to be in hospital.
It is also negotiating with the Health Service Executive to see if a dialysis unit in Tramore can be completed.
Mr Murphy said the association has also donated money to renal medical research.
Cancer Foundation's largest ever donation
The Irish Cancer Society said it received a €6m bequest from Mrs O'Kelly.
It is the single largest donation ever received by the charity.
The charity said that the donation will "enable us to deliver the kind of transformational change that would have been impossible otherwise.
"On behalf of people affected by cancer all across Ireland, our supporters and volunteers, we are deeply grateful to her for making this possible," a spokesperson said.
Source: Read Full Article