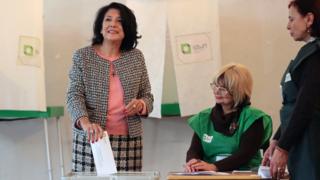 Exit polls in Georgia suggest that Salome Zurabichvili, backed by the ruling Georgian Dream party, has beaten a united opposition candidate in a presidential run-off.
Ms Zurabichvili, a former French diplomat, won at least 55% of the vote, Edison Research and Gallup polls say.
She leads Grigol Vashadze, an ally of ex-President Mikheil Saakashvili.
A new constitution is due to come into force, making the role of president largely ceremonial.
Ms Zurabichvili favours balancing Georgia's relations with Russia and the West while Mr Vashadze – who was foreign minister during the 2008 conflict between Georgia and Russia – is seen as more pro-Western, Reuters reported.
Polls closed at 20:00 local time (16:00 GMT) and the Central Election Commission (CEC) plans to announce preliminary results in the early hours of Thursday.
It is the last time a president will be directly elected in Georgia, which is switching to parliamentary governance following constitutional reforms adopted last year, despite opposition protests.
However the vote is also seen as an indicator of how parliamentary elections in 2020 could go.
Western countries are also watching the vote in a country seeking European Union and Nato membership.
The opposition has complained of voting irregularities and attacks on its campaigners, but this has been denied by the ruling party. International observers said the first round of voting last month was held on an "unlevel playing field".
Source: Read Full Article