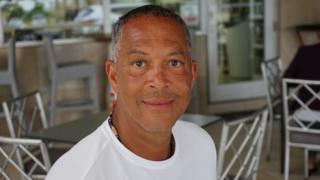 Parenting, as the saying goes, does not come with an instruction manual.
So when single dad Stevan Lynn introduced his successful New York-based "fatherhood training" to the Caribbean he rightly anticipated an influx of participants.
Over the last 20 years, Mr Lynn says he has taught more than 10,000 men how to be good fathers using the motto "deeds not words".
In many Caribbean countries mothers are often the main caregivers and, according to Unicef, as few as three in 10 children in some islands live with both parents.
But Mr Lynn is keen to end the perception that a lack of concern is the reason.
Vicious cycle
"Many fathers I've met grew up without a father themselves, raised mainly by their mothers," he tells the BBC.
"So when it comes to knowing how to be a dad, it's a bit like visiting China without speaking Chinese."
His Deeds Driven Dads programme brings Mr Lynn's sporting background as a football coach into play. Men do not attend "meetings" but "team practice" where they are encouraged to share their parenting experiences with other fathers during a stint of "locker room talk".
There are practical workshops too, covering everything from cooking and doing laundry to CV-writing and job interview skills to give out-of-work fathers a helping hand.
Sessions are free to attend and funded via a combination of government agencies and Mr Lynn's own work as a coach and motivational speaker.
You may also be interested in:
Deeds Driven Dads is now underway in six Caribbean nations including Antigua and Barbuda where government officials say female-headed households make up the bulk of families living in poverty.
"Culturally in the Caribbean, we see a lot of men having children and then moving on, to another household, area or even country," says youth officer Daryl George.
"Young boys without a positive male role model are more likely to gravitate towards gangs and other negative influences. With no one to show them how to be that role model themselves, it can become a cycle which they end up repeating."
Mr George adds: "There's a notion that the dads don't care but most want to be involved in their children's lives, and giving them the chance to do so and showing them how will make a big difference."
Precious time
For busy police officer and father-of-five Nick Christopher, the programme is a reminder of the importance of making time for his youngsters.
"I know what it's like growing up with a father who's around but always working," he recalls. "Many times my father would promise me a trip to the beach on Sunday but then Sunday would come and he would have to work.
"I know it was to make my life better but when I got to spend time with him it was worth more than anything."
These days, Mr Christopher's children, aged six to 13, know that on Sundays they have their dad all to themselves.
Ten-year-old twin Da'quan's favourite way to spend the day is playing football.
"It's been a great bonding experience," Mr Christopher continues. "As a police officer I see first-hand the heavy toll an absent father has on a child.
"For a kid, spending time with their dad is priceless; it forms memories and builds character. And for a father too, however busy you are, sitting and laughing with them even for a few minutes is precious."
Mr Christopher's wife Rika agrees. "Homework time was traditionally my role. Now Nick's often the one to ¬help the kids with their school projects which they love," she says.
"It's made us more aware of the need for family time too; we've started family movie nights where we make our own popcorn and drinks," she adds.
The only dad at ballet practice
Mr Lynn agrees. He became a single parent 25 years ago when daughter Margurite was born to a drug-addicted mother.
Two decades on from being the "only dad at ballet practice", he continues to share his experiences via public-access television while Deeds Driven Dads, which started in the Bronx, has expanded to a core team of 10 mentors.
"The dialect may be different in the Caribbean but when it comes to fatherhood everything else is the same," Mr Lynn says.
"My five keys to success are faith, sacrifice, patience, commitment and unconditional love. If just one is missing, there's a hole."
Men "listen differently and open up more when it's man to man", he argues.
"I tell the fathers, until they take care of their family, nothing else in their life will go right; they will always be off course."
Being "Mr Sunshine" is key too, Mr Lynn believes, a stance he says is embodied in his own upbeat demeanour. "You can't be down when you're responsible for someone else; you have to stay positive."
It may sound outdated to some but he asserts fathers bring "backbone and support" to a child's life.
"Boys manifest a father not being there with anger and deviant behaviour," he says. "For girls, it manifests in pain and hurt. Both have devastating lifelong effects."
In addition to seminars and practical advice, team sports are suggested to fathers too.
"To be a good dad, you have to be energetic and in playing shape," Mr Lynn adds. "I remind fathers they are the manager of their team; if the team loses, it's on them."
Source: Read Full Article