Bezos Responds To His Partner's Viral Meeting With Leo DiCap
Jeff Bezos' partner and news anchor Lauren Sanchez was caught starstruck when the couple met Hollywood heartthrob Leonardo DiCaprio in an event at Los Angeles on Sunday.
Sanchez was seen hugging Leo in an enamored manner in a video that has made 8 million views on the internet already. The 51-year-old anchor has been with Bezos since 2019 after he split with his 25-year-long wife McKenzie Scott.
The event, the 10th Annual Los Angeles County Museum of Art (LACMA) Art and Film Gala, was hosted by DiCaprio and Eva Chow. One of the guests of the program, the world's second-richest man, attended with his partner.
Sanchez's reaction has been the talk of the town since the event. Sanchez was trending on Twitter as users poured their opinions on her reaction.
Following the incident, Bezos also took to Twitter to participate in the fun by tweeting a picture of himself standing in front of a marker that read, "Danger, Steep cliff, fatal drop." The tweet read, "Leo, come over here, I want to show you something…"
After the event, Sanches wrote on Instagram, "Beautiful evening last night at the @LACMA Art + Film Gala hosted by the amazing @1evachow and @leonardodicaprio." She went on to add: "An amazing event that will benefit important museum initiatives, exhibitions, and programming for years to come."
Lucid Air named car of the year by Motor Trend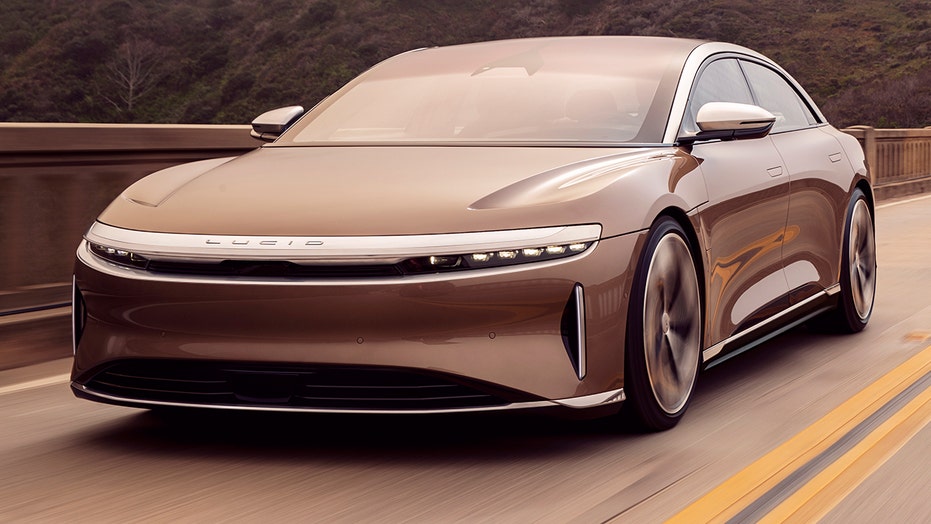 Lucid Motors 'Air' revealed
California startup Lucid Motors plans to sell its 1,000 hp electric luxury sedan in 2018.
Motor Trend has picked the all-electric Lucid Air as its 2022 Car of the Year.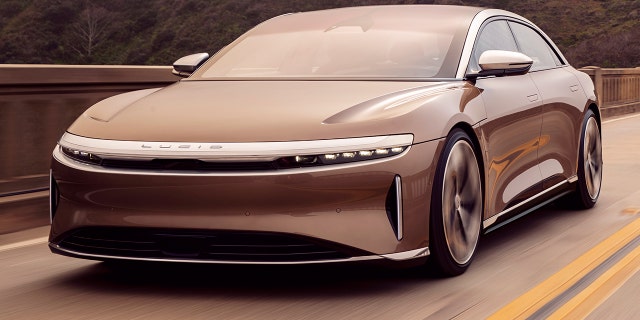 (Lucid)
It's the first time a startup's first vehicle has received the award, which is often heavily featured in manufacturer advertising.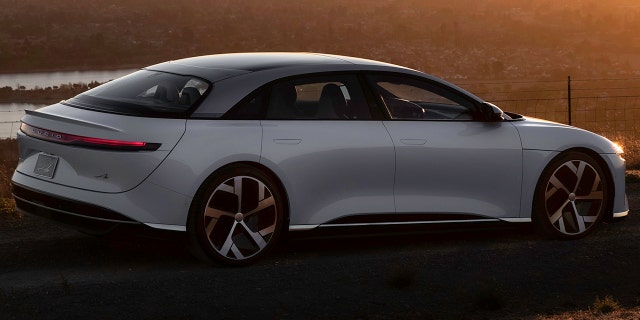 (Lucid)
The publication cited the Air's maximum range of 520 miles per charge, optional 1,111 hp powertrain and styling as the main attributes that set it apart from the other six finalists, which included the electric Mercedes-Benz EQS and Porsche Taycan.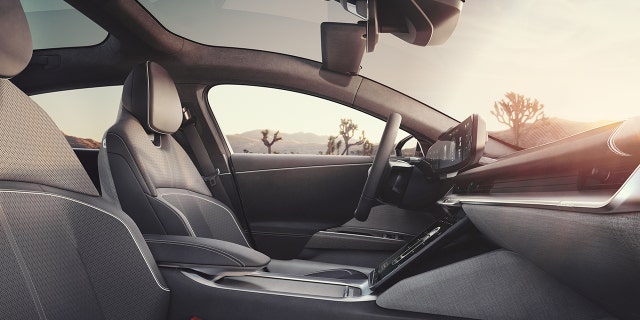 (Lucid)
The Air is also the most efficient electric vehicle, according to the EPA, and is available in a high-performance model that can accelerate to 60 mph in under 2.5 seconds.
California-based Lucid builds the Air at a factory in Casa Grande, Arizona.
Pre-market Movers: CREX, BTB, EYPT, OXBR, MICT…
The following are some of the stocks making big moves in Monday's pre-market trading (as of 07.10 A.M. ET).
In the Green
Creative Realities, Inc. (CREX) is up over 104% at $2.99
Bit Brother Limited (BTB) is up over 62% at $4.30
EyePoint Pharmaceuticals, Inc. (EYPT) is up over 39% at $19.56
Oxbridge Re Holdings Limited (OXBR) is up over 15% at $4.12
MICT, Inc. (MICT) is up over 15% at $1.52
NanoViricides, Inc. (NNVC) is up over 13% at $5.32
Xeris Biopharma Holdings, Inc. (XERS) is up over 13% at $2.42
Abeona Therapeutics Inc. (ABEO) is up over 11% at $1.02
Arqit Quantum Inc. (ARQQ) is up over 9% at $24.67
In the Red
Wunong Net Technology Company Limited (WNW) is down over 11% at $4.11
Koninklijke Philips N.V. (PHG) is down over 10% at $42.80
BioXcel Therapeutics, Inc. (BTAI) is down over 10% at $31.05
AcelRx Pharmaceuticals, Inc. (ACRX) is down over 10% at $0.71
NuZee, Inc. (NUZE) is down over 8% at $4.73
Moving iMage Technologies, Inc. (MITQ) is down over 7% at $3.03
Stran & Company, Inc. (STRN) is down over 6% at $5.36
Astra Space, Inc. (ASTR) is down over 4% at $10.15
InterCure Ltd. (INCR) is down over 3% at $8.33
Risks for German finance revolve around rates, BaFin president says
FRANKFURT, Nov 15 (Reuters) – The new president of Germany's financial watchdog BaFin said the greatest risks for the financial sector revolve around interest rates.
The continuation of low rates hurt bank profitability, BaFin President Mark Branson told a banking conference on Monday.
"If rates rise abruptly, it will be turbulent," he said.
Emirates says it could be listed in Dubai, CNBC Arabiya reports
CAIRO, Nov 15 (Reuters) – Emirates airline Chairman Sheikh Ahmed bin Saeed Al-Maktoum said on Monday it was possible to list the carrier or its subsidiaries on the Dubai exchange, CNBC Arabiya TV reported.
He said such a decision would have to come from the Dubai Securities and Exchange Higher Committee chaired by Sheikh Maktoum bin Mohammed bin Rashid Al Maktoum, Deputy Ruler of Dubai.
Tyson Foods Inc. Reveals Increase In Q4 Profit
Tyson Foods Inc. (TSN) released earnings for its fourth quarter that advanced from the same period last year.
The company's bottom line totaled $1.36 billion, or $3.71 per share. This compares with $0.65 billion, or $1.79 per share, in last year's fourth quarter.
The company's revenue for the quarter rose 11.8% to $12.81 billion from $11.46 billion last year.
Tyson Foods Inc. earnings at a glance:
-EPS (Q4): $2.30 vs. $1.70 last year.
-Revenue (Q4): $12.81 Bln vs. $11.46 Bln last year.
Beto O'Rourke Is Running for Governor of Texas
Beto O'Rourke is running for governor of Texas.
The former congressman, Senate candidate, and Democratic candidate for president announced on Monday that he intends to unseat Republican Governor Greg Abbott. "Together, we can push past the small and divisive politics that we see in Texas today — and get back to the big, bold vision that used to define Texas," he wrote on Twitter. "A Texas big enough for all of us."
He explained his decision to run in an interview with The Texas Tribune. "I'm running to serve the people of Texas, and I want to make sure that we have a governor that serves everyone, helps to bring this state together to do the really big things before us and get past the small, divisive politics and policies of Greg Abbott," he said. "It is time for change."
O'Rourke, who ran against Sen. Ted Cruz (R-Texas) in 2018 as the Democratic nominee for Senate and subsequently launched a 2020 presidential campaign, cited the storm last winter that turned deadly when many in the state lost power for days due to failures in the electrical grid. "They were abandoned by those who were elected to serve and look out for them," O'Rourke said in a video announcing his candidacy. "It's a symptom of a much larger problem we have in Texas right now. Those in positions of public trust have stopped listening to, serving, paying attention to and trusting the people of Texas."