YouTube Temporarily Suspends Trump's Official Account Upon "Ongoing Potential For Violence"
YouTube announced that it will temporarily suspend President Donald Trump's official account for at least seven days.
The video sharing platform now joins a number of internet apps, including Twitter and Snapchat, that have limited the president's access following his involvement in last Wednesday's violent attack on the U.S. Capitol, which left at least six people dead.
"After review, and in light of concerns about the ongoing potential for violence, we removed new content uploaded to Donald J. Trump's channel for violating our policies," YouTube shared on Twitter. "It now has its 1st strike & is temporarily prevented from uploading new content for a minimum of 7 days."
On Wednesday, even before the events at the U.S. Capitol, Trump encouraged his followers to challenge the results of the 2020 presidential election results and the Electoral College vote, which both determined that former Vice President Joe Biden will be the new POTUS. In addition to Trump, Donald Trump Jr. and Rudy Giuliani rallied the crowd and also urged them to fight against the election results.
In addition to limiting Trump's official account from sharing videos, YouTube will also remove the commenting feature "indefinitely" as "there are safety concerns found in the comments section."
See YouTube's statements below.
Read More About:
Mudslides Kill 11 People After Rains in Indonesia's West Java
At least 11 people, including rescuers, died and 18 were hurt in West Java, Indonesia, after torrential rain caused landslides, emergency services said.
Members of the joint search and rescue team were caught by a second landslide that struck the village in Sumedang while they were evacuating people, the National Disaster Mitigation Management said in a statement. A bridge was destroyed and several roads were cut off, it said.
At least eight people were reported missing, the search and rescue team said in a separate statement.
Algerian President Returns to Germany to Complete Treatment
Algerian President Abdelmadjid Tebboune departed Sunday for Germany for treatment resulting from his earlier bout of coronavirus, local media reported.
Tebboune said he may undergo minor surgery and doesn't expect to be away from the country for long, the independent Ennahar TV quoted him as saying on its Twitter account. He said it was related to a "complication" with his foot stemming from his previous fight with Covid-19, for which he was also hospitalized in Germany.
Read also:Algerian President to Return to Germany for Treatment: EL Khabar
Alcoa Q4 Earnings Beat Street View
Alcoa Corp. (AA), the largest producer of aluminum in the US, Wednesday reported fourth-quarter adjusted earnings that trumped Wall Street analysts' estimates. Revenues also exceeded expectations.
Pittsburgh-based Alcoa reported fourth-quarter loss of $4 million or $0.02 per share, narrower than last year's loss of $303 million or $1.63 per share last year.
Excluding one-time items, earnings for the quarter were $49 million or $0.26 per share, compared to last year's loss of $57 million or $0.31 per share. On average, 9 analysts polled by Thomson Reuters expected earnings of $0.11 per share.
Revenues for the quarter dropped to $2.39 billion from $2.44 billion a year ago. Analysts had a consensus revenue estimate of $2.35 billion.
"In a very challenging year, we set multiple production records, exceeded our goals for cash management, and made significant progress on our multi-year strategy," said Alcoa President and CEO Roy Harvey. "We had a very solid fourth quarter, and the work we accomplished in 2020 positions us well to capture the benefits of an improved market.
Alumina shipments dropped to 2.31 million metric tons from 2.46 million metric tons last year.
Looking forward to 2021, the company expects total alumina shipments to be between 13.9 and 14.0 million metric tons and stable in comparison to 2020.
AA closed Wednesday's trading at $22.84, down $0.25 or 1.08%, on the NYSE. The stock further dropped $0.56 or 2.46% in the after-hours trading.
Swiss Find $10 Billion in Suspicious Venezuelan Funds: Report
Want the lowdown on European markets? In your inbox before the open, every day.Sign up here.
Swiss prosecutors have identified bank accounts containing some 9 billion francs ($10.1 billion) that may have come from embezzled public funds in Venezuela, newspaper Le Matin Dimanche reported.
Since opening investigations in late 2019, public prosecutors in Zurich have become aware of funds held by people close to the Venezuelan government in hundreds of accounts at around 30 banks, according to the report.
The Zurich public prosecutors' office did not immediately respond to requests for comment.
Biden just announced his stimulus plan — and AOC already has a problem with it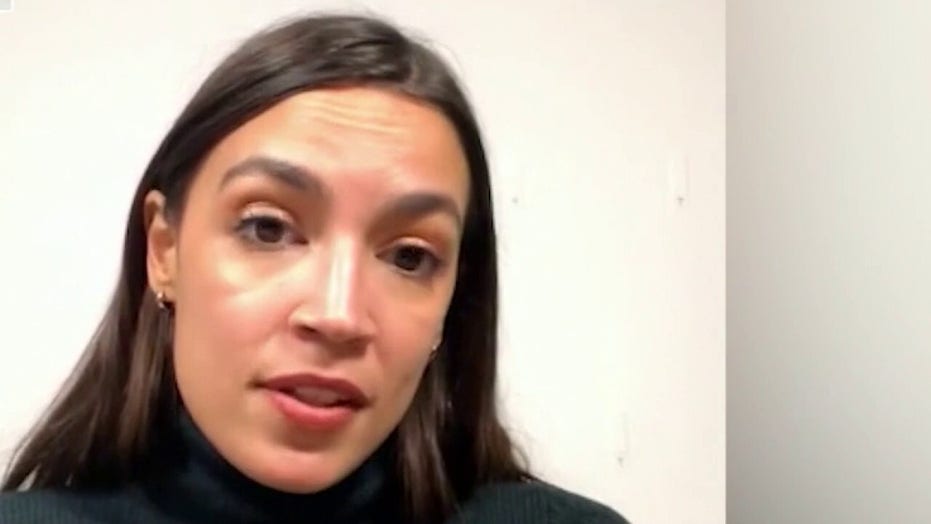 AOC suggests federal committee could potentially 'rein in' the press
FOX News media analyst and 'Media Buzz' host Howard Kurtz has the details on 'Special Report'
Rep. Alexandria Ocasio-Cortez, D-N.Y., is criticizing President-elect Biden's new coronavirus relief, arguing that it doesn't go far enough to help people in need during the pandemic.
Biden's stimulus plan, which includes the increased payments, would cost $1.9 trillion. According to The Washington Post, most people would end up with a total of $2,000 in stimulus, including $600 checks dispensed in recent legislation.
But that wasn't enough for Ocasio-Cortez, who appeared to want the latest checks to reach $2,000 as she and others have repeatedly requested. "$2,000 means $2,000. $2,000 does not mean $1,400,″ she told the Post.
In a follow up tweet, Ocasio-Cortez argued that Congress should proivde retroactive unemployment relief, in addition to the $400 per week that Biden included in his latest proposal. Biden's proposal also expanded from $500 to $1,500 the Earned Income Tax Credit.
With Democrats controlling both chambers and the White House after November's elections, it appeared more likely they could pass a stimulus package.