Keysight Technologies, Inc. Q2 adjusted earnings Miss Estimates
Keysight Technologies, Inc. (KEYS) reported earnings for second quarter that decreased from the same period last year.
The company's bottom line totaled $71 million, or $0.37 per share. This compares with $153 million, or $0.80 per share, in last year's second quarter.
Excluding items, Keysight Technologies, Inc. reported adjusted earnings of $148 million or $0.78 per share for the period.
Analysts had expected the company to earn $1.20 per share, according to figures compiled by Thomson Reuters. Analysts' estimates typically exclude special items.
The company's revenue for the quarter fell 17.4% to $0.90 billion from $1.09 billion last year.
Keysight Technologies, Inc. earnings at a glance:
-Earnings (Q2): $148 Mln. vs. $233 Mln. last year.
-EPS (Q2): $0.78 vs. $1.22 last year.
-Analysts Estimate: $1.20
-Revenue (Q2): $0.90 Bln vs. $1.09 Bln last year.
Google says it will let workers expense $1,000 worth of office furniture
Google employees who don't want to return to the office this summer can start shopping for a nice home office.
The search giant said Tuesday that it will begin letting employees come back to the office beginning July 6, and will gradually ramp up its in-person attendance throughout late summer and early fall. Employees who choose to stay home, the company said, will be allowed to expense up to $1,000 for home office needs like standing desks and ergonomic chairs.
Google expects 10 percent of employees to return to the office following the July 4 holiday, CEO Sundar Pichai told employees in a memo, and aims to have 30 percent of its workforce return from remote work by September.
In an interview published in Wired Magazine last week, Pichai said that he doesn't expect Google to abandon its physical office spaces, which have become famous for the perks they provide employees such as free dry cleaning, meals and work out classes.
"In all scenarios I expect us to need physical spaces to get people together, absolutely. We have a lot of growth planned ahead," Pichai said. "So even if there is some course correction, I don't think our existing footprint is going to be the issue."
Google's announcement comes days after Facebook CEO Mark Zuckerberg said half of the social-networking giant's employees could be working remotely within the next five to 10 years, and that Facebook will begin allowing certain employees to work from home on a full-time basis.
Meet Apple's new — and cheap — iPhone SE
San Francisco (CNN Business)Apple is reopening 100 more retail stores in the United States this week that it was forced to close because of the coronavirus, though customers won't be able to enter many of them just yet.
Most of the stores will only offer curbside or storefront services, which means customers can visit for appointments at the Genius Bar or order online and pick up at the stores, the company said Tuesday.
Around 40 stores across Arizona, California, Florida, Georgia, Nevada, South Carolina, Texas and Virginia will allow walk-in customers.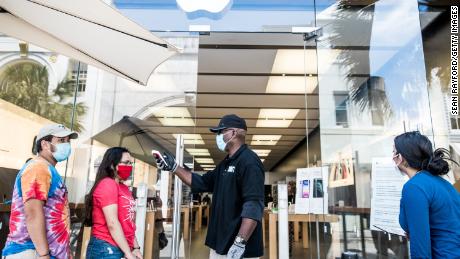 Apple (AAPL) began reopening its US retail outlets earlier this month, starting with a few stores in Idaho, South Carolina, Alabama and Alaska. The company will require temperature checks and face coverings for employees and customers, as well as limits on how many people are allowed inside the store at a time.
"We are committed to reopening our stores in a very thoughtful manner with the health and safety of our customers and teams as our top priority, and we look forward to seeing our customers again soon," Apple said in a statement.
Apple has 510 stores worldwide, of which 271 are in the United States. The company has thus far reopened around 100 stores around the world, including in China, Austria, Australia, Germany and South Korea.
GOP Plans Court Challenge to House Move to Allow Proxy Voting
Republicans in the House are planning to challenge in court a proxy voting procedure Democrats pushed through earlier this month for colleagues who are in quarantine or otherwise housebound during the coronavirus pandemic, according to three Republican officials.
The first proxy votes are set to be cast this week when the House considers several pieces of legislation, including modifications to a popular loan program for small businesses and an extension of the federal government's surveillance authority.
During House debate on the rule change, which would enable a single lawmaker to cast votes on behalf of up to 10 colleagues, Republicans had denounced the move as unconstitutional.
Democrats, led by Rules Committee Chairman Jim McGovern of Massachusetts, cited opinions from constitutional law experts in support of the change. At least 50 Democrats have filed with the clerk's office saying they plan to use the system this week.
A House Republican aide said Minority Leader Kevin McCarthy will be the lead plaintiff along with other House members and four constituents in the suit against House Speaker Nancy Pelosi and other House officials.
The GOP likely faces an uphill climb in a lawsuit because the Constitution lets the House set its own rules.
MEDIA-Bank of America staff will return to office in phases with 30 days' notice – Bloomberg News
— Source link: bloom.bg/3d4NoSJ
— Note: Reuters has not verified this story and does not vouch for its accuracy
Biden Says He Hopes to Resume In-Person Campaign Events
Joe Biden said Tuesday he hopes to resume in-person events after spending more than two months campaigning virtually from his Delaware home.
Biden said he is following his state's stay-at-home orders, but he hopes to resume a public schedule once that is lifted.
"I hope to be able to do more," he said in a CNN interview.
Biden and his wife, wearing masks, made their first public appearance on Monday, when they laid a wreath at a veterans memorial in New Castle, Delaware. President Donald Trump, who has refused to wear a mask despite Centers for Disease Control guidelines, mocked Biden's mask on social media.
"He's a fool," Biden said of the president. "An absolute fool to talk that way."
The presumptive Democratic nominee assailed Trump's handling of the pandemic and said his refusal to wear a mask was "stoking deaths."
Biden also apologized again for his remark on Friday when he said on a radio show that black voters who were considering not supporting him "ain't black."
"I shouldn't have been such a wise guy," he said, vowing to work hard to win the support of black voters.