European Shares Poised For Flat Opening
European stocks are seen opening flat to slightly lower on Tuesday, with corporate earnings likely to sway sentiment as the day progresses.
Asian markets were seeing cautious gains, though Japanese shares fell sharply on disappointing earnings updates from the likes of Japan Steel Works, Tokyo Electron and SoftBank Corp.
The dollar lurked just below recent highs and gold dipped slightly ho hover below $1,800 per ounce, as investors await Wednesday's inflation data from the United States for additional clues on the rate outlook.
Economists have suggested that the inflation data could have an even greater impact on Fed officials' thinking than the jobs data.
Oil prices dipped in Asian trading after having risen nearly 2 percent in the U.S. trading session.
The economic calendar is on thee quiet side, with no top-tier data scheduled in the European session.
U.S. stocks ended a choppy session narrowly mixed overnight, as Nvidia announced weaker-than-expected revenue for the second quarter, the Senate passed the Inflation Reduction Act and a New York Fed survey showed consumers' inflation expectations fell sharply in July.
European stocks closed higher on Monday, with falling bond yields and robust earnings helping underpin sentiment. The pan European Stoxx 600 gained 0.7 percent.
The German DAX and France's CAC 40 index both rose about 0.8 percent while the U.K.'s FTSE 100 climbed 0.6 percent.
Hydrofarm Holdings Stock Gains 13%
Shares of Hydrofarm Holdings Group, Inc. (HYFM) are gaining over 13% on Monday despite no stock-related news.
HYFM is currently trading at $4.355, up $0.5050 or 13.12%, on the Nasdaq. The stock opened its trading at $4.75 after closing Friday's trading at $3.85.
Hydrofarm Holdings Group, Inc., together with its subsidiaries, engages in the manufacture and distribution of controlled environment agriculture (CEA) equipment and supplies in the United States and Canada.
Brainstorm Cell Therapeutics Stock Gains 8%
Shares of Brainstorm Cell Therapeutics Inc. (BCLI) are gaining over 8% on Monday morning after the company reported second-quarter results and also announced its decision to submit a Biologics License Application to the Food and Drug Administration for NurOwn for the treatment of amyotrophic lateral sclerosis.
BCLI is currently trading at $3.77, up $0.30 or 8.65%, on the Nasdaq.
Second-quarter loss was about $7.0 million, as compared to a net loss of around $6.3 million last year. Loss per share for the three months was $0.19, wider than last year's $0.17.
"Brainstorm Cell Therapeutics is at a pivotal moment as a company as we finalize the regulatory filing for NurOwn in the treatment of ALS. The continued analysis and the feedback received from the many scientific presentations of NurOwn's Phase 3 data have uncovered key insights that furthered our understanding of the product mechanism of action and therapeutic potential and strengthened the conclusions of NurOwn's efficacy," said Chaim Lebovits, Chief Executive Officer.
The recalled pizza.
New York (CNN Business)About 13,000 pounds of frozen pizza made by Home Run Inn Frozen Food is being recalled because of potential metal contamination.
The pizza's meat topping "may be contaminated with extraneous materials, specifically metal," the US Department of Agriculture's Food Safety and Inspection Service said in a release Sunday.
Some customers complained of finding metal in the pizza, the regulator said.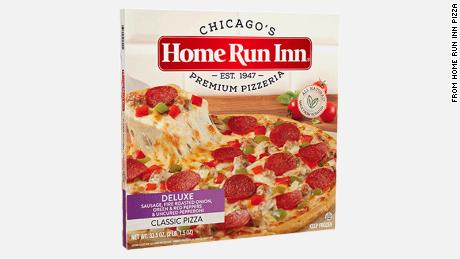 The recalled pizzas are Home Run Inn's Chicago Premium Pizzeria Deluxe Sausage Classic, produced on June 6, 2022 and sold in 33.5-ounce cartons with a best-by date of December 3, 2022. Boxes are marked "Est. 18498-A" inside the USDA's stamp of inspection.
"There have been no confirmed reports of injuries or adverse reactions due to consumption of these products," the agency noted. If someone has one of the affected pizzas in their freezer, they are encouraged to throw them away or return them at the point of purchase. They were shipped to distributor in Illinois "then further distributed to retailers."
In a statement provided to CNN Business, the company said that the "safety of our customers and quality of our Home Run Inn products is paramount" and that it's "working closely" with the USDA on the recall.
Home Run Inn makes frozen pizzas and operates a chain of restaurants in Illinois.
Navitas Semiconductor Stock Gains 11%
Share of Navitas Semiconductor Corporation (NVTS) are gaining over 11% on Monday morning after the company announced that OnePlus has chosen GaNFast next-gen power ICs to ultra-fast-charge its new flagship smartphone, the OnePlus 10T.
NVTS is currently trading at $6.55, up $0.67 or 11.39%, on the Nasdaq. The stock opened its trading at $6.00 after closing Friday's trading at $5.88. The stock has traded between $3.51 and $22.19 in the past 52-week period.
The new OnePlus 10T features the latest Qualcomm Snapdragon 8+ Gen 1 chipset, a 120 Hz FHD + AMOLED display screen, and 50 MP main camera, with advanced Cryo-Velocity Vapor cooling, all driven by a powerful 4,800 mAhr battery.
Blend Labs, Inc Q2 Earnings Summary
Below are the earnings highlights for Blend Labs, Inc (..):
Earnings: -$478.38 million in Q2 vs. $0.00 million in the same period last year.
EPS: -$2.06 in Q2 vs. $0.00 in the same period last year.
Excluding items, Blend Labs, Inc reported adjusted earnings of -$45.09 million or -$0.19 per share for the period.
Analysts projected -$0.19 per share
Revenue: $65.54 million in Q2 vs. $32.06 million in the same period last year.
-Guidance:
Full year revenue guidance: $230 – $250 Mln