U.S. Treasury, airlines reach agreement in principle on payroll aid -sources
CHICAGO, April 14 (Reuters) – The U.S. Treasury Department and passenger airlines have reached an agreement in principle on a $25 billion payroll support package meant to help airlines weather the economic impact of the coronavirus on travel demand, sources with knowledge of the matter said on Tuesday.
Announcements on the agreement are expected later on Tuesday, they said. (Reporting by Tracy Rucinski)
Donald Trump announces US will halt funding to WHO over coronavirus response
"We have deep concerns over whether America's generosity has been put to the best use possible," Trump said, accusing the WHO of failing to adequately keep the international community apprised of the threat of the coronavirus.
MORE TO FOLLOW.
Shaw Communications laying off about 10% of workforce because of COVID-19
Shaw Communications Inc. says it is temporarily laying off about 10 per cent of its workforce effective Thursday as a result of "unpredictable conditions" created by the COVID-19 pandemic.
The Calgary-based telecommunications company said most of the affected employees work in retail and sales positions across the company.
Coronavirus: Interior Health region now at 141 confirmed cases of COVID-19
There are now 141 confirmed cases of COVID-19 in the Interior Health region, the provincial government announced on Tuesday afternoon.
On Monday, there were 136 confirmed cases throughout the region, which has an approximate population of 762,000. On March 17, there were seven confirmed cases in Interior Health.
2 passengers arrested after stabbings on Saskatoon Transit bus
Two people were arrested after an altercation on a Saskatoon Transit bus on Monday night left two passengers injured.
The City of Saskatoon said two groups of people were on the bus when a fight happened near the intersection of Avenue T South and 20th Street West. Four riders were on the bus.
Coronavirus: Cancellation of Saskatchewan drive-in church service questioned
Saskatchewan's premier wants an explanation for why an Easter drive-in church service was prohibited over the weekend.
Scott Moe's office said the Saskatchewan Health Authority has been asked to account for its decision, as drive-in events seem to maintain safe physical distancing.
Coronavirus: Food program for kids in Central Okanagan sees higher demand for services
The Central Okanagan Food For Thought, a program for kids in the Central Okanagan, is seeing an increased demand for their services due to COVID-19.
"There are more than 5,900 children in the Central Okanagan that are at risk of food insecurity," said Cheryl Hoffman, Food For Thought project coordinator.
Trump's faulty narrative about 'reopening the economy'
New York (CNN Business)US stock futures were mixed in after-hours trading on Tuesday following a big rally on Wall Street.
Dow (INDU) futures were up 21 points, or about 0.1%. S&P 500 (SPX) futures were down 0.04% and Nasdaq (COMP) futures were up 0.03%.
Earlier, the Dow closed up 559 points higher, or 2.4%. The S&P 500 finished up 3.1% and the Nasdaq Composite finished up 4%, striking its longest winning streak, of fours days, since early February.
JPMorgan Chase (JPM)'s profit for the first quarter dropped 69%, falling short of analysts' expectations, reeling in $2.9 million in net income. Wells Fargo (WFC)'s first-quarter profits also took a tumble, plummeting 89%. Bank of America (BAC), Goldman Sachs (GS), UnitedHealth (UNH), and Citigroup (C) are scheduled to report earnings on Wednesday.
Justice Department Sides With Mississippi Church's Over Drive-In Services
WASHINGTON (AP) — The Justice Department took the rare step on Tuesday of weighing in on the side of a Mississippi Christian church where local officials had tried to stop Holy Week services broadcast to congregants sitting in their cars in the parking lot.
As the coronavirus pandemic spread, leaders at Temple Baptist Church in Greenville began holding drive-in services for their congregation on a short-wave radio frequency from inside an empty church save for the preacher.
Arthur Scott, the 82-year-old pastor, said Tuesday that it was a good compromise for his group, a "wonderful way to preach the gospel and still it's like they are there, but you can't go out and see them, but you know they're there."
The federal involvement adds to the rising tension over reconciling religious freedom with public health restrictions designed to fight the pandemic, disputes that are playing out along the same partisan lines that mark the nation's overall divide.
Greenville city leaders argue the services violate stay-at-home orders and could have put people's lives in jeopardy. Church officials believe they have been singled out for their religion, especially after eight police officers were sent last week to ticket the faithful, $500 apiece, for attending services, including the pastor's wife.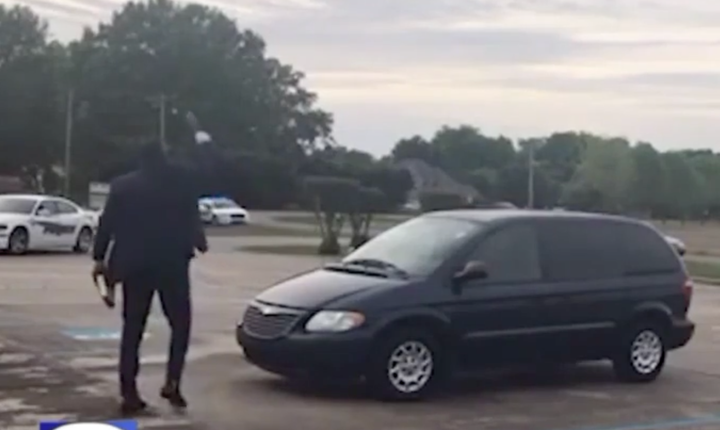 Chaos ensues when distillery in Kelowna, B.C., gives away free sanitizer
A Kelowna distillery known for making apple vodka is now making apple-based hand sanitizer.
Last Saturday, it decided to hold a massive giveaway of its new product.