Johnson & Johnson Q1 Earnings Summary
Below are the earnings highlights for Johnson & Johnson (JNJ):
Earnings: -$68 million in Q1 vs. $5.15 billion in the same period last year.
EPS: -$0.03 in Q1 vs. $1.93 in the same period last year.
Excluding items, Johnson & Johnson reported adjusted earnings of $7.07 billion or $2.68 per share for the period.
Analysts projected $2.51 per share
Revenue: $24.75 billion in Q1 vs. $23.43 billion in the same period last year.
-Guidance:
Full year EPS guidance: $10.60 – $10.70
Full year revenue guidance: $97.9 – $98.9 Bln
Volkswagen's ID.7 Electric Sedan Debuts
On Monday, April 17, 2023, Volkswagen unveiled its new ID.7 electric sedan in Berlin.
The German carmaker is expanding its lineup of electric cars as it transitions away from the combustion engine.
Some glimpses from ID.7's debut: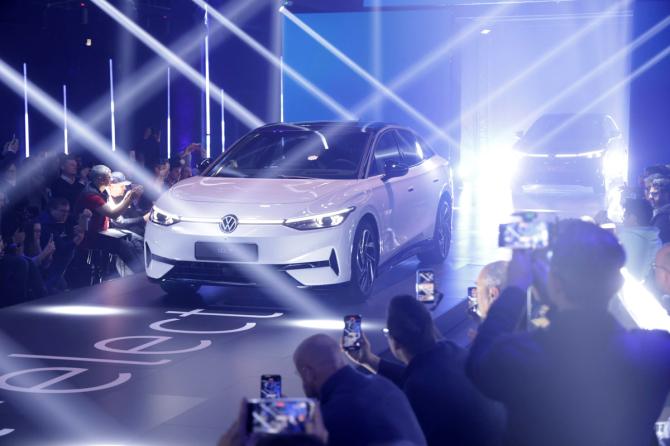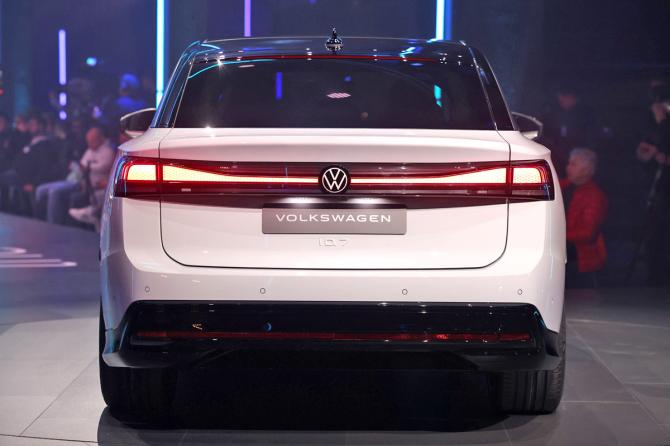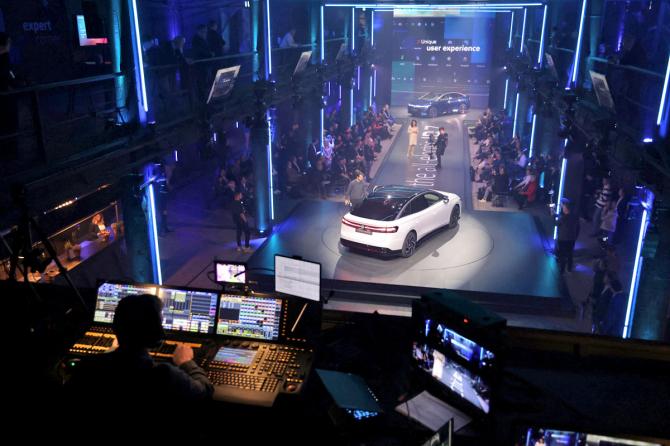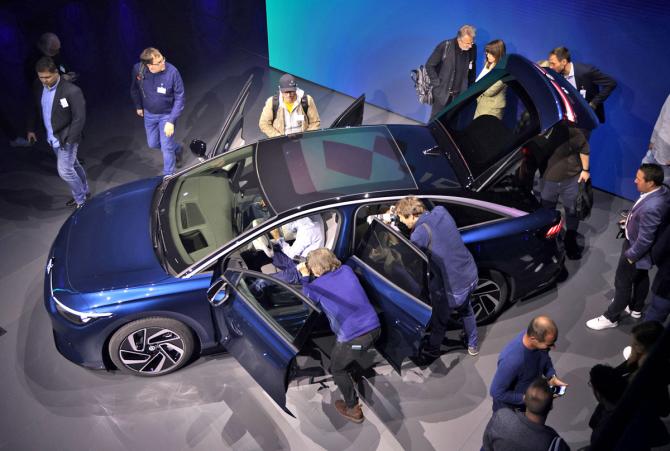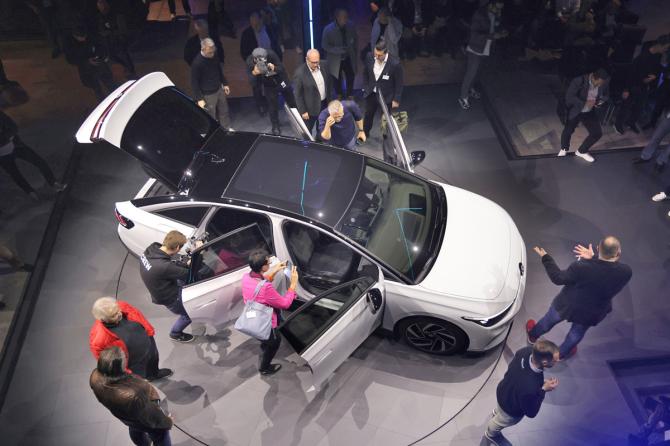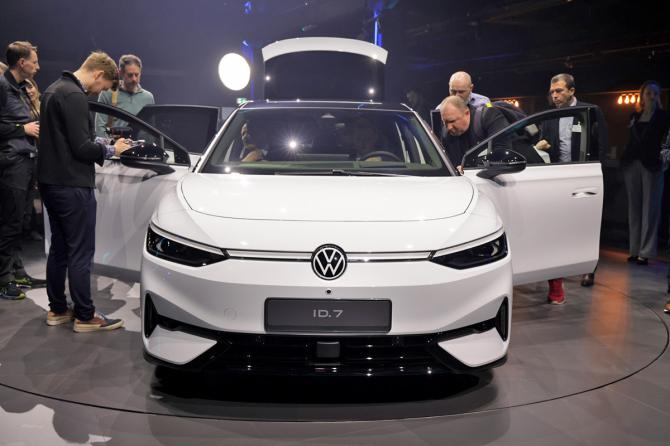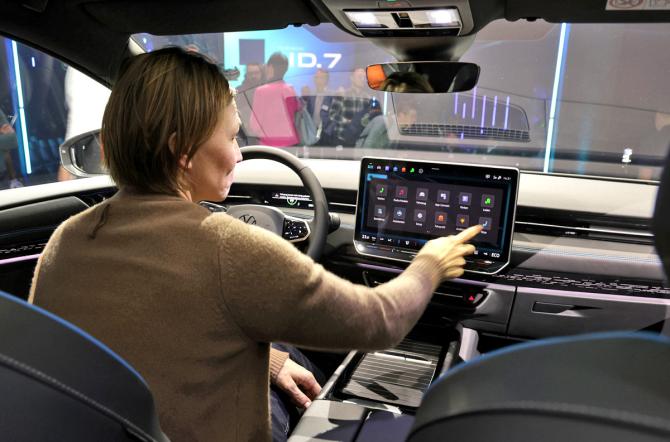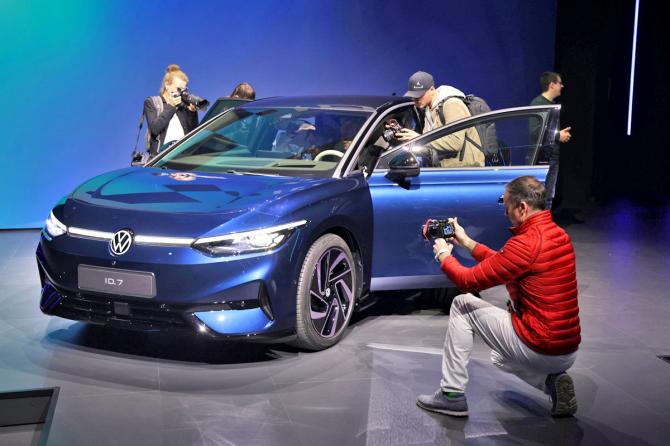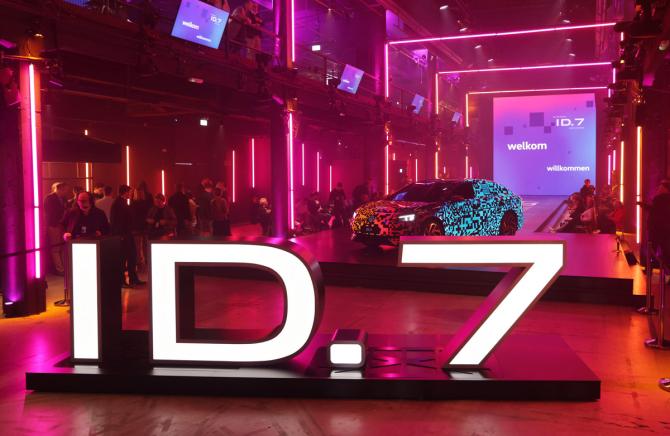 Photographs curated by Manisha Kotian/Rediff.com
Feature Presentation: Aslam Hunani/Rediff.com
Bank of America Corporation Bottom Line Advances In Q1, Beats estimates
Bank of America Corporation (BAC) announced a profit for its first quarter that increased from last year and beat the Street estimates.
The company's earnings totaled $7.66 billion, or $0.94 per share. This compares with $6.60 billion, or $0.80 per share, in last year's first quarter.
Analysts on average had expected the company to earn $0.82 per share, according to figures compiled by Thomson Reuters. Analysts' estimates typically exclude special items.
The company's revenue for the quarter rose 13.0% to $26.26 billion from $23.23 billion last year.
Bank of America Corporation earnings at a glance (GAAP) :
-Earnings (Q1): $7.66 Bln. vs. $6.60 Bln. last year.
-EPS (Q1): $0.94 vs. $0.80 last year.
-Analyst Estimate: $0.82
-Revenue (Q1): $26.26 Bln vs. $23.23 Bln last year.
Madrigal Pharma Announces Breakthrough Therapy Designation For Resmetirom – Quick Facts
Madrigal Pharmaceuticals, Inc. (MDGL) announced that resmetirom has received Breakthrough Therapy designation from the FDA for the treatment of patients with NASH with liver fibrosis.
Paul Friedman, CEO of Madrigal, stated: "The Breakthrough Therapy designation for resmetirom reinforces our confidence in our regulatory strategy as we approach the new drug application filing for resmetirom, which remains on track for Q2 2023. The filing is supported by the positive outcomes on reduction of liver fibrosis and resolution of NASH from the 52-week serial liver biopsy portion of MAESTRO-NASH."
The company also announced that the outcomes portion of the phase 3 MAESTRO-NASH biopsy trial has completed enrollment.
For More Such Health News, visit rttnews.com.
Gold Prices Rebound Amidst A Weak Dollar
Prices of the yellow metal rose on Tuesday, reversing two days of losses triggered by hawkish comments from Fed officials.
Gold, which had dropped to a low of $1,995 on Friday and a low of $1983.20 on Monday traded firmly above the $2k level on Tuesday.
The weakness in the Dollar supported the rebound in the prices of the yellow metal.
The Dollar Index (DXY), a measure of the Dollar's relative strength against a basket of six currencies has dropped 0.41 percent overnight to 101.68. The day's range was between a low of 101.64 and a high of 102.14.
Gold Futures for June Settlement gained 0.43 percent to trade at $2,015.55. The day's trading range has been between $2,005.65 and $2018.05.
Spot Gold has gained 0.39 percent to trade at $2,003.06 per troy ounce. The day's trading range has been between $1,993.38 and $2,005.81.
Urban Edge Properties Revises Up 2023 Adj. FFO Outlook
Urban Edge Properties (UE), a real estate investment trust, said on Tuesday that it has revised up its full year 2023 outlook for adjusted funds from operations based on higher NOI growth and lower general and administrative expenses.
For the 12-month period, the company has raised its adjusted FFO outlook by $0.02 per share to $1.16 per share at the midpoint of its range.
In addition, the firm announced a three-year adjusted FFO target of $1.35 per share, representing an increase of 16 percent over the updated 2023 guidance at the midpoint.
Jeff Olson, CEO of Urban Edge Properties, said: "…Following a very strong 2022, we are excited to share more about the significant value embedded in our portfolio and the initiatives underway to drive long-term performance and earnings and cash flow growth."
European Economic News Preview: Italy Final CPI Data Due
Final consumer and harmonized price data from Italy is the only major economic report due on Monday.
At 2.00 am ET, Statistics Norway is scheduled to issue foreign trade data for March.
At 4.00 am ET, Italy's Istat publishes final consumer and harmonized prices for March. The flash estimate showed that consumer price inflation slowed to 7.7 percent from 9.1 percent in February. The statistical office is set to confirm the flash estimate.
At 8.00 am ET, core inflation figures are due from Poland. Core inflation is seen at 12.2 percent in March versus 12.0 percent in February.