PHOTOS: Vice President Mike Pence and Calif. Sen. Kamala Harris meet for vice presidential debate
SALT LAKE CITY  — Vice President Mike Pence defended the Trump administration's handling of the COVID-19 pandemic that has killed more than 210,000 Americans Wednesday night, while his Democratic challenger, Kamala Harris, condemned "the greatest failure of any presidential administration" during a largely civil debate dominated by the coronavirus.
The two met Wednesday for the single vice presidential debate before the Nov. general election.
Click here to read the full story.
A Fly On Mike Pence's Head During The VP Debate Drew The Buzziest Reactions
Imagine you're a fly. You're zipping along and see a soft, white surface. You land and look up. You realize you're at the 2020 vice presidential debate and you're seated atop the head of Vice President Mike Pence.
This was the reality of one insect at the debate on Wednesday night. 
More than halfway through the debate between Pence and Sen. Kamala Harris, public attention veered off from the responses of the two presidential running mates to zero in on the bug on Pence's coiffure.
The buzz was plentiful on Twitter, so we've done you the favor of rounding up the buzziest of the bunch: 
Even Democratic presidential nominee Joe Biden offered a response to the fly: 
And, of course, there were numerous Twitter pages set up for the fly itself: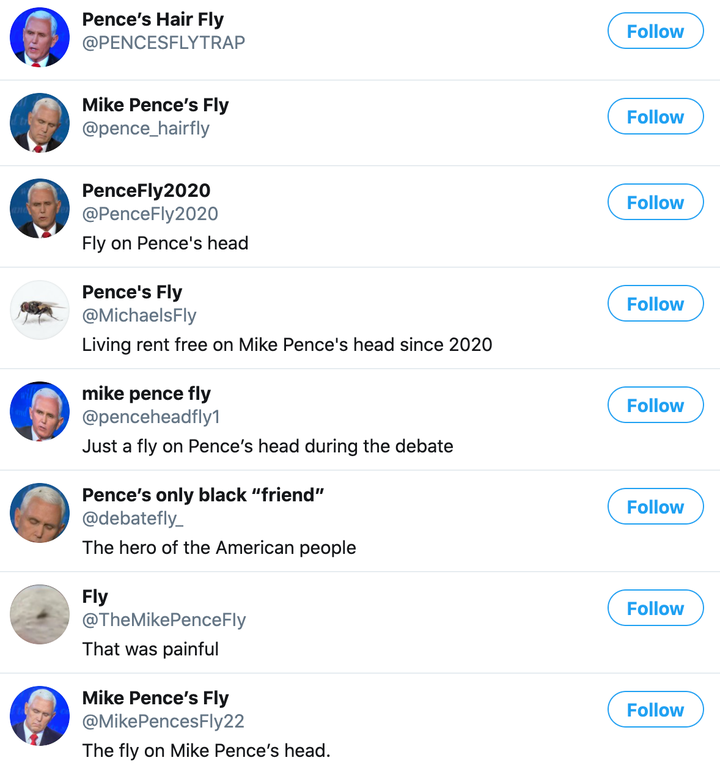 We want to know what you're hearing on the ground from the candidates. If you get any interesting ― or suspicious! ― campaign mailers, robocalls or hear anything else you think we should know about, email us at [email protected].
RELATED…
Joe Biden Swats At Pence's Debate Guest: 'Truth Over Flies'
The fly that took up temporary residence on Vice President Mike Pence's head can add Democratic presidential nominee Joe Biden to its growing fan base.
During Wednesday's vice presidential debate between Pence and his Democratic opponent, Sen. Kamala Harris of California, an insect landed on Pence's head and hung out there for more than two minutes as millions of viewers watched on. It blew up on Twitter, where many said the winged intruder stole the show.
Biden swiftly tweeted an image of himself equipped with a fly swatter, asking voters to donate to "help this campaign fly."
And his campaign's online store was promptly stocked with merchandise for his supporters wanting "Truth Over Flies."
And Biden made a little tweak when sharing the link to the "I Will Vote" website:
Just in case you missed it, here's the fly for the duration of its visit.
RELATED…
Dun & Bradstreet To Buy Bisnode For About $818 Mln – Quick Facts
Dun & Bradstreet Holdings, Inc. (DNB) announced that it has agreed to buy Bisnode Business Information Group AB, at an estimated purchase price of SEK 7.2 billion or about $818 million. The transaction is expected to close in January 2021.
Upon closing of transaction, it is expected that 75% of the consideration would be paid in cash and 25% of newly issued shares of common stock of the Company in a private placement.
The acquisition positions D&B to rapidly expand across the Scandinavian, DACH (Germany, Austria and Switzerland) and central European countries.
Upon closing, Dun & Bradstreet said it will add over 110,000 Bisnode customers to its client base, including having direct access to nearly 50 Global 500 companies headquartered in Bisnode territories.
The company said that the deal provides direct access to Bisnode's 33 million records from 550+ sources throughout Europe. The company plans to rapidly introduce its modern Finance & Risk and Sales & Marketing solutions at scale to clients across Europe.
Upon the close of transaction, Dun & Bradstreet will establish an International Strategic Advisory Board which will be led by Neeraj Sahai with inclusion of Jonas Wistrm, Chief Executive Officer for Ratos AB.
'Mr. Vice President, I'm Speaking': Kamala Harris Shuts Down Mike Pence's Interruptions
Vice President Mike Pence seemed ready to take a page out of President Donald Trump's book when he interrupted Sen. Kamala Harris (D-Calif.) during Wednesday night's vice presidential debate.
It didn't go so well for him.
Harris fired back, "Mr. Vice President, I'm speaking" ― a moment that quickly took off on social media.
Pence tried it again a little later in the debate… but with even less success:
The first presidential debate last week, between Trump and former Vice President Joe Biden, was marked by frequent interruptions, mostly from the president.
In one segment, Trump interrupted Biden 10 times in less than three minutes, according to The Washington Post.
A frustrated Biden eventually replied: "Will you shut up, man?"
RELATED…
FTSE 100 LIVE: Asian shares at one month highs as markets price up Biden victory
We will use your email address only for sending you newsletters. Please see our Privacy Notice for details of your data protection rights.
Markets now pricing in a Democratic victory during elections in November. Polls suggest Joe Biden is likely to win over a number of states following the presidential debates. MSCI's broadest index of Asia-Pacific shares outside Japan rose 0.3 percent for its fourth straight session of gains to a level not seen since early September.
Australia's benchmark index jumped 1.1 percent to a one-month high helped by a larger-than-expected fiscal stimulus announced in federal budget on Tuesday night.
Japan's Nikkei added 0.5 percent.
"It's another good day for risk and equities have powered up," Pepperstone strategist Chris Weston told Reuters.
"Some talk of fiscal has been in play again, but this has become tiresome and the markets don't need a reason to rally, they just don't need to hear negative news. So, in the absence of any, we see equities flying and US Treasuries offered."
FOLLOW BELOW FOR LIVE UPDATES FROM EXPRESS.CO.UK