Ivanka Trump's Weird Tweet About Her Dad Leaves Twitter Users Mystified
Ivanka Trump, President Donald Trump's eldest daughter and a White House adviser, tweeted an unusual image of herself with her father aboard Air Force One on the way to a rally in Georgia on Monday. 
And she added an even stranger tag. 
The president's daughter tagged the Republican Party, Georgia senators David Perdue and Kelly Loeffler and White House aide Dan Scavino Jr. She didn't tag her father. But she did tag singer/actor and former "Celebrity Apprentice" contestant Meat Loaf:  
Meat Loaf, like the president, has the word "Real" at the start of his Twitter username, but other than that, it's unclear how or why she selected his name for the photo. 
The tweet took off like a bat out of hell as Twitter users questioned both the unusual image and the strange tag, which caused the singer's name to trend: 
Oil Prices Edge Higher In Cautious Trade
Oil prices rose on Tuesday after falling sharply in the previous session on concerns over outlook for energy demand and the failure of the Organization of the Petroleum Exporting Countries (OPEC) to decide whether to increase output in February.
Brent crude for March settlement edged up 0.3 percent to $51.25 a barrel, while West Texas Intermediate futures for February delivery were up 0.6 percent at $47.90.
Talks between OPEC and its allies will continue for a second day today after most members, including Saudi Arabia, opposed Russia's proposal for another supply hike amid a shaky short-term demand backdrop.
A weak dollar index and renewed tension around Iran's seizure of a South Korean vessel offered some support for oil as England entered into a national lockdown for the third time to curb coronavirus spread.
Germany is set to extend its curbs and Japan is considering another state of emergency for the Tokyo area.
Gold Gains Ground Ahead Of Georgia Senate Runoff
Gold prices hit a two-month high on Tuesday and the dollar index held close to 2-1/2-year low ahead of Georgia's runoff elections later in the day, which will determine whether Republicans or Democrats control power in the U.S. – and with it, the likely fate of President-elect Joe Biden's legislative agenda.
Spot gold edged up 0.2 percent to $1,946.73 per ounce, after hitting its highest since Nov. 9 at $1,947.96. U.S. gold futures were also up 0.2 percent at $1,950.80.
Biden on Monday told Georgia Democrats they had the power to "chart the course" for a generation.
President Donald Trump told a rally the fight to "drain the Washington swamp" and retain America's destiny and dignity "has only just begun".
The elections will determine how much Biden can push through Democrats' agenda, including rewriting the tax code, boosting stimulus and infrastructure spending.
There are certainly hopes among market participants that the Democrats are to win both seats in the elections. That would mean that the newly elected president can pursue his announced expansionary fiscal policy.
What School Closures Mean for Europe's Labor Force
The new strain of Covid-19 that's forced the U.K. into another lockdown and has been detected across Europe could reduce European Union labor supply by as much as 6% if schools are closed and childcare options narrow. That's shown by aBloomberg Economics analysis of data on household structure, employment status and home-working capability. Some countries will do better than others, with eastern Europe standing out as particularly hard hit.
Anderson Cooper Lays A Big Donald Trump Myth To Rest Once And For All
Anderson Cooper on Monday mocked Donald Trump's increasingly desperate attempts to steal the 2020 election, noting how the effort stands completely at odds with the outgoing president's oft-repeated claim to be an excellent dealmaker.
The host of CNN's "Anderson Cooper 360" centered his opening monologue on Trump's Saturday call with Georgia's Secretary of State Brad Raffensperger in which the president urged his fellow Republican to "find" him enough votes to overturn the presidential election result in the state.
"I only need 11,000 votes. Fellas, I need 11,000 votes. Give me a break," Trump begged.
"That is the great negotiator? The great dealmaker? That's the 'Art of the Deal?'" asked Cooper, who said Trump had the impulse control of a "refrigerator magnet."
"This is a scared bully pushed into a corner of his own making desperately trying to get out," he continued.
After airing more audio of the phone call, Cooper likened Georgia officials' push back on Trump's baseless conspiracy theories about voter fraud to "speaking to a child." 
Check out Cooper's full monologue here:
RELATED…
How Nifty50's composition has changed in 10 years
The new entrants comprise Asian Paints, Britannia, Titan, Nestlé, Bajaj Finance and Bajaj Finserv.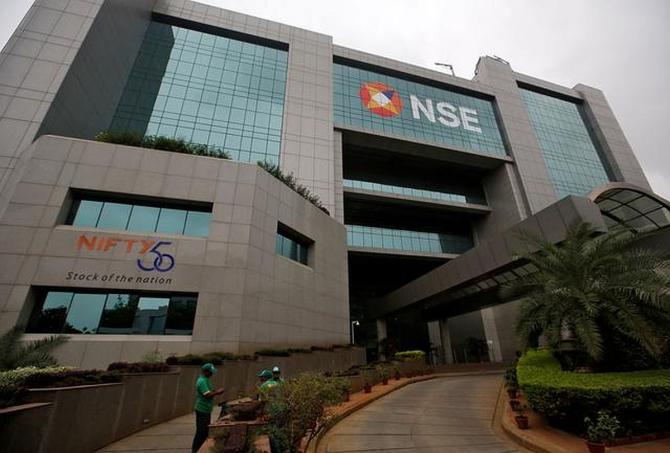 Twenty, or 40 per cent, of components that were part of the Nifty50 in December 2010 are no longer part of the index today.
Big names that are out of the index include BHEL, Sterlite Industries, Jindal Steel, Ambuja Cement, ACC, and SAIL.
The new entrants comprise Asian Paints, Britannia, Titan, Nestlé, BAF (Bajaj Finance), and Bajaj Finserv.
RIL, Infosys, ICICI Bank, and HDFC feature among the top five heavyweights even after a decade.
Sector weighting has also changed — those with high weighting a decade ago were oil and gas (14.7%), private banks (14.5%), and IT (14.3%).
Sectors with high weighting in 2020 were private banks (24.7%), IT (16.3%) and oil and gas (12.5%).
Sectors which lost the most were metals (640 bps), and capital goods (610 bps); the biggest gainers were private banks (1,020 bps) and consumer (470 bps).
Photograph: Francis Mascarenhas/Reuters