TRATON SE Reports Preliminary FY20 Results – Quick Facts
TRATON SE said, based on preliminary figures, for the fiscal year 2020, the Group expects: an adjusted operating profit of around 135 million euros; an operating return on sales margin of around 0.6%; and a sales revenue of around 22.6 billion euros. The company's industrial business net cash flow was around 650 million euros.
TRATON SE said its unit sales continued to recover strongly in the fourth quarter and exceeded the unit sales of the third quarter 2020 significantly. The sales revenue grew also considerably, the company said.
Jason Klarman Named President Of Streaming Service Fox Nation
Jason Klarman has been named president of Fox Nation, Fox News Media's streaming service, where he will oversee all operations, content and subscription acquisition.
Klarman has been executive vice president of marketing for Fox News Media, where he oversee brand strategy. He will continue to report to Suzanne Scott, the CEO of Fox News Media.
Klarman will be taking on the new position after he led the transformation of Fox Nation to a lifestyle and entertainment service. John Finley will remain executive vice president of Fox Nation and development.
In a statement, Scott said that Klarman was a "terrific, creative and collaborative executive who was instrumental to the launch of Fox Nation in 2018. He has been integral to the platform's success from its exceptionally high conversion rate to its low churn."
Klarman was part of the team that launched Fox News Channel in 1996, rising to VP of marketing before leaving in 2001 for USA Cable, where he oversaw marketing for Trio and Newsworld International. He also served as exec VP of marketing and digital at Bravo Media and as president of Oxygen Media, where he oversaw rebrandings. He also served a chief marketing officer for Fullscreen Media. He rejoined Fox News Media as a consultant in 2018 and, in 2019, became exec VP marketing. He created the Democracy 2020 and America is Watching campaigns, and launched the brand extension Fox News Books.
Read More About:
Turkey Opens Anti-Dumping Probe on EU, S. Korea Hot-Rolled Coil
Turkey started an anti-dumping probe on imports of a type of steel known as hot-rolled coil from the European Union and South Korea in what appeared to be a retaliatory step after the bloc increased tariffs on Turkish products.
Turkey's Ministry of Commerce decided to open the probe after finding "sufficient" information and evidence after examining the complaint of Turkish steelmakers including Eregli Demir ve Celik Fabrikalari TAS, according to thedecision published in the Official Gazette. It determined that the manufacturers suffered "material injury" or the threat of it as a result of dumped imports from the EU and South Korea, according to the statement.
The probe came only a day after the EUimposed tariffs as high as 7.6% against Turkey on hot-rolled coil in a bid to curb competition for EU-based producers including ArcelorMittal SA.
Twitter Users Cheer As Surest Sign Of Trump's Departure Reaches White House
It's almost moving day at the White House ― and critics of President Donald Trump couldn't be happier at one sure sign of the administration's impending departure: boxes. 
Reuters photographer Erin Scott captured a truckload of unfolded boxes arriving at the Eisenhower Executive Office Building next to the White House, presumably to be filled with stuff as Trump staffers make their exists: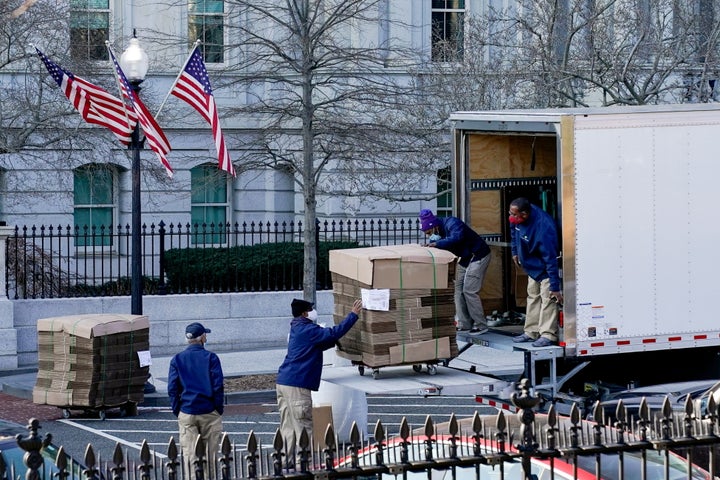 Scott also snapped an image of workers leaving the West Wing with their filled boxes: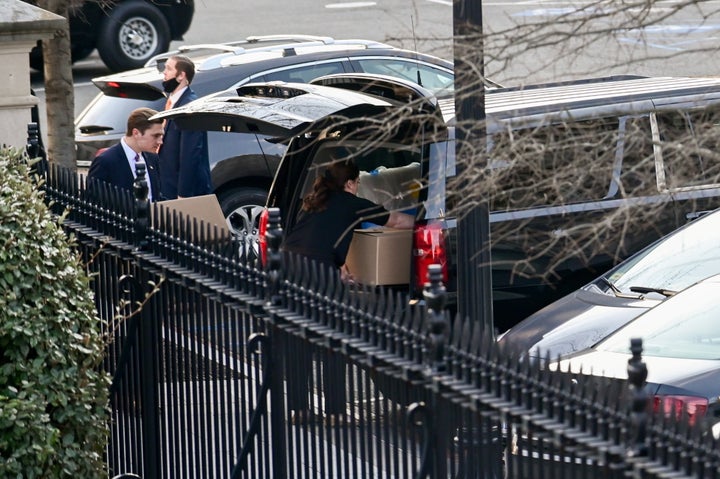 Trump had never formally conceded his loss to President-elect Joe Biden, instead launching an endless series of postelection lawsuits, espousing wild conspiracy theories built around unproved allegations of fraud and pressuring election officials to "find" enough votes to overturn the results. 
After last week's violent attack on the U.S. Capitol carried out by his supporters, he finally admitted that "a new administration will be inaugurated on January 20."
He did not mention Biden by name.
The sight of moving boxes at the White House had Trump's critics on social media cheering: 
Trump Pressured Georgia Investigator in Separate Call: WaPo
President Donald Trump pressured Georgia's lead elections investigator to "find the fraud," the Washington Postreported, citing a person familiar with the call.
The president told the investigator in a December phone call they would be a "national hero," the person said.
Attempts by Trump to intervene in an ongoing investigation may amount to obstruction of justice or other criminal violations, the newspaper said, citing legal experts, who cautioned a case could be difficult to prove.
Secretary of State Brad Raffensperger confirmed to the Post that Trump placed the Dec. 23 call, adding that he wasn't familiar with what the president specifically said in the call with his chief investigator.
The Post is withholding the name of the investigator, who didn't respond to its requests for comment, because of the risk of threats and harassment directed at election officials.
Hyundai Stock Surges After Report Of Early Stage Talks With Apple On Self-driving Vehicles
Shares of Hyundai Motor surged 20 percent in Seoul after the Korea Economic Daily reported that the South Korean automaker is in early stage discussions with Apple to jointly develop self-driving electric vehicles.
Hyundai was trading at 253,000 South Korean won, up 47,500 won or 23.06 percent in Seoul.
"Apple and Hyundai are in discussion, but as it is at early stage, nothing has been decided," Hyundai reportedly said in a statement.
Apple is in negotiations with multiple global automakers. Hyundai is one of them and it is in early stages of talks, the report quoted Hyundai as saying.
According to several media reports, Apple is developing an electric vehicle with an advanced battery. Apple's so-called Project Titan is said to be targeting the start of production for 2024, though pandemic-related delays may push production into 2025 or beyond.